'Traditional art needs to be revived in a modern, cost-friendly way': Maharani Radhika Raje Gaekwad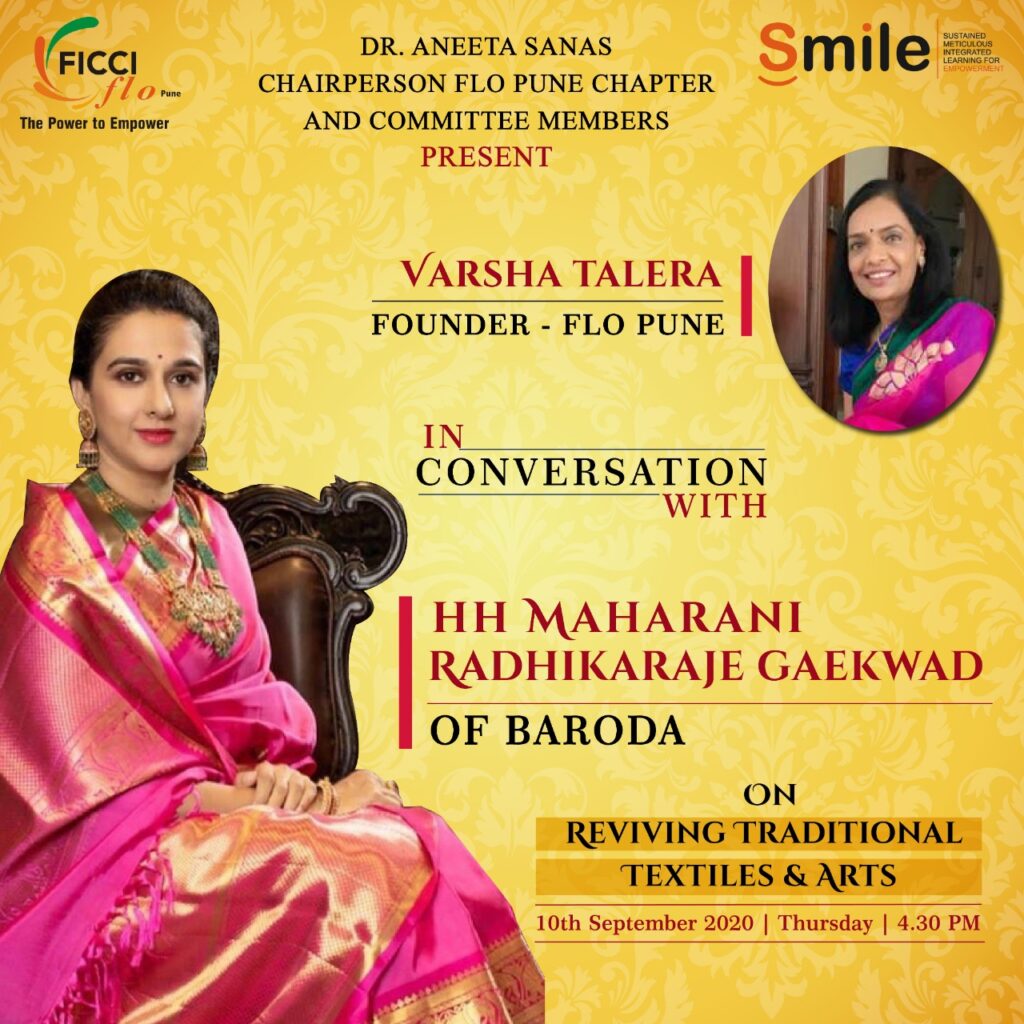 Pune, September 11, 2020: "To preserve the beauty and heritage of traditional art and crafts in recent times and increase their demands, we need to re-imagine old techniques, giving them a new utility and bring it to the notice of the people in terms of modern usage in cost-friendly way without blending Western and Indian art," said Maharani Radhika Raje Gaekwad, a heritage conservationist, textile revivalist and the director at CDS Art Foundation from Baroda, Gujarat.
She was speaking at an online discussion on Reviving Traditional Textiles and Arts organized by FICCI Ladies Organisation (FLO) Pune Chapter Chairperson, Dr. Aneeta Sanas in presence of Varsha Talera, Founder, FLO Pune, Varsha Chordia, Past Chairperson, and Deepali Shirole, Member among other committee members.
"The idea here is to revive, not innovate. I am a textile revivalist who wants to revive the art in its original stage. Even though the wardrobes of people who live in urban spaces have shrunk, the demand for traditional garments can be increased if the art is moulded and given a different touch. We have to rethink our concept of reorganizing the traditional handicrafts," said Raje, who has been leading the revival of Chanderi fabric.
She also said that understanding of traditional arts should start from school and that is where the aesthetics come from.
"Today everything is westernized. Our new generation should develop love and affection for our traditional arts and for that introduction of Indian arts and crafts in schools is important and our children should be exposed to our history of crafts including jewellery and textiles," she said.
She also said that the artisans have become self-sufficient and in order to bring more elegance and finesse to the artwork, it is necessary to encourage them to adopt latest technology.
"We need to have equal exchange of creativity and give credit to the artisan community. It is also important to indulge the youth from the artisan family to carry their legacy forward.