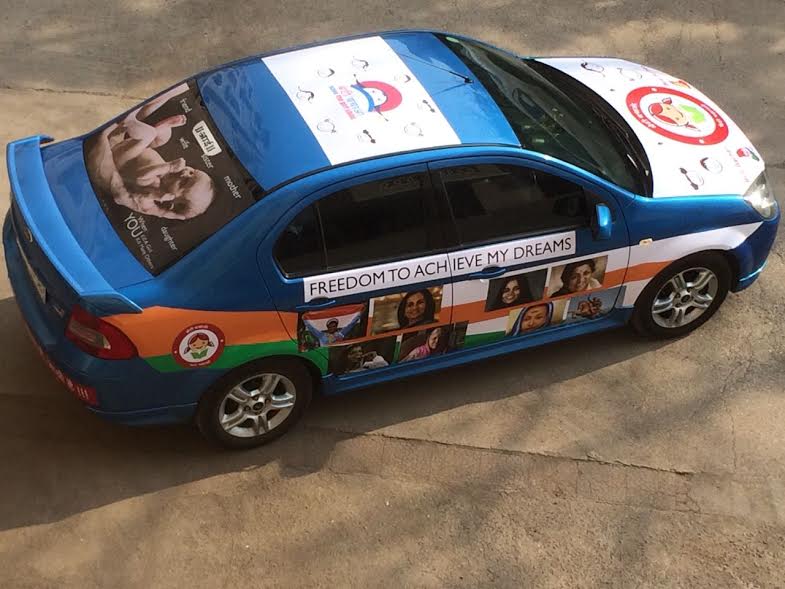 Pune : Two young and passionate youths from Pune drove car from Pune to Bhutan to promote and reach one crore Indians in support to the cause of Save Girl Child-Educate Girl Child.
Businessman professional Bhagyesh Gajbhar and Shripad Kadam working in corporate MNC planned this drive in November last year. The mission was supported by Ministry of Women and Child, Government of India. Upon email communication by Bhagyesh to Minister Maneka Gandhi he received immediate response from the ministry and provided consent to use the official logo of Beti Bachao Beti Padhao. Along with these authorities from the ministry communicated and ordered all district collectors on the route to facilitate and provide support to this mission.
Talking about the choice of the mission, Bhagyesh said his second daughter after first son is the reason. "Our family has feelings that they are celebrating Diwali every day since arrival of my daughter. Other influence was the Rio Olympics which made a very positive impact to choose this mission, in which professional badminton player P V Sindhu, freestyle wrestler Sakshi Malik, gymnast Dipa Karmakar's achievement inspired me. On the other hand, daily media is full of news on violence against women, gender discrimination in various stages and field of life are the root cause to choose this cause", Bhagyesh said.
Further he added, this mission Beti Bachao Beti Padhao – Save Girl Child, Educate Girl Child, was chosen by him with his own and complete willingness and except the graphics logo support, all arrangements including the financial matterswas solely done by the themselves.
The very reason why Bhutan as destination was to learn the happy life style as Bhutan is the happiest country in the world and follows Lord Buddha's teaching of peace.
Bhagyesh personally follows Lord Buddha and his company Aetherr Corporation has tag line of "Live Planet" with four pillar words Innovation-Creation- Passion-Dedication. He always makes effort to serve the society and human being. He is driving Ford Fiesta Sports limited edition car. This car was very creatively and innovatively wrapped with Graphics. Front view has been fixed with the mission logo Beti Bachao Beti Padhao with
"Let me enter this world" message below. Right side of car displays world famous Indian women power from various fields. Rear view says "Beti Ghar ki Dipa hai, Sakshi hai, Sindhu hai." Tri color is very effectively used in the background.
Bhagyesh had communicated, updated and informed about this mission to Nitin Gadkari Minister for Road Transport and Highways and shipping, Mrs. Neelam Gorhe, Mrs. Supriya Sule, Mr. Jagdish Mulik and Mr. Anil Shirole, Member of Parliament Maharashtra. Pune Commissioner of police Rashmi Shulka and various District Collectors.
The guidance and support for Bhutan was provided by Embassy of Bhutan in India and Indian embassy in Bhutan. Mr. Rahul Sathe Director Christopher Charles Benninger Architects: CCBA detailed about Bhutan. Inspiring support from famous senior social worker and Mother of Orphans from Pune Sindhutai Sapkal-Mai gifted a book written by D. B. Mahajan's book with her signature message. They both shared a very special bond of mother and son and Mai willingly cooking breakfast and food sufficient for four days of journey with her own hand. Bhagyesh posted her picture on his car as well as one of prominent female personality from current era.
Bhagyesh also sought support from Dr. Ganesh Rakh who provides free facilities for girl child born in his hospital.
Details of Mission – Pune to Bhutan
Route while going
PUNE-NAGPUR- VARANASI-SILIGURI-THIMPHU
Route while coming
PARO-MUZAFFARPUR- JHANSI-INDORE- PUNE
Five States, Eight Halts
Total promotion destination including halts – 24.
At 24 locations mission had public interface and awareness campaign
Duration = 28 October 2016 to 8 November 2016
Distance – Approx. 6,000 KM