Weaves from all over India come to Pune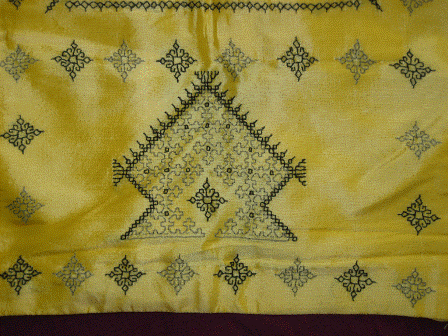 featuring 9 hand-embroidery forms from around the country this year
12th – 16th Feb at Tilak Smarak Mandir
Pune February 10, 2016:  HandsOfIndia, a NGO showcasing high quality and contemporary handicrafts from across India has been started by two sisters in the year 2010 – Ramya Rangacharya an ex Indian- Air Force Officer and Malyada, who started her career with Advertising and Market Research moving on to Software Development.
Both of them belong to the temple town of Vrindaban, Uttar Pradesh, where their family runs one of the biggest temples in Northern India called Sri Rangji Mandir. The temple has the unique distiction of having a 'Vastra-Kothri', which houses garments, sarees, stoles and other fabrics for the last 180 years, and the duo used to manage it as children. That's where the love for hand woven fabrics took shape, and they went on to form HandsofIndia.
HandsofIndia works with weavers and hand-embroidery groups from all over India to create contemporary apparels and home furnishings. The idea behind HOI was to start an enterprise which provides employment to people in villages and small towns, focusing on handlooms and hand-embroidery. HOI is deeply committed towards preserving the rich textile and handcrafting traditions of the country, while focusing more on the Artisan than the Art. HOI will be featuring 9 hand-embroidery forms from around the country this year – Phulkari from Punjab, Chikan, Pattiwork and Aari from UP, Kantha and English Embroidery from West Bengal, Sujani from Bihar, Sozni and Kashida from Kashmir. Unlike the usual exhibitions which showcase only a particular type of form.
HOI also provides us with a range of Western Wear like Ikat from Orissa and Pochampalli from Andhra. Both the fabrics are famous for their yard tied-and-dyed patters and lend themselves beautifully to a contemporary silhouette. This range would include skirts, tops, jackets and trousers; this is definitely good news for all the handcraft lovers who longed to wear western hand crafted clothes. You don't have to wait long HOI is coming to Pune soon!
Dates:    Friday 12th February till Tuesday 16th Feb 2016
Timings: 9.30 a.m. till 8.30 p.m.
Venue: Tilak Smarak Mandir, Tilak Marg, Sadashiv Peth, Pune 411030
Phones: 9845227919, 9464167833
Website: www.handsofindia.com