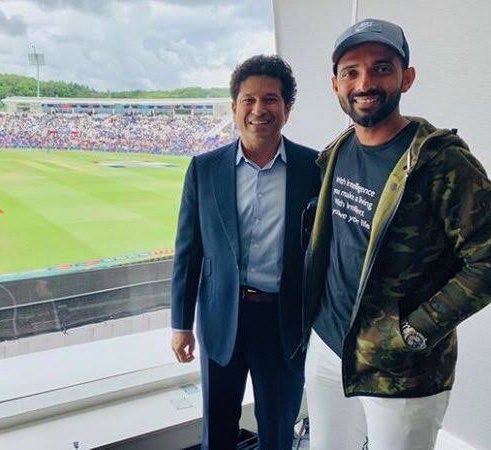 Mumbai, April 24, 2020: Every cricket fan dreams of meeting the God of Cricket Sachin Tendulkar. Many players of the Indian team have often spoken about the eagerness and excitement of meeting Sachin for the first time. Ajinkya Rahane is also no different from them. Rahane, vice-captain of the Indian Test team, has recalled how and where he met Sachin for the first time.
When Rahane, who is from Mumbai, was just 14 years old, he met Sachin for the first time. Rahane posted a video on his Instagram account, in which he said that in the eagerness to meet Sachin, he had arrived long before the time.
In the video posted yesterday, a day before Sachin's 47th birthday, Rahane said, "I was 14 years old. On the day of my birthday, I requested my coach that I should meet Sachin. So he talked to Sachin and told that there is a player who needs to meet you."
Rahane arrived many hours before
Ajinkya said that Sachin agreed to meet him and called him at 4.30 pm. Rahane said that he did not want to miss any chance to meet Sachin. That's why he reached long before the time.
Rahane said, "Then I used to live in Dombivli at that time. I was so eager to meet Sachin that I reached Dadar at 9.30 am. The coach asked why I came so soon, so I said that the train could have stopped or be late. I did not want to leave the chance of meeting Sachin. "
Rahane said that he spent the next few hours at Dadar station. Then he met Sachin at his house and took autograph.
Rahane made his Test debut in front of Sachin. This was Sachin's last series before the Farewell series against the West Indies. Rahane played Test cricket for the first time in the fourth Test match in Delhi of this series against Australia in 2013 and also did batting with Sachin for the first time in the first innings.