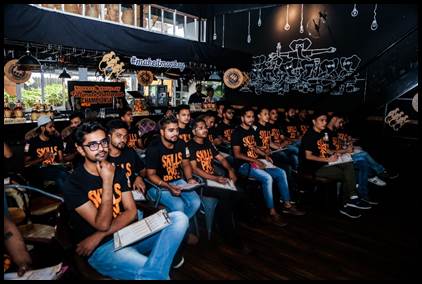 MONDAY, May 27, 2019, PUNE, India: Monkey Shoulder, a scotch for the new generation of whisky enthusiasts brings the fourth season of the 'Ultimate Bartender Championship' to India. The championship focuses on uplifting and developing bartending skills. This global initiative is exclusively for the next generation of bartenders and will see participants showcase "skills that pay bills" across the country.
The third leg of the competition took place today at The Elephant and Co. Gastropub in Baner in Pune and saw talented bartenders from popular bars and restaurants such as Thikana, Culture Bar etc. The event was hosted by the India Brand Ambassador for Monkey Shoulder, Pankaj Balachandran. The venue was pumped with the energy of the bartenders participating in 5 exciting challenges including ingredient knowledge, mixing, pouring, nosing and even the perfect serve.
The highest scorer from Pune round, Yash Shinde has 2 years of experience bartending in bars such as 'Miami' and 'Paasha' at JW Marriott Pune. He commented saying, "Bartending is a passion for me, and I am very excited to be competing at the globally recognized event. Thanks to Monkey Shoulder, I had the chance to meet some of the finest-in-the-game. Glad that the brand has a platform such as Ultimate Bartender Championship, which recognizes the skill in bartending."
Speaking at the first event for the 2019 season, Pankaj Balachandran, Brand Ambassador Monkey Shoulder said, "Monkey Shoulder is a modern whisky with a new approach, and we like to engage the bar community, Monkey Shoulder Ultimate Bartender Championship is exactly that. We are so excited to launch our fourth season that captures this essence that has skills pay bills and is all about modern techniques, global trends and Monkey mixing."
Today's event will be followed by a 7-city competition across Gurgaon, Pune, Mumbai, Goa, Kolkata, Hyderabad, Bangalore and a grand finale at Monkey Shoulder Ultimate Bartender Champions Camp. And to top even that, the national winner will win an all-expenses paid trip to the London Cocktail Week in October.