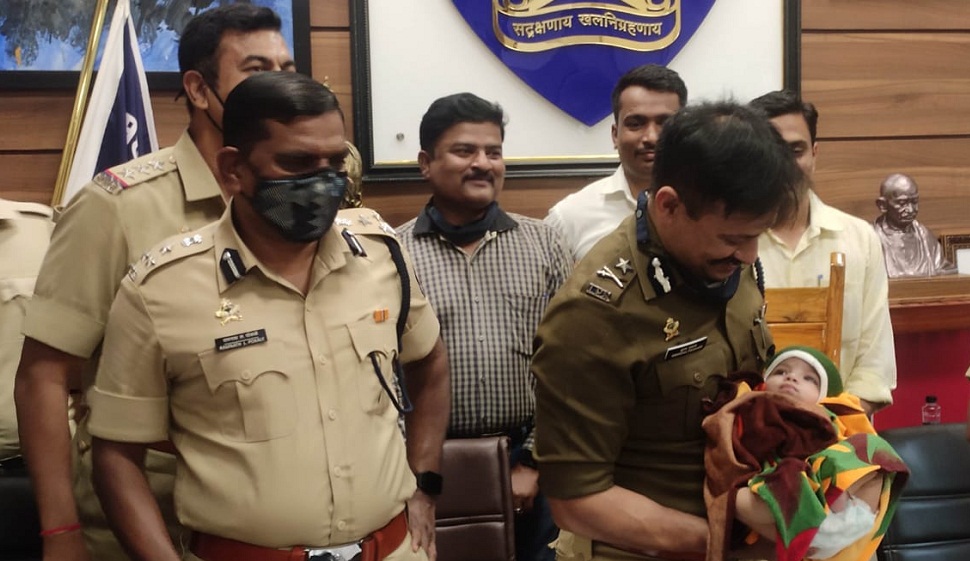 Sumit Singh
Pimpri Chinchwad, February 24, 2021: The officials from Pimpri Chinchwad police have rescued a four months old girl child who was kidnapped from home in Chakan on February 17. Police have arrested a 28-year-old woman from Beed in the kidnapping case.
Rajendra Nagpure (53), a resident of Chakan, had lodged a complaint with the police. The arrested woman has been identified Rani Shivaji Yadav, a resident of Kuttar Vihir in Ambejogai taluka of Beed district. 
Addressing a press conference today, Police Commissioner Krishna Prakash said that Rani had gone to the complainant's house around 3 pm on February 17 under the pretext of looking for a housemaid job and kidnapped the girl child. 
After an FIR was registered, police had formed different teams comprising officials from the Crime Branch and Chakan police station's detection branch (DB). The team traced the woman to Beed and nabbed her. She had miscarriages in the past. Hence, she kidnapped the girl child, police said citing her statement.
"Based on the description of the kidnapper, a sketch was prepared and circulated. Our team checked the footage of over 100 CCTVs of the area and learnt that the accused woman had lived in Balajinagar locality in Medankarwadi till few days before the kidnapping. She had been missing since the day of the kidnapping. Later, she was traced to Beed and the kidnapped child was rescued", the city police chief informed.
Child will not be handed over to 'parents'
Police will hand over the girl to the Child Welfare Committee (CWC) and not the complainant. "The girl is the daughter of an unmarried couple from Pune. They had falsely given the name of the complainant and his wife in the hospital where the delivery took place. The complainant and his wife had been looking after the girl child since then. As they are not the real parents, the child will be handed over to the CWC for further action", informed Commissioner of Police Krishna Prakash.
Investigation team 
The investigation was conducted under the supervision of Police Commissioner Krishna Prakash, Additional Commissioner Ramnath Pokale, DCP (Zone 1) Manchak Ippar, DCP (Crime Branch) Sudhir Hiremath and ACP Ramchandra Jadhav. 
The team included Senior Police Inspector Ashok Rajput, Police Sub Inspectors Pramod Kathore, Vijay Jagdale and police personnel Suresh Hinge, Raju Jadhav, RM Zankar, Hanumant Kamble, Sandip Sonawane, Anil Gorad, Machhindra Bhambure, Nikhil Warpe, Manoj Sable, Ashok Diwte, Nitin Gunjal, Pradip Rale and Supriya Gaikwad.
Follow Punekar News: