Work base learning can become a key today to improve employability- Vivek Sawant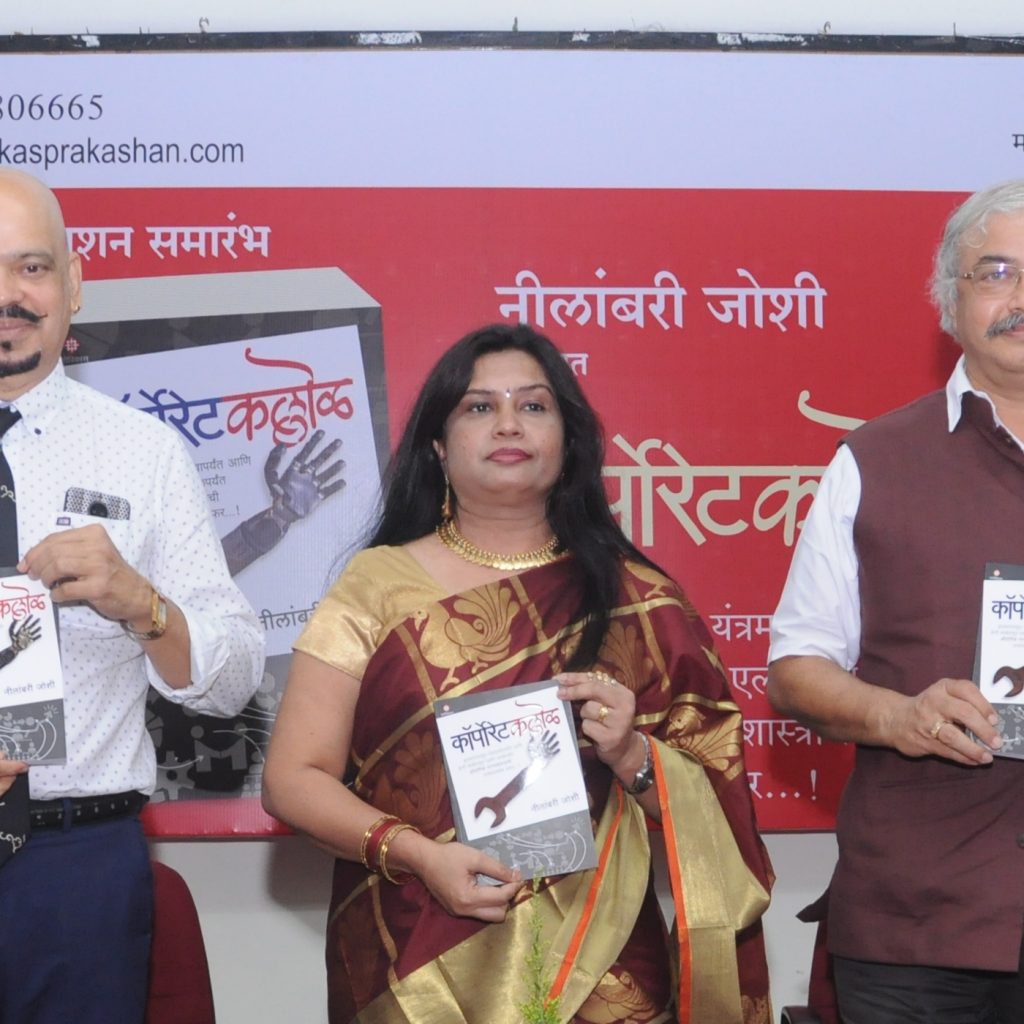 Pune, Auguat 12, 2018 : ''Our education and training teaches all about predictable work. But today's fast paced changing world may leave no room for the predictable. So we'll have to think about unpredictable, where Mahatma Gandhi's theory of 'Learning with doing – with a purpose' can come to resque.'' said Vivek Sawant, Director, Maharashtra Knowledge Corporation Limited (MKCL).
He also said that to initiate this we should get rid of closed ended questions from the school curriculum itself, Giving a good chance to students for thinking with open ended questions. He was speaking at the launch of a unique book- 'Corporate Kallol' written by Neelambari Joshi and published by Manovikas Prakashan.
The book was released at the hands of Vivek Sawant along with Deepak Ghaisas, Chairman, I-Flex Solutions limited and Dr. Rajendra Barve, renowned Psychiatrist. Later all the three experts participated in a panel discussion about 'Rising work tensions' which was moderated by Neelambari Joshi. Arvind Patkar and Ashish Patkar of Manovikas Prakashan were present among the dignitaries.
Sawant spoke about different workforce friendly experiments that he initiated. He said that, ''This book unfolds history about how employers looked at the workforce since long ago. So in a way it shows the journey of human liberation and conflicts aasociated to the workplace. I dislike calling working staff as Human Resource. They are rather the stakeholers of the company.''
Barve said that, Corporate sector needs the concept of Mindfullness which was long ago taught by Budhha. It involves the art of converting information to knowledge, aquiring flexiblity to improve our underdeveloped abilities and logical thinking about not just one's self but about the big picture too.
Ghaisas spoke about how he prefers to handle different issues related to employees and that a human should always be considered and nurtured as an asset to the company.