Yerwada police recovers valuables worth Rs 26.4 lakhs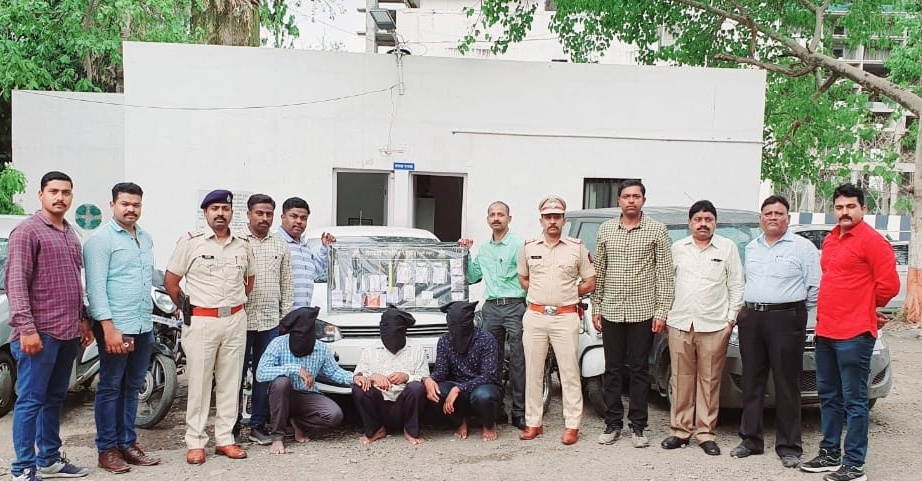 Sumit Singh
Pune, June 12,2019 : The officials from Yerwada police station, Pune city police, have nabbed four persons including a minor boy and claimed to have recovered valuables worth Rs 26.4 lakhs from their possession. There are 150 cases registered against the accused persons.
The accused persons were moving in Yerwada to target an ATM, when policemen Sameer Bhorde and Ajay Padole received information about them. Accordingly a team led by PSI Mangesh Bhange from the detection branch nabbed them on June 5.
The arrested accused persons have been identified as Surjit Singh Tak (30), Gogal Singh Kalyani (47), Bintu Singh Kalyani (27) and a minor boy, all residents of Ramtekdi in Hadapsar.
According to police, they have committed several thefts, robberies in the past. A total of 4 four wheelers, five two-wheelers, 100 gm gold, 100 gm silver ornaments, one cooler, Rs 4000 cash, choppers, totally worth Rs 26.4 lakhs. Police have solved 25 cases with their arrest.
Additional CP (East region) Prakash Phulari, DCP (Zone 4) Prasad Akkanouru, ACP (Yerwada division) Shivaji Pawar, Senior police inspector Rajendra Kadam, Police Inspector (crime) Ajay Waghmare supervised the investigation team. It included policemen Balu Bahirat, Christopher Makasare, Ramesh Ohwal, Hanmant Jadhav, Sandip Manjulkar, Pankaj Musale, Ashok Gavli, Manoj Kudale, Rahul Pardeshi, Sunil Sakat, Sunil Naglot, Vishnu Sarode, Kunwar, Mohite.
Follow Punekar News: