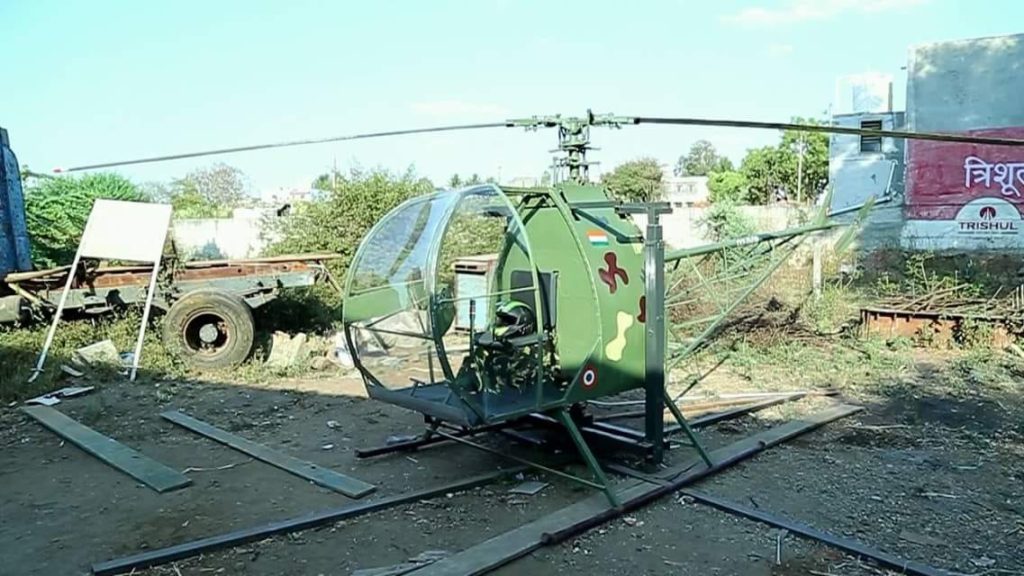 Pimpri – A Marathi youth has shown that if the dreams get the strength of the wings, they can reach their goals. Tractor mechanic Pradeep Shivaji Mohite is the name of man who proved this right. Pradeep liked helicopters from his childhood.
He used to first make a helicopter of paper . he was passionate about creating a helicopter. He worked  and made helicopter in a garage.
Mohite, who is from Wangi in Sangli district, is presently residing in Pimpri-Chinchwad city. Pradeep has his own garage called Shree Siddhanath in Talwade. Pradeep had a lot of love for the helicopter, and when he was younger, he used to make paper and wooden helicopters.
Since he could not concentrate on studies, Pradeep studied till class 10 and dropped out of school. His parents sent him to work in a garage. He worked there for four years and then started his own garage. After launching the garage, the dream of creating a helicopter lagged behind.
In 2009, Bollywood film Three Idiots was releasee and Mohite's dream of creating a helicopter got a new zeal. Inspired by the film, Pradeep started making a fresh helicopter. For the first time, he installed a four-wheeler engine and in just three years, he took the country-made helicopter in the air. In this attempt, Pradeep's helicopter crashed three times. The accident took place but he did not give up. Pradeep was honored with 'Dhruv' Award from the Hindustan Aeronautics Limited (HAL) in 2013 for building the helicopter. This award gave Pradeep's wings a true sense of strength.
Pradeep has invested money, which he got from the garage, in the fabrication of a helicopter from garage. He has spent Rs 40 lakhs for the helicopter, and currently he has created six models. The pilot and officials of Hindustan Aeronautics Limited informed Pradeep that the present helicopter made by him could move 300 feet up to 50 kilometers.
"We have got patents for five and remaining is in the process",  said adv Urmilla Jadhav, Mohite's aunt, who is helping him with the process.
Pradeep was also helped by his friends from the armed forces in this work. Ramesh also provided financial assistance to Pradeep. As he is not a pilot, he had to face endless problems in testing the helicopter. Often accidents occurred.
 Pradeep is now ready to make a fighter helicopter in the future.
Presently, Pradeep Mohite, who lives in Pimpri-Chinchwad city, lives with his wife and lives in a rented house. They have to pay Rs 17,000 rent for the garage and Rs 3000 of house rent. If the Government helps Pradeep's invention, Prime Minister Narendra Modi's dream of 'Make in India' will actually come true.
What HAL Dhruv award states ?
"HAL RECOGNISES NATIONAL TALENT "DHRUV AWARD FOR INDIGENOUS TALENT" SHRI PRADIP  MOHITE"
"Mohite, a tractor mechanic by profession with 9 years of schooling (9th standard pass), from Sangli district, Maharashtra, India has taken a bold initiative to develop a home built helicopter. He has fabricated a helicopter with continuous efforts and through gradual improvements. Mohite, has fabricated the helicopter using automobile components and lifted successfully above ground on July 7, 2012. He has used Maruti 800 engine to power the rotors controlled by automobile brake cables. Tractor battery is used to start the engine and automobile speedometer meets his monitoring requirements.  His ingenous concepts of swash plate mechanism, use of spring to replace lead lag dampers are amazing. Use of modified automobile differential to drive main rotor and configurations of control sticks are innovative. He has constantly innovated and improved his machine to bring it to a flying stage, using his own resources and his own visualized concepts", states the 2013 award from HAL.