7 yr girl from Pune treks Harishchandragad via Nalichi Vaat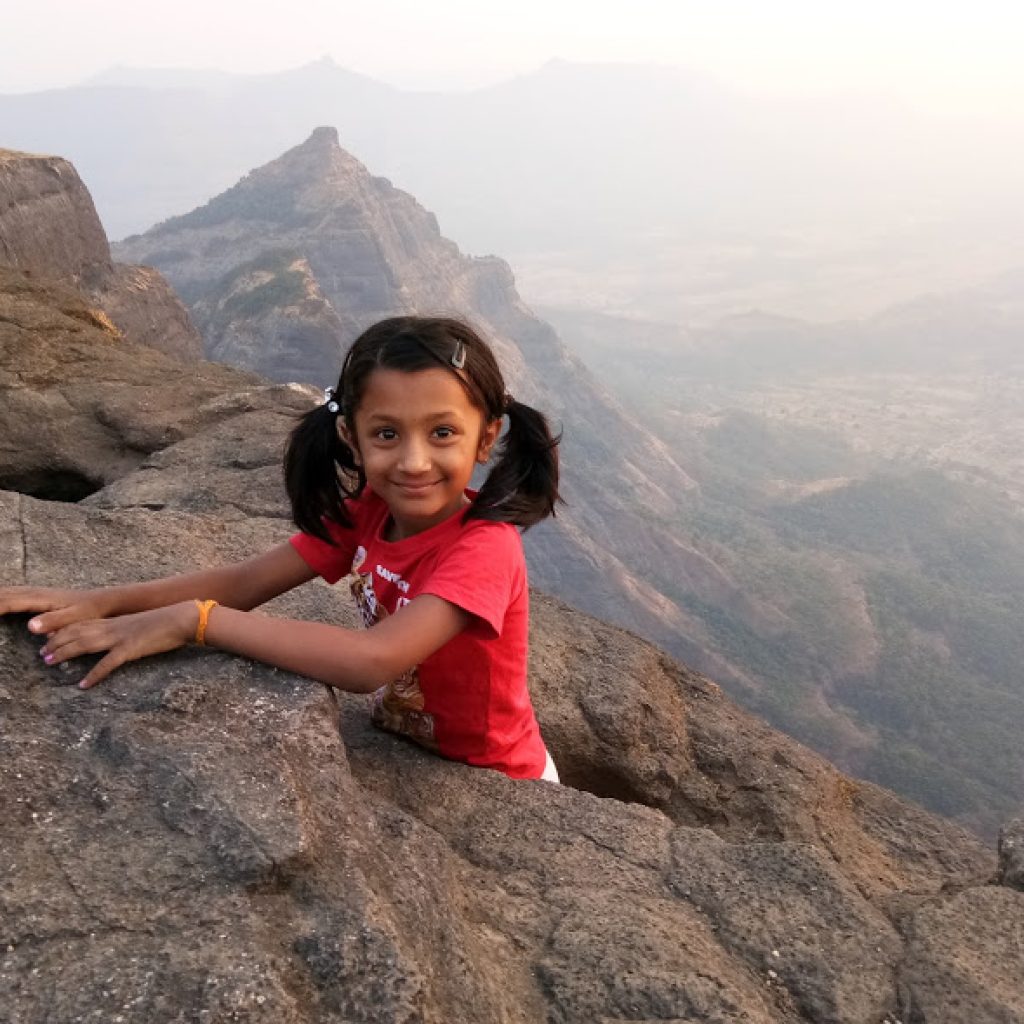 On 25th March 17, Tirtha Lagad (7) created history by becoming the youngest girl from Pune to reach Harishchandragad via Nalichi Vaat in nonstop 8 hour trek.
The trekking team comprising her sister Supriya, Ravi and Dharti Shikhare, organizer of the trek set off from Shivajinagar ST Stand on 24th March to Ale Phata. At Moroshi, a team from Mumbai joined the Tirtha and team. After overnight rest, Tirtha started her trek early morning on 25th March with team from base village Belpada, also called as Valhivare.
Harishchandragad, is one of the most challenging treks in the Western Ghats. Situated in the Malshej region of the ghats, route via Nalichi Vaat (which translates to 'passage through a gorge') is a channel that lies to the extreme right of the mountain. It is the most difficult path to the top. Popular among climbers and experienced trekkers, Nalichi Vaat involves a near 80 degree climb, involving steep rock patches.
Kamlu Alok Polka, a guide from the base village has confirmed that Tirtha is the youngest girl to reach Harishchandragad via this toughest route. Mr. Polka has been guiding trekkers since the last 15 years and he was also with Tirtha and team as guide.
"I have seen 8-10 yrs old boys doing treks, but Tirtha is very energetic girl at the age of 7 yrs and she is the only girl of her age to trek from this route", said Mr Polka.
Another professional trekker and mentor Bhaskar Badad from Kokankada confirmed that Tirtha is the youngest girl to trek this toughest route.
"Tirtha at her age was more enthusiastic and goal oriented than any other co-trekker. She has good technical quotient", said Dharti Shikhare, co-trekker and organizer of this summit.
"As of now the youngest kid I ever met was 8 years old in Sandhan Valley in 2014, who had completed the Sandhan Valley and ascended via Karoli ghat. But Tirtha has broken his record and become the youngest girl to complete the Harishchandragad via Nalichi vaat", added Amit Aradhya, founder of Nisarg Premi Trekkers.
Her father Pankaj Lagad said, "I am still unable to come to terms that our daughter has summit Harishchandragad at the age of 7 yrs. I never realised her potential till she did this journey. Although I have a phobia for height, I am going to support her for her every trek."
Tirtha's mother added, "She has been adventurous since a kid. She loves mountains. We are going to support her for each and every endeavour she aspires for."
Talking about her feat, Tirtha said, "I am very happy that I got an opportunity to climb Harishchandragad. Now my next aim is to summit Kalsubai mountain , which is like the Everest of Maharashtra. I always love doing hard and challenging things. I love nature. I love mountains and I love trekking."