8th Annual Awards for Supply of IIMM, Pune recognizes the best practices in supply chain management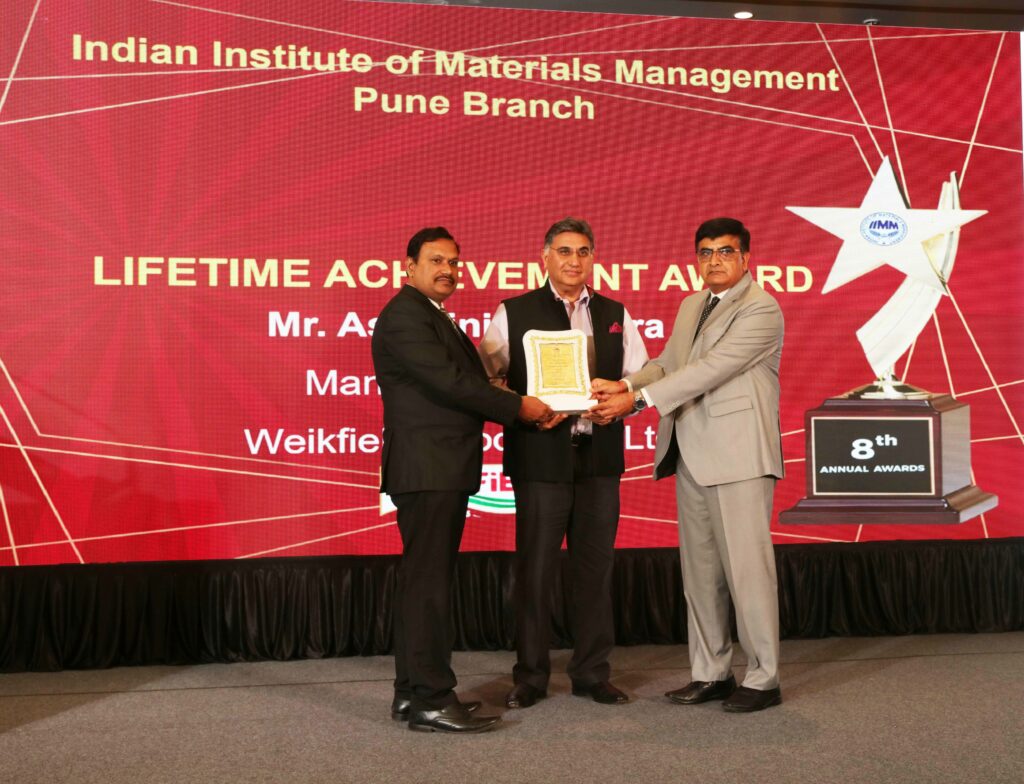 Pune, 20th September 2022: The Indian Institute of Materials Management (IIMM), Pune Branch organized the 8th Annual Supply Chain Management Awards Ceremony on Saturday at Hotel Sheraton Grand on Saturday. The awards are held every year to recognize the best practices in supply chain management (SCM).
Ashwini Malhotra, Managing Director Weikfield Foods Pvt Ltd was conferred with the Lifetime Achievement Award.
Harish Kumar Sharma, National President, Indian Institute of Materials Management (IIMM), KR Nair Vice President, Western Region, IIMM, Shripad Kadam, Chairman IIMM Pune, Shrivardhan Gadgil, Vice Chairman, Arjunsingh Rajput, Honorary Secretary, Amit Borkar Program Convenor and Terence Fernandes, Past Chairman IIMM Pune were present on the occasion along with the executive committee and Pune branch members.
A souvenir of IIMM was also released on the occasion.
The annual awards include recognizing the work of various companies in manufacturing and logistic sector. Manisha Compositek Pvt Ltd was awarded in the micro and small enterprise category in the manufacturing sector, Intervalve Poonawalla Ltd was awarded in the medium enterprise category while Atlas Copco (India) Ltd was awarded in the large enterprise category.
In the logistics sector, Vistar Logitek Pvt received the award in the small enterprise category while Avignon Shipping Pvt. in the medium enterprise category.
Sangharsh Yuva Pratishthan was conferred the award for their social work in the area of education for the poor. Trustee Dnyaneshwar Jagtap accepted the award on behalf of the organization.
The jury included Dr. Ramakrishnan Raman, Sujit Mehta and Madan Chande.
The program was supported by Diamond Sponsors-MAN Logistics (India) Pvt Ltd, Digital Data Automation Pvt Ltd & Newland AIDC, Platinum Sponsors-Mileage Logistics Pvt Ltd, Gold Sponsors-V-Trans (India) Ltd and Viscon Rubber Pvt Ltd and Bronze Sponsor-Ensigns Software & Communications Pvt Ltd (Bronze).
Ashwini Malhotra who is the second-generation flag bearer of Weikfield Foods Pvt Ltd said that supply chain management is extremely critical especially in the food industry which involves fresh produce and where perishability is an issue. It is critical to get right quantity at the right time and we have been able to do it effectively and consistently.
HK Sharma, National President IIMM informed that IIMM has close to 10,000 members across 51 branches in the country. We serve the society in an area which is niche, and which contributes to employment generation and GDP.
Terrence Fernandes and Prasad Rao moderated the program. The vote of thanks was proposed by KR Nair.