Abhay Nevagi and Associates awarded with ISO certificates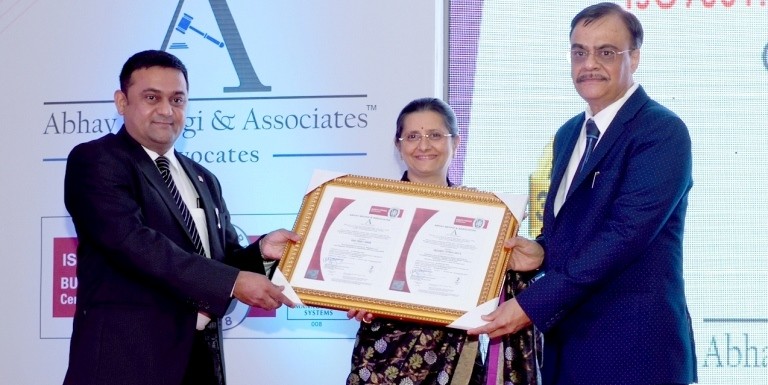 Pune, 14th October 2015 : Pune based Abhay Nevagi & Associates – a leading law firm from Western India has simultaneously achieved ISO 9001:2008 and ISO 27001:2013 certifications. Audited and Certified by UK based Global Certification Agency 'Bureau Veritas Certification', these ISO certificates recognize the commitment of the Firm to continuously provide quality services while ensuring confidentiality, integrity and availability of client data and information.
Both the certificates were awarded to Adv. Abhay Nevagi – Managing Partner Abhay Nevagi & Associates and Adv. Kailash Nevagi – Senior Partner, Abhay Nevagi & Associates at the hands of Mr. Ramesh Koregave, General Manager, Certification, South Asia Region, Bureau Veritas during a ceremonious event held in the city recently.
The organization has received ISO 9001:2008 for legal services and ISO/IEC 27001:2013 for information security management system applicable for providing litigation and non-litigation domains to corporate and non-corporates. The firm had to undergo an exhaustive audit of every facet of its operations, processes, client management, feedback mechanism, information security infrastructure to achieve this certification.
Abhay Nevagi & Associates is probably the second law firm in India to achieve this dual distinction. The firm believes that these ISO standards are essential parts of business in today's quality obsessed and technologically connected world. This certification will take them a step closer to the long overdue modernization of legal service industry. At the same time, ISO 9001 Certification has also helped them to identify potential problems before they occur and understand how the people and activities of the organization fit together at the end of the day.
Ramesh Koregave – General Manager, Certification, South Asia Region, Bureau Veritas mentioned, "It is commendable for a law firm to opt for these stringent standards. Abhay Nevagi & Associates has fulfilled their commitment towards not only being excellence in quality of services but also providing the security of the information of client data and processes. These certifications scrutinize the quality and information management systems followed by the organization. These processes are independently audited to confirm the stringent norms set by ISO."
Abhay Nevagi & Associates is one of the leading and fastest growing law firms in Western Maharashtra with its headquarters in Pune. Having its offices in Mumbai, Kolhapur as well as Ahmadabad, the firm is renowned for offering prompt and effective legal services to its clients. The organization offers law services to sectors like corporate, banking, property, labor & industrial, cyber and media since past 30 years. The firm is acclaimed to find legal solutions that produce tangible cost effective results for its clientele.
Follow Punekar News: