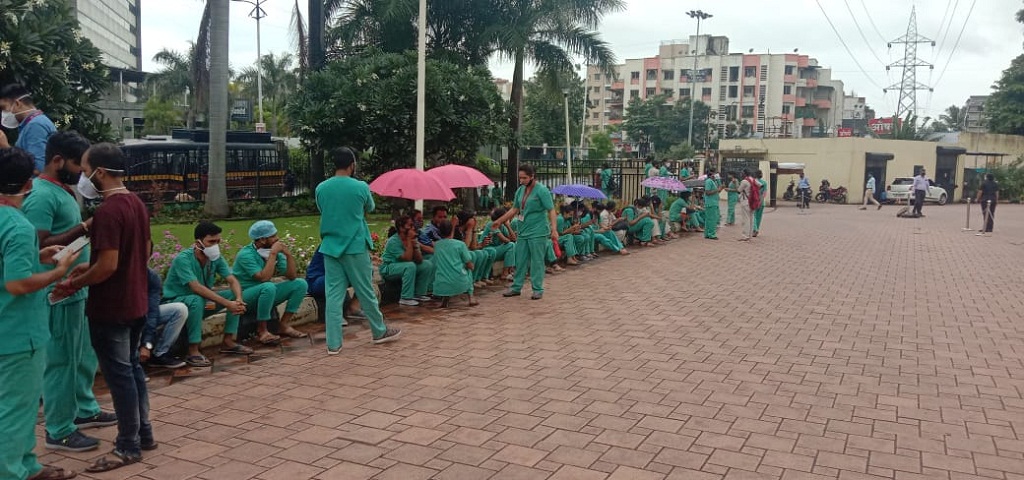 Mubarak Ansari
Pimpri Chinchwad, August 6, 2020: Health workers of Aditya Birla Hospital in Chinchwad have accused the management of mental harassment of employees. The employees have also started an agitation outside the hospital, today, alleging that an attempt was being made to intimidate them by appointment bouncers. The agitation has started in heavy rains.
According to nurses and doctors, they are being treated unfairly. Meals are served inferiorly. They also don't get the meals on time. So, the staffers are not willing to work. They are made to work continuously without break. One doctor has to treat 55 patients in the Coronavirus Disease (COVID-19) ward. They have demanded that the hospital should admit patients strictly as per its capacity.
A nurse said, "The management had promised us to increase the salary this month due to the work being done in COVID ward. But, the salary did not increase." There have also been shocking allegations that their clothes are given to housekeeping staff when they are not nurses, and the housekeeping staffers walk around the hospital as nurses.
"This sometimes makes the patients and their relatives think that the housekeeping personnel are nurses. The clothes we are given are not given properly. The rotation is not smooth. Also, when nurses, doctors are getting infected there is no proper quarantine facility for them. They are made to stay together in a mess which is highly congested," the nurse added.
"Huge injustice is happening to the patients and medical staff. It was decided that in COVID wards duty will be for six hours, but the nurses, doctors are being forced to work for 7-12 hours. This is causing stress," said a health worker.
Another nurse added, "Most of the staff members are from other states. The hospital management has threatened to dismiss us from the job, and asked us to vacate the hostel within 24 hours if we do not work as per their terms and conditions, which are unfair to us."
The management also tried to bring pressure through bouncers, he alleged. The workers said they would protest all day. Meanwhile, police have arrived at the spot.
Rekha Dubey, CEO, Aditya Birla Hospital, said, "They don't want to work which is their right, and thus we can not force anyone to work. We are finding out the alternate."
On the issue of overload on the medical staff, she added, "The pandemic has been difficult for everyone, be it people locked down at home or healthcare, police officials and other COVID fighters working on the forefront to control the pandemic. Doctors are giving more than 100 percent to save every patient's life, and we appreciate their hard work."
When asked about no quarantine facility for doctors, nurses who are getting infected with COVID, Dubey informed, "Across the hospital, we have our own residential complex of three acres, where we have adequate rooms for quarantining doctors, and we also have a separate place for nurses in the hostel."
On the issue of salary hike, Dubey added, "Every year we do the increment in the month of July. On similar line this year in July we did the same. Plus we did market correction also. That means they got almost double incrément. While the whole healthcare industry is under recession and very few organisation has done such recognition. We are one of them. Also, we were the one who has started giving COVID allowance from April onwards as well as their holistic care."
About gatherings in mess, she said, "We do follow all the government guidelines."