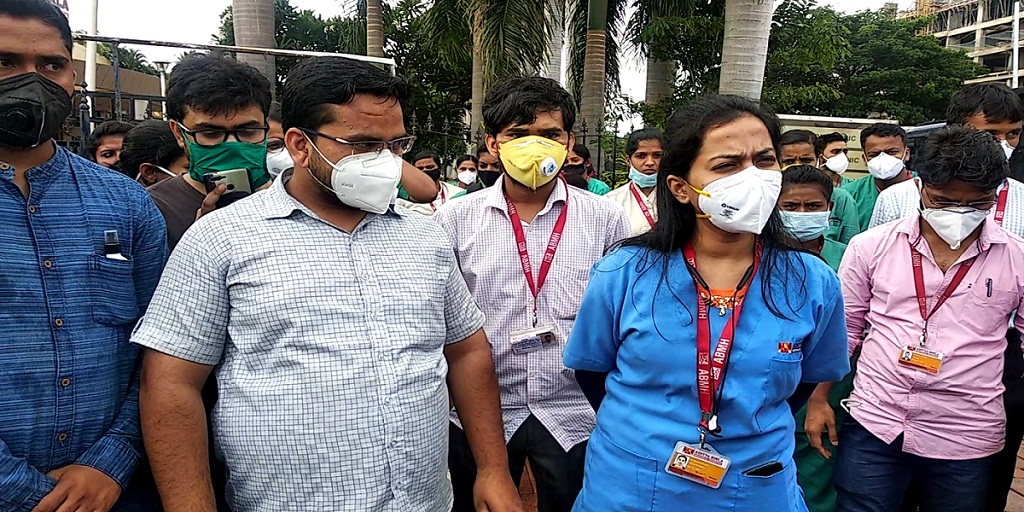 Mubarak Ansari & Shikha Chaurasia
Pune, August 9, 2020: Nurses of Aditya Birla Hospital are already on strike since the past few days regarding various issues, and now resident doctors have joined them. Many resident doctors went on a strike on Saturday, and alleged that they are being ill-treated by the hospital management.
They are saying that the management of Aditya Birla Hospital doesn't care about their doctors, nurses and other medical staff. The doctors are being overworked and one doctor is assigned to look after 50-60 patients. The apathy of the management is one of the core problems the healthcare workers at this hospital are facing.
Dr Samata told Punekarnews.in, "Our rota from August 1 to August 31 is completely packed. We are assigned to be on COVID duty for seven days, and then suddenly we are asked to report and check other patients. There is not even one holiday for us in the middle of this."
She further said, "There is no arrangement of quarantine for us. We have been appealing for rooms since the past one month and yet no arrangement has been done. We are forced to go back to our homes and bear the risk of infecting other family members."
Dr Nazeeb came forward and said, "When I had fallen sick, they admitted me in the hospital and assigned me 14 days' quarantine. But on the fifth day, they told me to report back to duty, and assigned me to work in flu clinics and COVID-19 wards regardless of my health."
The doctors are very agitated because hospital management doesn't even allow symptomatic and other resident doctors to get tested. They are asked to pay for the tests, Dr Amit alleged. "When residents want to get tested, the management doesn't allow us. Even if they do, they demand money for our tests. Our results are often withheld. So even if we are COVID-19 positive, we are unaware and go on risking other patients' lives unwillingly," he added.
Dr Vrushali from the Anaesthesia department alleged that their duty rotations are decided without prior notice. She said, "We are sent to work in COVID-19 wards without any prior notice. There is no problem in working for COVID-19 patients, we are ready to do all duties, the problem is that the hospital management doesn't let us punch our attendance if we are from other departments and deduct money from our salaries."
Many doctors have written complaint applications against this behaviour, but no action has been taken so far. Many female doctors told Punekarnews.in that safety of women is a major concern in the hospital.
Dr Sejal from the paediatrics department said, "There is no security for females. We are asked to show our ID proofs every day, and even after showing, we are forced to tolerate unethical conducts from the security personnel."
Other female doctors have also said that recently, one female doctor was manhandled by a security official, and even after multiple complaints, no action was taken by the management. The doctors then went to the Wakad police station to lodge a complaint in this matter.
They said that there are no separate washrooms and changing rooms for female doctors. There is no protocol and the negligent behaviour of the management often lands them in trouble. One doctor said that even though the doctors are working for 24 hours, the washrooms are closed at 11 pm and there is no other facility for them after that.
Doctors have also alleged that there is no standard protocol for cleaning, sterility, isolation and patient care in the Aditya Birla Hospital. If the patient is ready to give money, they are even admitted to the Medical Intensive Care Units (MICUs).
One doctor added that since the pandemic began in March, the doctors were not given personal protection equipment (PPE) kits. Only on July 2, they received the kits and since the past one and a half month they had been struggling and treating patients without any protective gear which also caused the infection to spread more easily.
Doctors were also frustrated with the way the management didn't provide them with proper food and care. Dr Manish who had tested positive for the virus said, "They don't give us quarantine and even if they do, they don't take proper care. Since we are isolated in a room and are not allowed to go out, no one gives us water and food."
He added, "Even though we are paying money for the hostel, they don't allow us to quarantine there. Also, the management deducts our salaries for the time period when we were quarantined."
Regarding the provision of food, doctors said that the food is of sub-par quality and is not nutritious. They are not even allowed to bring outside or home-cooked food inside the hospital. One doctor said, "When I brought home-cooked food once, they told me to eat in front of the gate."
Doctors said that there are particular time frames between which they are allowed to have food. If any doctor is working or treating a patient at that time and comes later, the cafeteria of the hospital denies them food and tells them to call higher management for permission to eat.
Negligence in patient care and treatment
Resident doctors from Aditya Birla Hospital have said that the hospital is very negligent towards treating their patients. Their casual approach is very upsetting. One female doctor said, "Often when doctors prescribe medicines, they are not available in the pharmacy. Because of this, the patient has to suffer and ultimately their relatives blame us."
Dr Nazeeb said, "After the doctors prescribe medicines, the management doesn't follow up, and the medicines which should have been given to the patient at 8 pm-9 pm are given to them till late night, sometimes as late as 2 am."
Dr Manish said, "It is the decision of the doctor to shift the patient in ICU or on oxygen support. But the management often takes this call on their own." He added that once they wanted to shift a patient to the ICU but the management didn't take swift action. They had to manage that patient for three hours before shifting to the ICU where beds were not available.
Another doctor came forward and said, "Sometimes it takes up to nine hours to shift a patient to the ICU. All we need is a wheelchair and an oxygen cylinder, but we have to keep calling the management and wait for hours for one oxygen cylinder. Once, we also found a patient unconscious."
The doctors have also expressed concerns over the management admitting COVID-19 patients with non-COVID patients because the risk of infection getting transmitted increases drastically in a situation like this.
The doctors via this strike want to appeal to the Chief Minister of Maharashtra, Pune District Collector, Pimpri Chinchwad Municipal Corporation (PCMC) and the State Health Minister to take necessary action and provide an ideal work environment to these doctors.
The management of the hospital did not respond to queries from Punekarnews.in even after repeated reminders.
After nurses strike at Aditya Birla Hospital Chinchwad, now Resident Doctors have also joined protests with their issues. They have also lodged complaint with police against inhuman treatment meted out to doctors by the management. #Pune Ajit Pawar CMOMaharashtra Collector Office Pune Prime Minister of India's Office (PMO), New Delhi @Narendra Modi

Posted by Punekar News on Saturday, August 8, 2020