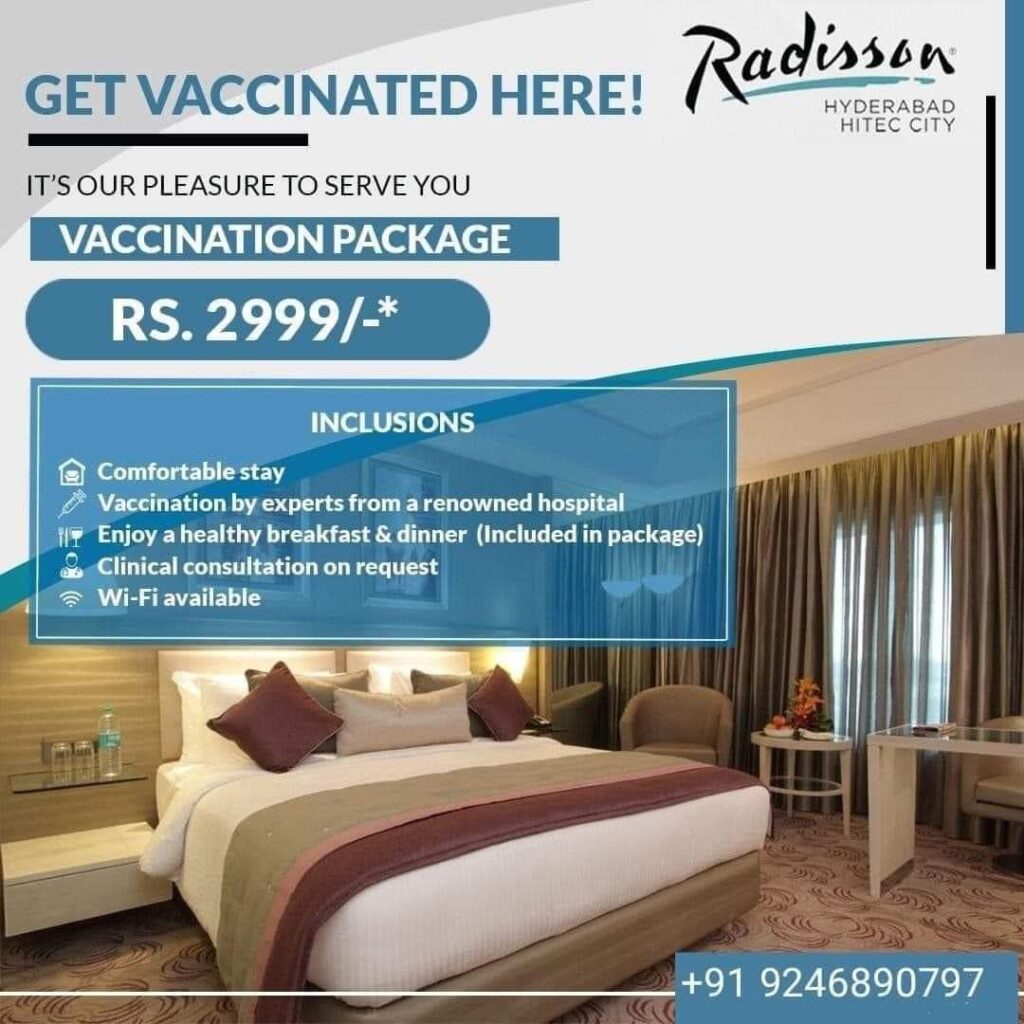 Sumit Singh
Pune, 30th May 2021: At a time when people are struggling to get a vaccine dose against Coronavirus disease (COVID19), some luxury hotels are offering 'Vaccination Packages'. They are charging Rs 3000 to Rs 5000.
After facing criticism, the central government issued a letter to states on Saturday asking them to take action as such vaccination is not allowed.
An advertisement by Radisson Hotel reads, "Get vaccinated here. It's our pleasure to serve you vaccination package (at) Rs 2,999* inclusions – Comfortable stay, vaccination by experts from a renowned hospital……."
However, the offer has been now withdrawn by the hotel.
Meanwhile, Additional Secretary Dr Manohar Agnani of the Union Ministry of Health and Family Welfare (MoHFW) termed vaccination at hotels as against the guidelines of the national COVID vaccination program.
His letter dated May 29 states, "It has come to the notice of Union Health Ministry that some private hospitals are giving package for Covid Vaccination in collaboration with some hotels, which is against the guidelines issued for the National Covid Vaccination Program.
Also Read Pune: Two Days Reserved For Vaccination Of Students Going Abroad For Education
As per Covid Vaccination guidelines following four options are available for carrying out Covid Vaccination:
1. Government Covid Vaccination Centre.
2. Private Covid Vaccination Centre run by a private hospital.
3. Workplace Covid Vaccination Centre at government offices to be run by government hospital and at private companies to be run by private hospitals.
4. Near to Home Covid Vaccination Centre for elderly and differently-abled person to be organised at group housing societies. RWA offices, community centres. Panchayat Bhawans, Schools/Colleges, Old Age Homes etc. on a temporary basis.
Apart from this, there are no other avenues to carry out vaccination under the national Covid vaccination program. Therefore vaccination carried out in star hotels is contrary to the guidelines and must be stopped immediately. Necessary Legal & Administrative actions should be initiated against such institutions."
Join our Whatsapp Group, Telegram, and Twitter for each update about Pune and PCMC.