Akshaya Patra's New Kitchen Inaugurated in Mandya District of Karnataka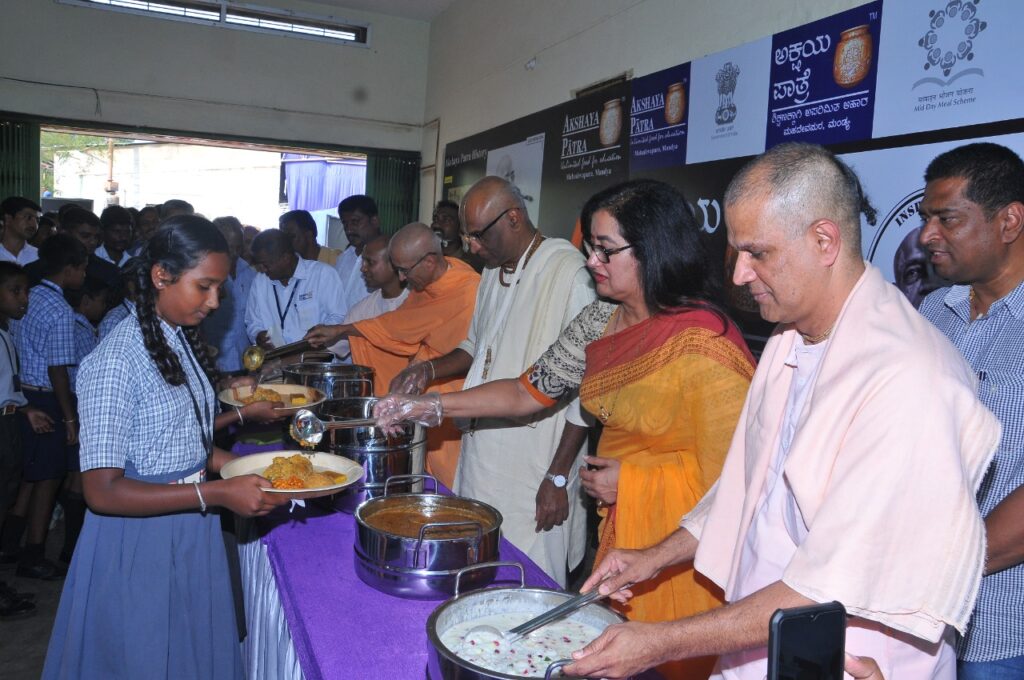 Mandya, November 10, 2019: TheAkshaya Patra Foundation inaugurated its new kitchen in Mahadevapura village of Mandya district, Karnataka, on November 10, 2019, to serve freshly cooked, nutritious and tasty mid-day meals to children. The state-of-art kitchen has the capacity to cook meals for feeding 20,000 children in Mandya and Mysuru districts. Akshaya Patra has also taken the initiative of feeding 600 children from Anandalwar High School in Mahadevapura in its own capacity.
The chief guests at the inauguration ceremony were Smt Sumalatha Ambareesh, MP – Mandya constituency, and Shri Ravindra Srikantaiah, MLA – Srirangapatna constituency. Other dignitaries to grace the ceremony were Stoka Krishna Maharaja , Vice-President, ISKCON – Bengaluru and Jai Chaitanya Dasa, President, Iskcon – Mysore. The event was presided by Shri. Madhu Pandit Dasa, Chairman – The Akshaya Patra Foundation.
The dignitaries present commended Akshaya Patra for its efforts to address hunger and malnutrition in India and expressed their support and encouragement for the Foundation's endeavour. The inauguration event was followed by a ceremonial serving of meals to the children.
Praising Akshaya Patra for serving midday meals to 1.8 million children across the country, MP, Madya – Smt Sumalatha Ambareesh said, "I am happy to know that Akshaya Patra is bringing its globally recognised kitchen model to Mandya. Through this kitchen, thousands of children will get access to nutritious food prepared in hygienic manner. I would request Akshaya Patra to open more kitchens in this region so that more number of children will benefit from the Mid-Day Meal Programme." She was also pleased to distribute shoes and plates to children.
Shri Ravindra Srikantaiah said, "It is an honor that The Akshaya Patra Foundation is starting a kitchen in our district in association with the Government. They are using latest technology and maintaining quality and hygiene at the kitchen to provide children nutritious meals. I thank Shri Madhu Pandit Dasa, the chairman of Akshaya Patra, for their endeavour." He further added, "I am delighted to know that Akshaya Patra is hiring locals and providing them employment opportunities."
Speaking on the occasion, Shri. Madhu Pandit Dasa, said, "Mid-day meals act as a stimulus for children to come to school and continue their education. It has always been our endeavour to reach out and serve more children. The new kitchen will help us reach out to 20,000 children in the region with wholesome food and bring a positive change in their lives." He further added, "we are immensely grateful to the Government of Karnataka, Ministry of Human Resource Development (MHRD), and the Government of India, for empowering and enabling us to serve the children of our country."
The catchment area of Akshaya Patra's Mahadevapura kitchen is predominantly inhabited by raiyats (farming community). The kitchen will help the Foundation reach out to the children in this community with nutritious mid-day meals. Furthermore, this initiative will contribute to the Foundation's community development efforts in this region. The setting up of this kitchen will also translate into employment opportunities for the local, especially women and youth.
The centralised kitchen has the capacity to prepare 20,000 meals at a time. The facility is equipped with a roti-making machine, cold storage, an effluent treatment plant (ETP) for wastewater treatment, and a blender for rice fortification.
Adhering to the practice of serving food in accordance to the local palate, Akshaya Patra will be serving bisibelebath, rice, sambar, upma, payasam, kesaribath, vegetable khootu (sabji), curd, khara pongal, and cornflakes in a cyclic manner