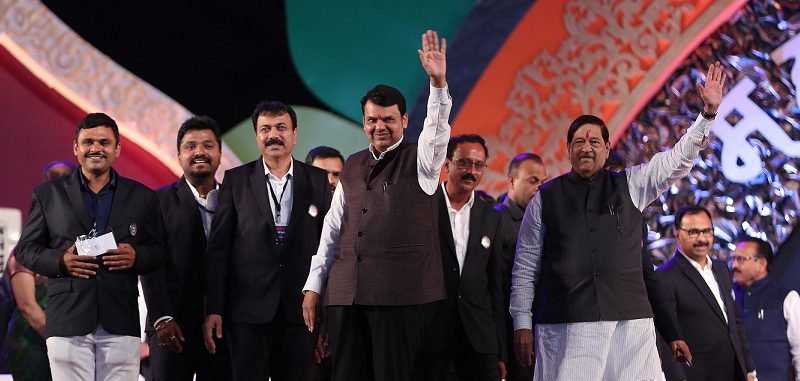 Mumbai, November 25,2019: Devendra Fadnavis, who has been sworn in as Chief Minister of Maharashtra, has to prove his government's majority in the State Assembly. However, more than it is necessary to overcome in the election of the Speaker. Since the majority will be revealed at the time of the election of the chairman.
The full-time president is elected under the chairmanship of the Protem Speaker.
After the newly elected MLAs enter the house, they have to take oath of office and secrecy. This oath is administered to him by the Provisional Speaker. It is selected according to the order of seniority in the House. It can be of any party, but the belief is that it should be of any party whose favor cannot be expected. Because the full-time president is also elected under his / her chairmanship. In 2014, this responsibility was handled by Jeeva Pandu Gavit, a member of the CPI-M MLA.
The first test of the ruling party takes place in the election of the Speaker of the Legislative Assembly.
Then comes the election of the Speaker of the Assembly. The first test of the ruling party in the House takes place in this election. This time it will be the same. If the BJP is successful in electing its assembly speaker, then the signs of getting its majority will be found at the same time. Otherwise it is possible that Chief Minister Devendra Fadnavis leaves the chair even before he comes to prove his majority.
The shadow of suspense is not over on politics in Maharashtra. On the one hand, the Supreme Court has not given immediate relief to the Opposition and asked for a letter of claim and invitation, on the other hand, the stir in the state is also fast. NCP leader Ajit Pawar, who remained silent since taking oath as Deputy Chief Minister on Sunday, added to the stir by tweeting one after the other. Soon after, NCP President Sharad Pawar denied Ajit's claims.
Ajit's personal decision to support BJP
Since the swearing-in, the break-up in the Nationalist Congress Party (NCP) has come to the fore. Sharad Pawar made it clear on Saturday that Ajit's decision to support the BJP was a personal decision. Since then, Ajit tweeted one after the other on Sunday, saying, 'I am in NCP and will always be in NCP. Mr. Pawar is our leader. Our BJP-NCP alliance will give stable government in Maharashtra for next five years. This government will work seriously for the welfare of the state and its people. nothing to worry about. All is well Just a little patience is needed. Thank you all for your cooperation. '
Ajit's tweet increased suspense in politics
Ajit also thanked the BJP leaders. Ajit's tweet was again stirring in state politics. Even speculations started that Ajit might have overcome the dilemma by talking to uncle Sharad Pawar.
Sharad Pawar called Ajit's words false
The confusion created by Ajit's tweet soon broke. Shortly after his tweet, Sharad Pawar also replied on Twitter. In his reply, Pawar called Ajit's words false. Pawar tweeted, 'There is no question of alliance with BJP in Maharashtra. NCP has unanimously decided to form an alliance with Shiv Sena and Congress to form the government. Pawar did not stop here. He further said, 'Ajit Pawar's statement is false and misleading. He has said all this to raise suspicion and create misconceptions among people."