Australian researcher delivers presentation on Smart sensor technology for Agriculture at MCCIA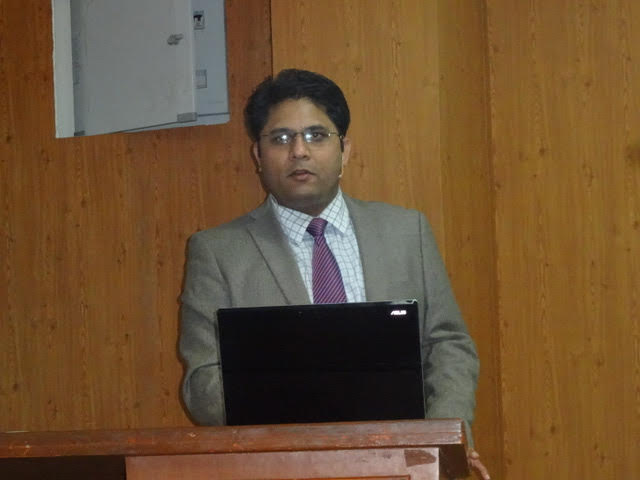 Dr Aniruddha Desai from La Trobe University Australia  delivered very innovative presentation on Smart Sensor Technology for Precision Agriculture Applications at MCCIA on Thu 18th Feb 16.
The presentation started with a graphical slide on R&D and business cycle and how a death of an Idea takes place if not corrected on time. The concept of "Death zone " was very easy to understand business oriented research and its development. The need of sensors started with discussion on food wasted worldwide. It is quite amazing to learn 33% food is wasted worldwide. Hence need for conservation and yield improvement using smart sensors.
No R&D is successful unless it has business goal & angle and benefit to society for wealth building
The past decade has seen an exponential growth in the use of Smart Sensor Technology, especially the development of ultra-portable sensor systems segment called wearable. Wearable are essentially light weight "things" comprised of miniaturised electronics, sensors and software. Commonly seen wearables include human fitness trackers that allow monitoring physical activity metrics of a user such as distance walked or run, calorie consumption, and in some cases heartbeat and quality of Sheep.
La Trobe is in the process of signing MoU with Sheep farm industry o following recent reserch. 
The lecture  provided an overview of an ongoing project that is developing such wearable technology for use in precision agriculture applications in Dairy and Sheep Industry– with focus on improving farm productivity/profitability while supporting animal well being.
The project includes the design of an end-to-end solution (sensors, base stations and back-haul data processing systems) that can monitor and collect a range of useful animal behavior data in real-time such as grazing, walking, rumination, proximity with other animals, radio positioning of individual animals in a paddock etc. When combined with intelligent data analytic, such a system can enable a range of farm management applications such as better planning and improving reproductive efficiency, optimizing feed, proactive health management of livestock, and detecting theft and predatory attacks.
About Dr Aniruddha Desai's 
Dr Anirudha Desai holds a Bachelor's degree in Industrial Electronics, a Master's degree in Micro-electronics and a PhD in Computer Architecture. He is currently the Director of La Trobe University's Centre for Technology Infusion, which is a Research and Innovation Centre specialising in delivering technology based commercial innovations to Industry and Government clients.
Dr Desai has led several multi-million-dollar R&D programmes at La Trobe University in a variety of application areas such as Intelligent Transportation Systems, Energy Management Systems, and Logistics/Supply Chain Solutions. His work has resulted in several patent applications and innovative designs which have underpinned a number of new start-up companies. Dr Desai has received several industry awards recognising excellence in R&D innovation at State, National and International levels and many of his projects have been profiled on TV, radio and print media.
Dr Desai has been invited to serve on technical/advisory groups and on expert panels for a number of Government Departments. He is currently also the Chief Technology Officer of Newport Digital Technologies Australia, which is an innovative technology company partnering with his Centre to develop and commercialise a new Intelligent RFID technology based solution for supply chain application.