Azamgarh: Aircraft Crashes In Saraimir, Trainee Pilot Killed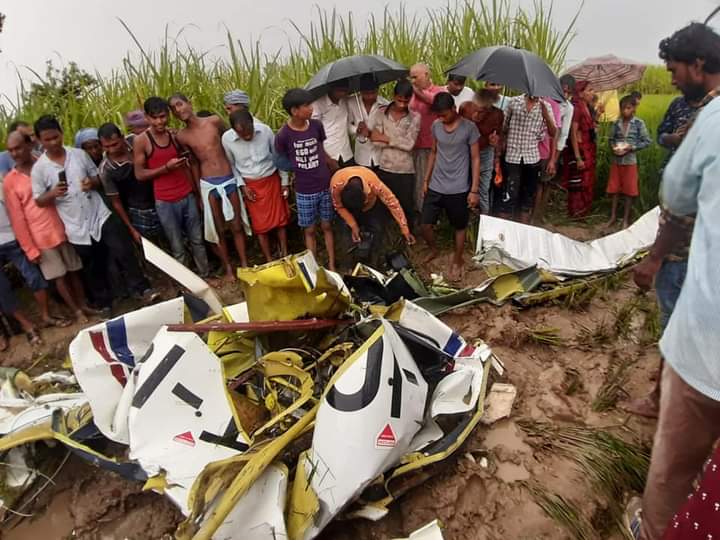 Karishma Jha
Azamgarh (Uttar Pradesh), September 21, 2020: An aircraft crashed today in Kusha which is seven km from the town of Saraimir. Villagers said that it was raining heavily at that time and then they heard a loud sound in the sky.
The aircraft was badly uncontrolled in the air and the villagers were worried after seeing the weather, then they saw a young man who was jumping from the plane. People hid in a safe place the second time the training aircraft showed a fall. Barely five minutes apart, the plane fell into the field and turned into rubble. At the same time, the person who jumped from the plane has been identified as trainee pilot Kornak Saran (24).
SDM Vagish Shukla, who reached the spot after getting information from the village head, said that one person has died. The district administration team reached the spot and engaged in relief and rescue operations.
On behalf of Lal Bahadur Shastri International Airport Babatpur, it was informed that the deceased is a trainee pilot. The training aircraft took off from the Indira Gandhi Rashtriya Uran Akademi (IGRUA), Rae Bareli. The aircraft crashed in Azamgarh district at around 11.11 am. The aircraft was a single-seater and after travelling from Rae Bareli to Varanasi airfield, it was returning from Azamgarh to Mau to Rae Bareli Airport when the accident happened. The aircraft entered Varanasi airspace but did not land at the airport, so the aircraft was being handled by Varanasi ATC (Air Traffic Control).