'Candid Talks' session of  19th Pune International Film Festival (PIFF) Day 4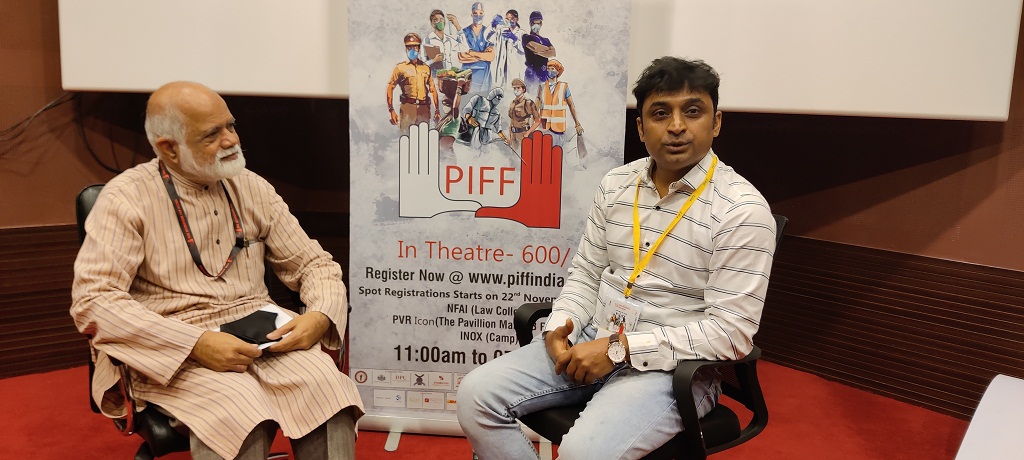 Pune, 5th December 2021: 'Candid Talks' session of  19th Pune International Film Festival (PIFF) Day 4 was conducted today by Samar Nakhate, Creative Director of PIFF at NFAI at Law College Road.
Nakhate interacted with the team members of the movies 'Where is Pinki?', 'PIG'and 'Kandil' in various categories.
Ramchnadra Hosur, the Art director of the movie 'Where is Pinki?, Thamizh, director of 'PIG' and Mahesh Kand, director of 'Kandil' were present during the interaction.
Where is Pinki?

Art Director- Ramchandra Hosur

"A lot of research work was done before the story was conceptualized and shot. The story was inspired by a news item but lots of different, unique ideas were infused in it," said Ramchandra Hosur, the art director of the film 'Where is Pinki?
The story revolves around Bindu and Girish who are an ordinary middle class couple with an 8 months old baby, Pinki. One day when Bindu returns home early from work, she discovers that Pinki is not home and so is Sannamma, the house keeper. Thus begins a search for the baby in the city of Bengaluru that takes all the stakeholders to strange places, people and situations. The film won the prestigious Prasad Lab DI award and Movie Buff appreciation award at Film Bazaar 2019 while it was still in Rough Cut stage.
"The story was shaped in a way that it focuses on the perspective of the relation between women and the child in the city of Bengaluru. There is no negative character in the film. Everything in the film has its own position and relates the story in a particular framework," said Hosur.
— — —-


PIG
Director: Thamizh

Thamizh, hails from Erode District, in Tamil Nadu and had immense love towards Cinema right from childhood. He left home after completing his under graduation and came to Chennai in pursuit of his passion, where worked as Assistant Director and Associate Director for 10 years and finally shot his first film 'PIG'.
The film PIG is about Poochi who lives with his grandson, Kumaresan in a small hut on his landlord, Vellaiyan's land. Kumaresan's parents were killed in a caste riot a few years ago and is now being taken care by Poochi. Vellaiyan is a well-known landlord of the region and is on the constant lookout to eat pork. Vellaiyan calls his friends to eat the meat in his farm and he gives the responsibility to Poochi to buy the pig as well as slaughter, clean it and cook a portion of the meat in the fields itself. The film works on the relationship between Poochi and his grandson, Vellaiyan and his friends and centred on a group's desire to eat meat.
"I framed the story after reading a book written by a Tamil author. It took 6 months to write and 5 version of screenplays before the film was structured. The story focuses on the caste system where people from higher strata are presumed to eat chicken and mutton while lower caste feed on pig and beef.  When it comes to eating, there is no caste favoritism but it's the material in the food that invokes the question of the caste status. There's a conflict of ego here," said Thamizh, who picked his characters from the local population.
Kandil
Direction: Mahesh Kand

The movie 'Kandil' focuses on 5 dreamy youngsters who are brought up in slum-life giving hand in hand struggle to overcome set ideological barriers. The story is based on feelings, unequal social structure, dreams and the struggle of 'everywhere–common men experience'.
"Against the backdrop of virtuality and fiction, my personal taste in movie world is to depict and portray real personalities as a leading character with exchange of common day to day human interactions, feelings and values," said Mahesh Kand, Director of the film who undertook tremendous research work for 3 years visiting slums across PCMC, Parvati and Dharavi to generate the idea and make the film, which was shot around 42 days.
"I believe that when we make cinema, the cinema at the same time also makes us,"said Kand.
advt