Chief Minister opens workshop of mayors, municipal commissioners, other officials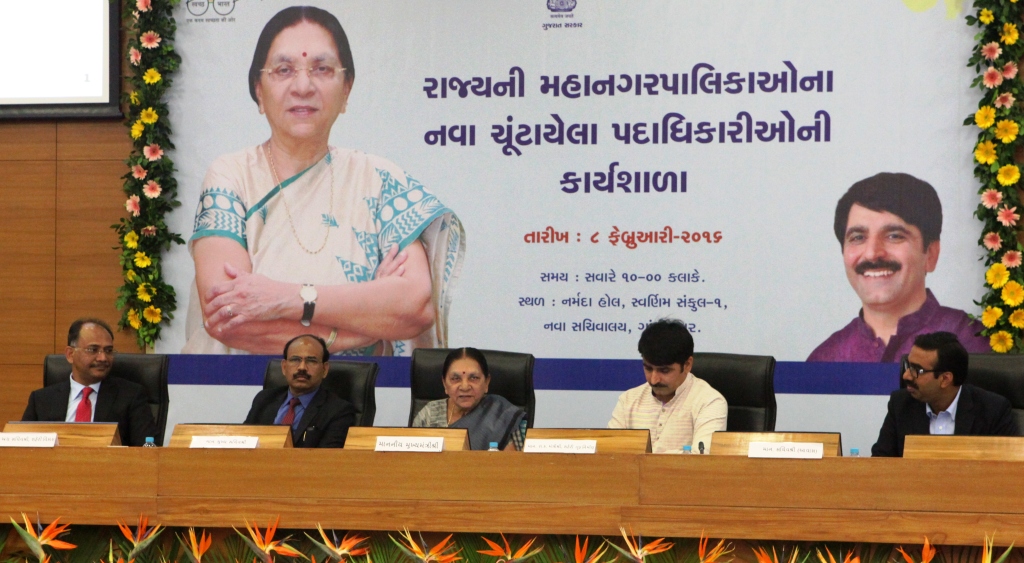 "Need to take up 'citizen-centric' all round development of cities as a campaign, solving problems on-the-spot," says Anandiben Patel
 Gandhinagar, February 8, 2016: Gujarat Chief Minister Anandiben Patel here today called for 'citizen-centric' all round development of cities as a campaign, keeping in mind the health, education, cleanliness and other activities for the welfare of the people.
Addressing a day's workshop of mayors, municipal commissioners and office-bearers of the civic bodies, she said it is the responsibility of elected corporators to visit the respective wards, establish link with the citizens, understand their problems, involve people's participation and find solutions on-the-spot.
She suggested time bound completion of pending projects, ensuring early allotment of flats to the beneficiaries, incorporating their names in the electoral rolls, meeting managing committees of housing societies, forming ward wise women's safety committee.
She said the entire process should be reviewed quarterly. The campaign should touch every person, including women and children, their medical checkup and erase malnutrition.
Minister of State for Urban Development Shankar Chaudhry in his keynote address hailed the Chief Minister's long experience in urban development for future planning.
Chief Secretary G.R. Aloria called for application of IT solutions in 'Ease of Doing Business' for municipal corporations, setting up industrial felicitation centres for attracting investments, can set aside a particular day of the week for meeting with investors.
Principal Secretary for Urban Development Rajivkumar Gupta explained the purpose of the workshop, jointly organized by the Urban Development and Urban Housing Departments, is to appraise the elected wing about the Gujarat Government schemes, notifications and their implementations. Chief Minister's Principal Secretary S. Aparna, among others, was also present.
The topics covered in the workshop included planned urban development, smart city projects for Ahmedabad and Surat, rehabilitation of slums under Swarnim Jayanto Mukya Mantri Saheri Vikas Yojna, Swatch Bharat Mission, Waste2Energy Project, Amrit Mission and LED Light Project, Health, Drinking Water and Women's Welfare.