Corona Lockdown: CM Uddhav Thackeray issues stern warning to divisive elements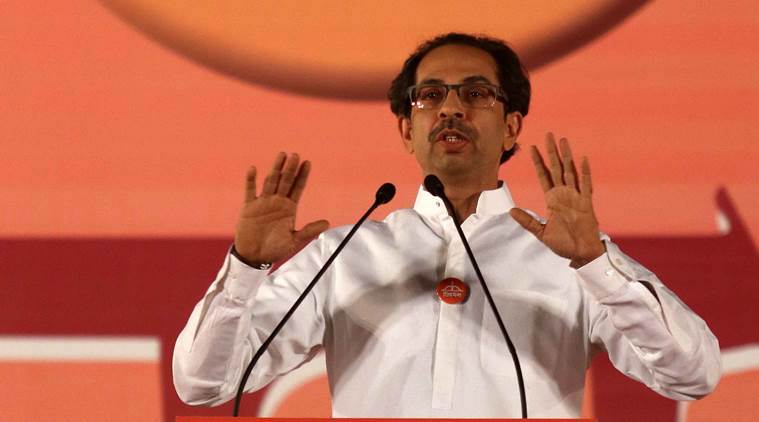 Mumbai, April 4, 2020: When I say with folded hands to follow the discipline and cooperate, it is meant for those brothers, mothers-sisters in Maharashtra who with utmost restraint, determination, and confidence are fighting against this Coronavirus. But there is another virus that is emerging and spreading and threatening the social harmony.
"We will save Maharashtra from this virus. But if someone tries to misuse the situation and try to put Maharashtra and my brothers, mother-sisters in difficulty, I will not tolerate it. My law will catch up with them and they will not be spared", Chief Minister Uddhav Thackeray warned.
He addressed the people through direct telecast on social media today.
Making a mention of a 7-year-old girl Aaradhya from Solapur for helping the CM's Relief Fund on her birthday he extended the best compliments to her.
No one will be allowed to disturb the unity
No permission to any program of any religion, party
All religious programs like Gudi Paadawa, Ram Navami, Pandhaarpur pilgrimage etc. were celebrated in a homely atmosphere avoiding large gatherings. Likewise, people of other religions should also celebrate their religious programs and festivals avoiding crowding of people. The state will not give permission to any party or religious group to celebrate its programs on a public scale. Even there will be no permission for sports events also. Directions were issued to the administration in this regard, the Chief Minister said adding that we are all fighting unitedly with this virus and no one should ever try to break this unity. That will not be tolerated.
Staying at home is the only remedy
This virus does not differentiate between caste and religion and affects all. Therefore, the only remedy to keep it away is to stay inside. Stay at home, avoid crowd. Restraint, determination, and self-confidence is the only weapon to fight this virus. With the help of this, we will surely win the war against the virus, Chief Minister said issuing a stern warning to anti-social elements and said that strict will be taken against such elements.
100 percent identification and isolation of people who returned from Delhi
Giving information about the video-conferencing with Prime Minister Narendra Modi a couple of days ago, Chief Minister said that the Central Government informs the state about those people who had returned to the state after attending the Delhi program. So far, 100 percent of them are identified and kept in isolation, he said. But if someone remained to be identified, they should on their own come forward and allowed them to be tested and treated or their neighbors should intimate, the Chief Minister appealed to the people.
51 people cured and returned home
The number of Coronavirus is increasing in the state and I don't want to hide this information, the Chief Minister said adding that we have increased the testing centers in Maharashtra and Mumbai. We are initiating a search of patients and conducting tests on them. Today the number of such patients has reached 500 but 51 people have returned to their homes after getting completely cured, he mentioned.
Arrangements for 5 lakh migrants
He said that Maharashtra has around 5 lakh migrant labor and the government has taken care of their meals, breakfast, Medical facilities, etc. Special care is being taken of women and children and no one needs to go anywhere. He assured those Maharashtra people in other states not to move and stay where they are and contact the Chief Minister's office in case of difficulty so that relief can be provided to them, he said.
Praise for Unity and resolve of Mumbaikars
Stating that health facilities have increased in districts and as the world eyes Mumbai, so is the virus. But this is Mumbai; this city has seen many ups and down and digested many shocks and accidents. Their bravery has always been exemplary and incomparable. Unity and resolve are the very nature of this city. This virus will not cause any harm to Mumbai the Chief Minister exuded saying that separate hospitals for COVID-19 have been started in Mumbai. Those suffering from cold, cough, Pneumonia should prefer to go to these COVID-19 hospitals rather than the regular ones and have their tests conducted. This will keep other hospitals secure and safe and they need not be closed.
Take care of senior citizens
Noting that there were some deaths unfortunately in the state, Chief Minister Thackeray said that these deaths included those who suffered from diabetes, heart attacks and other ailments also. We need to be careful about the senior citizens in our families and to see that they do not get infected. For this we need to be safe first. We should not venture into crowded places, and stay at home, and this is the only measure. Whenever we go out to purchase essential commodities ensure that we go with our nose and face well covered with a handkerchief.
Why do you throng the shops when essential commodities are available 24 x7, the Chief Minister asked the people. Do not go out of your house unnecessarily. If you keep the distance Coronavirus will not come near you. I have faith in the people of my state. I am confident that we will overcome this Coronavirus with our united strength. Keep this wall of restraint, determination, and confidence strong and formidable. Corona will not harm you. We will win this war against the virus, he said thanking all those who helped in this fight against the COVID-19.