Coronavirus: Huge line outside TCS office in Hinjawadi as employees being checked for symptoms
Sumit Singh
Pune, March 13, 2020: There was a long serpentine queue outside the office of IT giant TATA Consultancy Services (TCS) Limited in Rajiv Gandhi Infotech Park Phase 3 in Hinjawadi today, as the employees were being screened for symptoms related to flu in the backdrop of Coronavirus outbreak. There have been 17 positive cases in Maharashtra till now including 10 in Pune.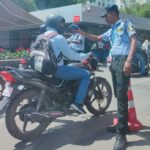 The employees were stopped at the gate before they could swipe their card and security guards pointed thermometer gun at the forehead or watched to check for signs of a cough or difficulty breathing. Anybody found having more body temperature than normal and any sign of flu was sent home after noting down his/her employee number. Their managers were also being informed.
"These checks started today morning as yesterday (March 12) a floor was evacuated and all employees working with a particular project, were sent on leave. The reason being two persons who had a history of visiting China or Japan have got some symptoms of flu. Hence, the company got the floor evacuated where they worked. The floor was sanitized. And today all employees were being screened at the gate itself", multiple employees told Punekarnews.in
An email has been sent to TCS for their version. This report will be updated after getting the company's reply.