Coronavirus Lockdown: Pune Police to Implement Strict Curfew from 2 PM Today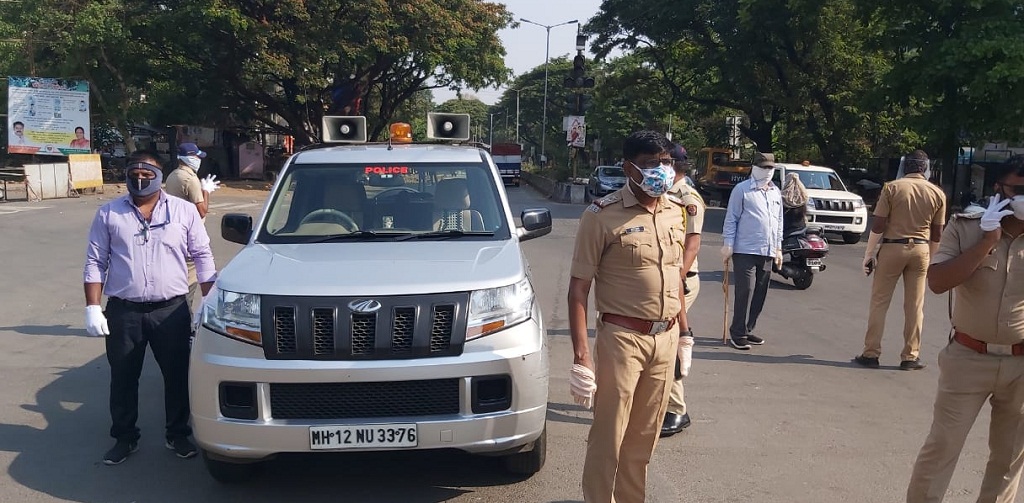 Sumit Singh
Pune, April 20, 2020: After Pune Municipal Corporation (PMC) declared all areas under its jurisdiction as containment zone, Pune City Police have issued curfew order and it will be strictly implemented from 2 pm today.  The number of Coronavirus positive cases has reached about 600 in Pune city. 
Jt CP (Law and Order) Ravindra Shisve, who issued the curfew order, said, "We have issued a new order for the areas which were not sealed earlier. The previous order for those areas will continue as it is. As per the curfew order, people should not come out on roads, bylanes. Digital passes will be valid during this period."
What will happen in these areas?
In these areas, barricades will be put up and people will not be allowed to move out for the coming days. Police will be deployed to take action against people who violate this complete shutdown or lockdown rule. All these steps are being taken as per containment plan to deal with Coronavirus outbreak. People engaged in essential services will be allowed to move out or move in these areas.  
What curfew means for people now?
All essential commodities shops (Kirana, Milk, Vegetable, Fruit etc) will remain open between 10 am to 2 pm every day.

All e-commerce companies like Amazon, Flipkart, etc, will have to do home delivery of essential commodities between 10 am to 6 pm.

All food delivery companies like Swiggy, Zomato etc will do delivery between 10 am to 3 pm and between 6 pm to 10 pm. 

Delivery of essential medicines is allowed 24 hours.
"All the shops will have to maintain social distancing among customers and use mask and hand sanitizers. Anybody found violating the curfew order will be prosecuted for an offence under section 188 (disobedience of order duly promulgated by public servant) of the Indian Penal Code (IPC)", said Jt CP Shisve.
PMC and police had earlier sealed areas where most cases of COVID19 were detected. In these areas, essential commodities shops are opened for two hours between 10 am to 12 noon. All banks are closed and only ATMs are functional.  Earlier following areas were sealed :
Zone 1: Khadak Police Station
 Ganj Peth: Maseali Chowk, Lahuji Vastad Talim Chowk, Pune Municipal Colony No. 6, Lohia Nagar Police chowky, Ojha Rationing Shop Chowk, Mahatma Phule Wada arc, Chand Tara Chowk.
Kashewadi, Bhavani Peth: Pimplemla Bhimale Complex (Sonawane Hospital Neighborhood), Bhagwa Chowk, Ashok Rickshaw Stand, Sundaram Idli Lane, Dhammapal Chowk, Golden Jubilee Chowk, Anandnagar Mitra Mandal Chowk, No. 10 Colony (Meera Dodke Stores Neighborhood), No. 10 Colony (Sarnath Budhvihar)
Zone 2: Bundgarden Police Station
City Point: Ulhasnagar, riverside slum, north side of Tadiwala Road area
Jahangir Hospital Chowk: Ladakat Wadi, Meru Hotel Chowk, Chavan Chawl, Lokseva Vasahat, K Type Railway Building, Mahatma Phule Colony, Dushkal Slum, Vanappa Chowk Slum, Bal Mitra Mandal Slum, Vishwajeet Tarun Mandal Slum Area, Ulhasnagar to Shurveer riverside slum, Diesel Colony slum, Kapila Vasahat slum, Siddheshwar Mandal Vasahat
Sohrab Hall: Jagtap Chawl, Opposite Dipgruh, Rajguru Chowk, Railway Colony (RB One), Bhaji Market Road, Sangeeta slum, Pragati Mitra Mandal colony, Lalkar Mitra Mandal, Jan Seva Mandal slum, Bhimtola Mitra Mandal, Bhim Sangatam slum, Sariputra Buddhivhar vasahat, Rajaratna Buddhist slum area
Lumbini Nagar near Central Railway DRM Office: Patrachawl street No. 1 to 48, Ward No. 20 and Inam Masjid premises, Indiranagar slum, Inam Nagar colony, all Railway Colony, Panmal campus, Kumar Pinnacle Building, Saraswati Society, Vinayak Nagar Slum, five-building premises, sweeper chawl, Shurveer chowk residential area, slum over nullah going to the river
Settlement-habitation slum near Naidu Hospital
Zone 3:
Sinhagad Road Police Station – Rajiv Gandhi Nagar
Duttwadi Police Station – Parvati Darshan Complex, Shivdarshan Complex
Warje Police Station – Ramnagar, Gokul Nagar Plateau, Tirupati Nagar
Kothrud Police Station – Kalewadi, Sutardara, Jai Bhavani Nagar
Zone 4:
Vishrantwadi Police Station 
· Kalasgaon, Kalasgaon Main Road, R&DE Road, Dhapate Chowk, Dargah Neighborhood Road.
· Mhaske Vasti – Sharda Hotel, Treedom Park 
· Chavan Chawl, Bhim Nagar, Vadar Vasti, Shramik Nagar, Dhanori Gaothan, Munjaba Vasti, Bhairavnagar,
Khadki Police Station 
Samrat Hotel, Bhoslewadi, Labor Commissioner Office, Irani Basti, Mahatma Gandhi Patkar Plot, NABARD Bank, COEP Chowk, Patil Estate Chowk, Bridge to Sangamwadi, Patil Estate Streets Nos. 1 to 10, Emerson Company, Godrej Company, Shoppers Stop, William Nagar, Alpha Petrol Pump, PMC Colony Wakdewadi
Chandan Nagar Police Station – Ward No. 5 – Anand Park, Stella Mary School, Siddhivinayak Temple, Tempo Chowk
Airport (Vimantal) Police Station – Gandhi Nagar, Jaiprakash Nagar
Yerwada Police Station – Laxminagar, Ramanagar, Jai Jawan Nagar
Hariganga society, Ambedkar society, Deccan College Complex, Pandu Laman society, Jai Jawan Nagar, Laxminagar, Ashok Nagar, Mhada vasahat, Bidi Kamgaar vasahat, Maniknagar, Kamrajnagar, Ganeshnagar, Yashwantnagar, Navi Khadki, Subhash Nagar, Bhima Shankar Vasahat, Kashmiri Colony, Chitra chowk, Kumar Angan society, Mother Teresa Nagar, Gaadital, Parnkuti, Shaninagar, Yerwada gaothan, Kanjarbhat vasti
Zone 5: 
Hadapsar police station
Vaiduwadi, Mhada Colony premises, Vasahat (settlement) near the railway line
Solapur road – Jyoti Hotel to Mirekar vasti canal right side area, HP Petrol pump – Mahatma Phule Vasahat all along the railway line, Indiranagar Slum, DP Road Mhada Colony, Hingne mala all area along the nullah
Mundhwa Police Station
Ghorpadigaon – BT Kawde Road – Vikasnagar – Balajinagar – Shravasti Nagar Ward 2
Kondhwa Police Station
NIBM Road Ward 26
Whole Kondhwa Khurd
Whole Kondhwa Budruk
Sainagar Kondhwa Ward 27 
Whole Yewalewadi 
Krishna Nagar and Mohammadwadi