DELEGATION OF HUAPION SOURCING LTD. MEETS CM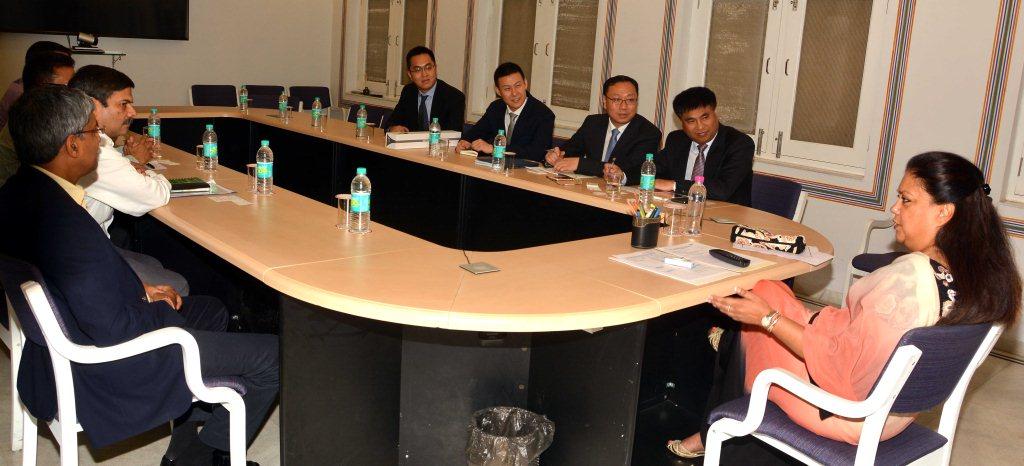 Jaipur, 17 April. A Chinese delegation led by Mr. Nicholas Hou, President of Huapion Sourcing Ltd., Hong Kong met Chief Minister Smt. Vasundhara Raje here at Chief Minister' residence on Sunday.
Smt. Raje welcomed Mr. Nicholas and other members of the delegation. She informed the delegation about the steps taken by the state government to create investor friendly atmosphere in the state.  During the meeting Huapion Sourcing Ltd. shown interest in investment in Jaipur Metro and other infrastructure projects in the state.
CMD of Jaipur Metro Shri Ashwini Bhagat, Secretary to CM Shri Tanmay Kumar, Managing Director of Huapion Sourcing (Shanghai) Mr. Vincent Mei and other members of the delegation were present during the meeting.
            Director, Project Jaipur Metro Shri Ashwini Saxena informed that the Chinese delegation was scheduled to have meeting with Chief Secretary Shri C.S. Rajan and other senior officials of the state govenrment on Monday.