Dr Jadhao of La Densitae relies on FUE Hair transplant to treat chronic  Alopecia Areata patients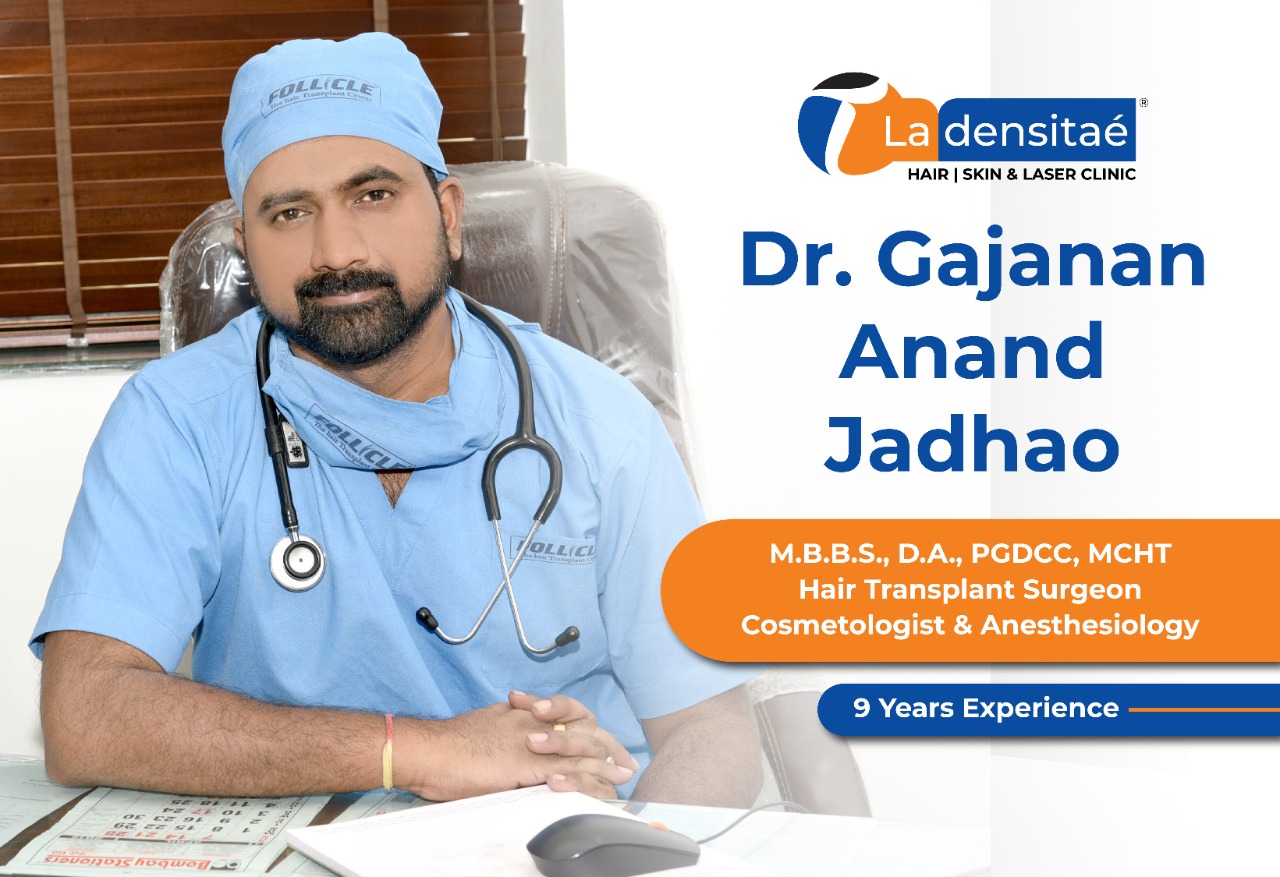 Pune, 1 October 2021:  many people are experiencing unpredictable hair loss which could be due to alopecia areata, a common autoimmune disorder. The sad part is that it occurs to young people barely in their teens or twenties too and they face so much pressure and trauma.
People with alopecia areata complain of hair loss in small areas initially then the hair loss could be either total hair loss on the head i.e. alopecia totalis or of the total body i.e. alopecia universalis.
Dr. Gajanan Jadhao, La Densitae Hair Transplant Center says, 'People suffering from alopecia areata can seek hair treatment and recover their hair to a great extent. This condition can occur in a couple of days or over some time.  It can also occur due to genetic reasons, stress, and many other factors.'
Dr. Gajanan Jadhao has established the La Densitae Hair Transplant Centre in major cities of Maharashtra such as Pune, Navi Mumbai, Kolhapur, Aurangabad, Nashik, Nanded, Jalgaon, Thane and outside Lucknow, Bangalore and even in Kerala.
La Densitae Hair Transplant Center has a pan India presence and they have performed more than 5000 hair transplants. La Densitae offers an array of surgical and non-surgical hair restoration services such as FUE Hair transplant, Platelet enriched plasma therapy, FUT hair transplant, Real-time non-touch FUE hair transplant, beard hair transplant, Body hair transplant, Eyebrow hair transplant, Eyelash hair transplant, Mesotherapy, Low-light laser therapy.
La Densitae Hair Transplant Center, Thane specializes in offering state-of-the-art hair transplant procedures. The center is equipped with the most cutting-edge equipment and well-trained staff to ensure completely undetectable and natural results at affordable costs.
Recently at La Densitae Hair Transplant Clinic in Thane, Dr. Jadhao treated a young 27-year-old male for Androgenetic Alopecia type 2 Norwood Hamilton. The patient was diagnosed with baldness in the hairline. Dr. Jadhao suggested FUE Hair Transplant surgery along with Platelet Enrich Plasma (PRP) treatment to the patient to which the patient agreed.
After a thorough clinical diagnosis and certain pathological tests, Dr. Jadhao performed an FUE hair transplant involving 2600 hair grafts followed by PRP treatment. The hair transplant procedure was done in a single sitting. The patient also took PRP treatment followed by Minoxidil with Multivitamins. In a follow-up session after six months, the patient was satisfied with the results. The treated area indicated dense growth of hair and the patient gained his youthful image.
Dr. Jadhao suggests Follicular unit extraction (FUE) transplant for most of his patients. In this transplant procedure, individual hair follicles from the donor area are removed and are implanted in the area with thin or no hair.
Moreover, the hair transplant surgeons use micro punches to extract the hair follicles and the area shows no sign of extraction. Often FUE transplants are performed in one or two sittings, depending upon the number of grafts required. Since it is an outpatient procedure, the patient can return home after the procedure is done.
The hair transplant surgeon will give proper and easy-to-follow guidelines on how to take care of the treated area. It may take a couple of days for the patient to resume normal tasks. The doctor can recommend painkillers and suitable medicines to prevent infection.
Hair recovery in the case of alopecia areata is possible with modern hair treatments which are safe and reliable with assured results. But to do so, it is advisable to seek consultation from a certified hair transplant surgeon and proceed with suggested and affordable hair treatment. The hair transplant will recommend a combination of hair transplant and PRP therapy to ensure the growth of hair on the scalp.