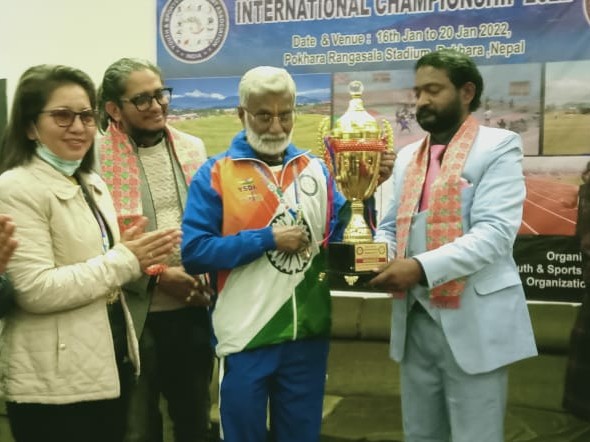 Pune, 29 January 2022: Seniors from Pune in All India Yoga Championship organized by National Federation of Yoga at Malgaon, Goa. Yogacharya Dr. Vinayak Musale stood first and was selected for the Indo-Nepal International Yoga Championship to be held in Pokhara, Nepal.
In the recent International Yoga Championship competition held in Pokhara, Dr. Moosele was awarded First prize in the age group of 60 to 70 years. In the same competition, four students of his Siddhivinayak Yoga Prasar Kendra located in Karvenagar, Shankar Awale (age above 70), Rekha Verma (50 to 60 years), Santosh Verma (50 to 60 years) and Bhargavi Khotale (13 to 20 years) also secured first place.
Dr. Vinayak Musale has been teaching as well as promoting yoga for more than 25 years. He has been awarded a doctorate degree for Yoga. He himself is a winner of many national and international awards. He has successfully treated the chronic diseases of many people through Yogasanas and has produced many such students who are now skilled at national and international level.
Participants from India, Nepal, Korea, China, Bangkok, Sri Lanka, Vietnam and Singapore participated in the Indo-Nepal International Yoga Championship competition. To compete in the international arena, one needs to follow a precise schedule of three to four hours of asana practice, a balanced diet and adequate sleep throughout the year. Dr. Musale says that this success has been achieved due to the five principles of focus, determination, consistency, dedication and self-discipline. Today five contestants from Pune from different age groups have performed brilliantly in Yogasan at the international level.