G-20 theme based awareness cum training programme organized for "Empowerment of Women and Women Nutrition" at Gwalior, Madhya Pradesh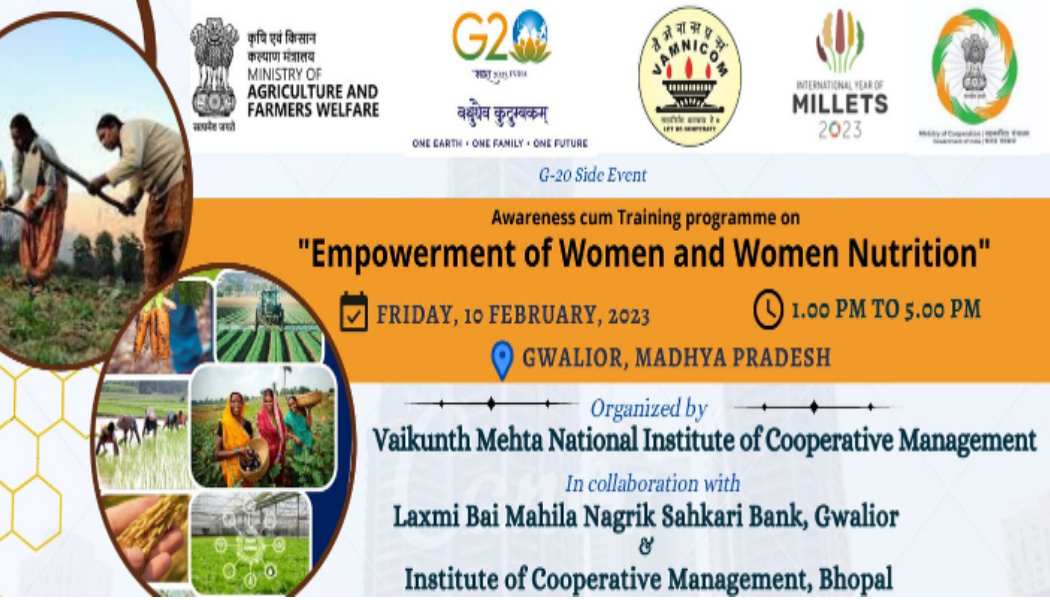 Pune, 7 February 2023: The theme of India's G20 presidency, is 'Vasudhaiva Kutumbakam' (One Earth, One Family, One Future). To have overall sustainable development of the world, the world must focus on women-led development. This a one-step towards achieving substantive and sustained gender equality.
Under the theme of G20 Vaikunth Metha National Institute of Cooperative Management, Pune, Maharashtra is organizing an awareness cum training programme on "Empowerment of programme and Women Nutrition" in collaboration with Laxmi Bai Mahila Nagari sahakari Bank at Galwor, Madhya Pradesh as on 10th February 2023. The programme is conceptualized Dr. Pallavi Ingale (Associate Professor) VAMNICOM and Dr. Amit Mudgal (In-charge Director) ICM, Bhopal. Smt. Alka Shrivastava (Founding President) of Laxmi Bai Mahila bank will provide a programme support for technical sessions.
The main objective of this programme is to motivate women to become active members of SHG and start new innovative economical activities. The second objective of this programme creates awareness about nutritious food and its importance. The idea of nutritious food will be explain to women. Through this programme information about different schemes available for women will be decimated.
In this programme, women SHG members, Women farmers and women agricultural entrepreneurs will participate. Women bank representatives and women officers of Laxmi Bai Mahila Nagari sahakari Bank various departments will participate in this programme. Around 100 to 150 participants will participate in this programme to be held in Gwalior.
After the inauguration ceremony, Dr. Smt. Veena Pradhan will provide information about women's health, Dr. Smt. Priyadarshini Shrivastava will create awareness about nutritious food and the importance of women's nutrition and Smt. Anjali Batra will be delivering a session on the empowerment of women and business opportunities for women.