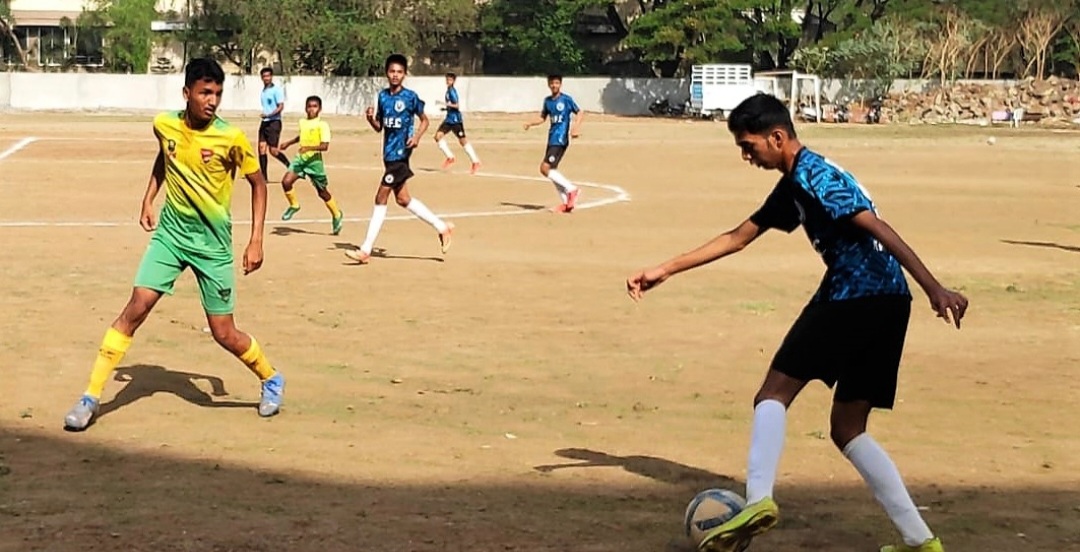 Pune, 16th May 2022: Golden Feathers, AFA Sanford and Pune Pioneers A.C recorded contrasting wins to claim full points in their respective groups in the Third Division Poona District Football Association (PDFA) League 2021-22, at the SP College ground, here on Monday.
In Pool- F, Golden Feathers rode on a hat-trick by Aditya Chavan (10th, 18th, 56th) to down Parshuramians 'C' 4-2. Abhishek Jha (65th) completed the tally for Golden Feathers. For
Parshuramians 'C' Ayaan Shaikh (21st) and Vedant Mote (61st) reduced the margin.
In the same pool, AFA Sanford had Edwin S (14th, 60th) score twice to down Thundercatz 'B' 2-0
Pool-G had Pune Pioneers A.C down Commandos F.C 1-0 with Kartik B (44th) netting the match-winner. Later, Durga Sports Academy beat Black Hawks 5-1. Pramod B (8th, 38th), Mayur W (23rd, 36th) and Abishah Pal (27th) scored for the winners, while (Hrishikesh Kamble (57th) converted a penalty-kick to reduce the margin for Black Hawks.
At SSPMS ground, two hat-tricks were recorded Asmay Gaikwad (Loukik F.A) and Ranveer Bais (Game of Goals FCC. Overall it was Loukik F.A, Young Steps Academy, Utkarsh Krida Manch, Mathew F.A and Game of Goals FCC who logged wins in their respective pool matches in the Under-16 Youth League.
In Pool-C, Matthew F.A beat 4 Lions 5-0. Three goals from Sagar Jagtap (5th, 32nd, 45th) and goal each by Umer Khan (11th) and Ankit Gaware (22nd) accounted for the tally.
Loukik F.A rode on the hat-trick by Asmay Gaikwad (11th, 24th, 28th) to down Black Hawks 5-1. Soham Sagar (8th); and Aarush Wankhede (52nd) scored one each for the winners. Shashank C (24th) reduced the margin.
Utkarsh Krida Manch relied on a brace by Aniket Avghade (31st, 38th) to down Pune Pioneers 2-1. Atharva Khadtare (35th) pulled one back for the losers
In the day opener, Young Steps Academy won an exciting match against Ryan F.A with all goals coming in the second half. Ved Parte (46th); Atharva Adavkar (51st) and Dhroov Raut (53rd) scored for Young Steps Academy, while Ruturaj Bhor (41st) and Srinivas Pujari( 53rd) netted for Ryan F.A
Late in the day, Pool-A witnessed the highest win of the section as Game of Goals (GOG) FCC recorded a 7-0 win over Beta S.C. Ranveer netted a second half hat-trick and was assisted by Apurv B (5th, 52nd), Neelkant More (36th) Soham Chandpure (40th) Ranveer Bais 60th, 60+1st, 60+2nd).
RESULTS
At SSPMS: Under 16, Youth League: Pool-C: Young Steps Academy: 3 (Ved Parte 46th; Atharva Adavkar 51st; Dhroov Raut 53rd) bt Ryan F.A: 2 (Ruturaj Bhor 41st; Srinivas Pujari 53rd); Loukik F.A: 5 (Soham Sagar 8th; Asmay Gaikwad 11th, 24th, 28th; Aarush Wankhede 52nd) bt Black Hawks F.C: 1 (Shashank C 24th); Utkarsh Krida Manch: 2 (Aniket Avghade 31st, 38th) bt Pune Pioneers: 1 (Atharva Khadtare 35th); Matthew F.A: 5 (Sagar Jagtap 5th, 32nd, 45th; Umer Khan 11th; Ankit Gaware 22nd) bt 4 Lions: 0
Pool-A: Game of Goals (GOG) FCC: 7 (Apurv B 5th, 52nd; Neelkant More 36th; Soham Chandpure 40th; Ranveer Bais 60th, 60+1st, 60+2nd) bt Beta S.C
At SP College Ground: Third Division: Pool-F: Golden Feathers: 4 (Aditya Chavan 10th, 18th, 56th, Abhishek Jha 65th) bt Parshuramians 'C': 2 (Ayaan Shaikh 21st; Vedant Mote 61st); AFA Sanford: 2 (Edwin S 14th, 60th) bt Thundercatz 'B': 0
Pool-G: Durga Sports Academy: 5 (Pramod B 8th, 38th; Mayur W 23rd, 36th; Abishah Pal 27th) bt Black Hawks: 1 (Hrishikesh Kamble 57th – pen.); Pune Pioneers A.C: 1 Kartik B 44th) bt Commandos F.C: 0
At SP College, Second Division: Pool-B: Giantz F.C: 2 (Nikhil Shelar 23rd; Jeevan Nalge 36th) bt Lions PCH: 0; Bopodi S.A: 1 (Dominic Rozario 52nd) bt Rahul F.A: 0