Gunners, Diego Juniors 'A', Indrayani S.C 'A', Thundercatz enter semis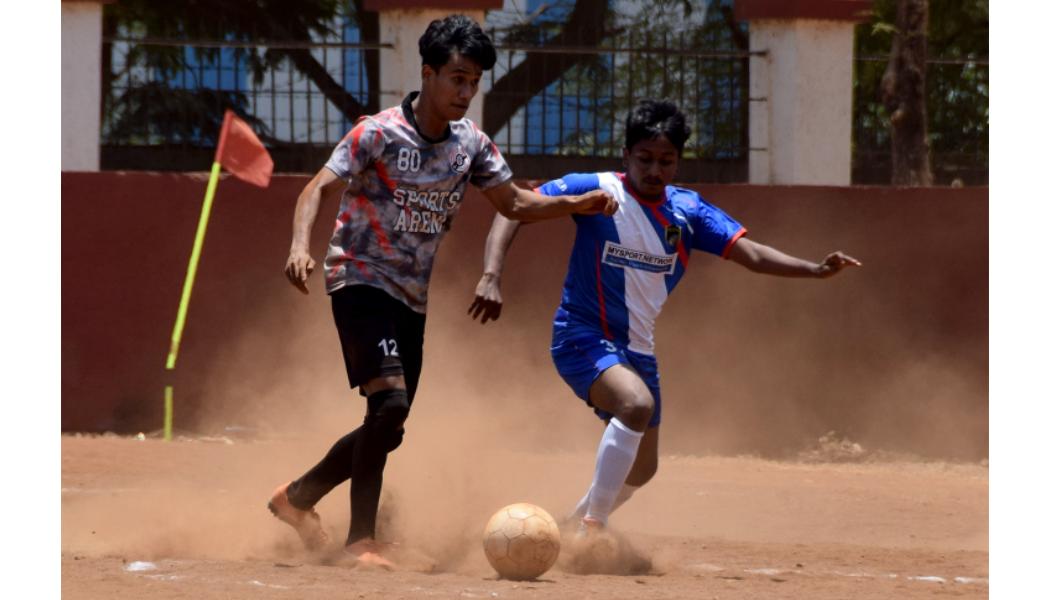 Pune, 19th May 2023: Gunners F.C, Diego Juniors 'A', Indrayani S.C 'A' and Thundercatz F.C booked their berths in the semifinals recording hard fought wins against their respective opponents in the inaugral Aspire Cup Super and First Division football tournament, here at the Dr . Hedgewar ground, Pimpri here on Friday.
The tournament is being conducted under the aegis of Poona District Football Association and organised by Aspire India.
In the first quarterfinal of the day, Gunners got the better of Giantz 'A' 2-1.
Gunners were off the blocks first when Kedar Mulmandkar (35th) and a penalty-kick conversion by Jayant Nimbalkar (50th) helped them gain a 2-0 lead.
Giantz 'A' pulled one back late when Anshul Sharma (52th) netted.
Later, Diego Juniors 'A' fought off the spirited challenge of Sangvi F.C 'A' via the tiebreaker. Both teams played out a regulation time 1-1 draw, before Diego Juniors forced a 4-2 verdict.
Diego Juniors were off the blocks first when Shubham Mahapadi scored seconds after the kick off.
It took Sangvi F.C the whole of the first half and then a majority if the next to find the equaliser when Kaif Sayyed (41st) found the net to square the game 1-1.
In the tie-breaker, Diego Juniors had Glen Rebello, Shubham Mahapadi, Suraj Singh, Stanislaus Lawrence gain success from the spot. Sangvi F.C 'A' in turn had only Hari Bigala and Shubham Sawant gain success.
Sangvi FC had Akshay Chavan and Shreeraj Nair fail to score which cost them dearly. For Diego Juniors, Ashley Vincent failed in his attempt.
The third quarterfinal of the day had Indrayani S.C 'A' prevail over Greenbox Chetak F.C in another tiebreaker result.
Both teams were locked 1-1, with Shubham Gaikwad (42nd) netting for Indrayani S.C and almost immediately Pramod Atre (43rd) of Greenbox Chetak F.C bringing the game on levels.
The tie-breaker had Suraj Bhairat, Shubham Gaikwad, Ayush Deepak gain success for Indrayani S.C, while Loukik Jadhav and Pramod Atre scored for Greenbox Chetak.
For Greenbox, Ankit Devi, Kapil Patwardhan, Nisarg Dhavale missed, while Shubham Gaikwad missed for Indrayani S.C.
RESULTS (Super and First Division)
QF-1: Gunners F.C: 2 (Kedar Mulmandkar 35th, Jayant Nimbalkar 50th – pen.) bt Giantz 'A': 1 (Anshul Sharma 52th – pen.)
QF-2: Diego Juniors 'A': 1 (4) (Shubham Mahapadi 1st; Glen Rebello, Shubham Mahapadi, Suraj Singh, Stanislaus Lawrence) bt Sangvi F.C 'A': 1 (2) (Kaif Sayyed 41st; Hari Bigala, Shubham Sawant)
QF-3: Indrayani S.C 'A': 1 (3) (Shubham Gaikwad 42nd; Suraj Bhairat, Jagat Raj, Ayush Deepak) bt Greenbox Chetak F.C: 1 (1) (Pramod Atre 43rd; Loukik Jadhav, Pramod Atre)
QF-4: Thundercatz F.C: 0 (5) (Yah Ya Shaikh, Arhev Jodhwani, Kunal Yeole, Hrishikesh Karale, Kshitij Kokate) bt AIYFA: 0 (3) (Sadeem Miya, Nitesh Yadav, Shreyash Chougule)
PQF: AIYFA: 5 (Sadeem Miya 17th, Gopi Naidu (OG) 23rd, Omkar Nale 32nd, 38th, Hrushikesh Khedekar 50th) bt Aryans SC 'A': 2 (Atharva Deshpande 8th, Naeem Sayad 45th)