Indian Junior Women riders added one bronze to their tally on the Day 2 of the Track Asia Cup at the IG Stadium Complex Velodrome here on Thursday.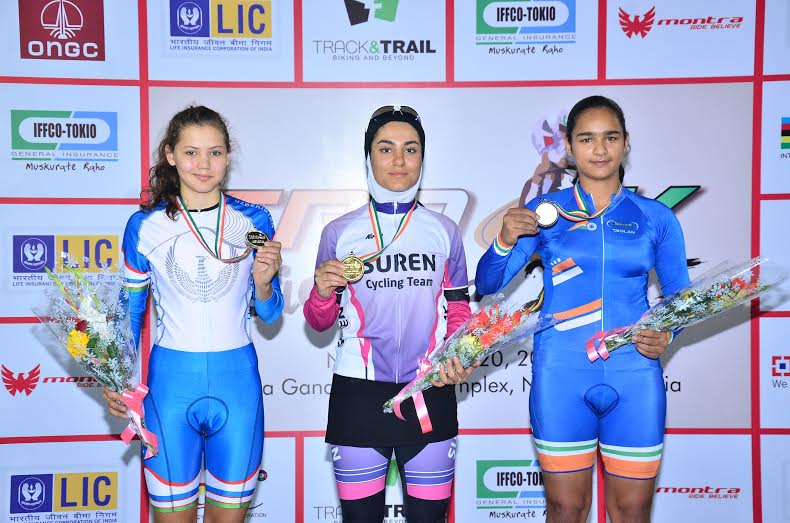 In the women junior, Aashu Sharma bagged bronze medal in the Individual Pursuit 2 km Race by finishing in 2:47:652 seconds while men junior team missed a medal, Sahil Kumar finished fourth in the Individual Pursuit 3 Km Race.
In the Women elite category, T Devi Bidiyaluxmi added second silver medal to SAI National Cycling Academy in the Individual Pursuit 3 km Race while only rider from Western India Rutuja Satpute bagged bronze medal in the same category.
In the medal tally India stands at number 4 with 6 medals including 1 gold, 3 silver and 2 bronze while Korea is on the top with five medals including 3 gold and 1 silver, followed by Uzbekistan 5 including 2 gold and 3 silver and Thailand is at number-3 with 6 medals including 2 gold, 1 silver and 3 bronze.
Today only 4 finals were held (results attached), others were qualifying round.
In Sprint of Women elite category Deborah gave a tough fight to opponents and now will fight with Sunoyoung of Korea for Gold tomorrow. Kezia Vargheeshe also secured its place to play for Bronze where she is ready to give a tough competition to Soojin Kim of Korea.
While in Men Junior Sprint Event, after qualifying round, India's Emerson and Arkaprava Baul will play for Bronze. They will compete against each other to grab the Bronze medal of Sprint eventtomorrow.
After qualifying round in Women Junior Sprint event, tomorrow India's Nayana Rajesh will compete with Iran's Fatemeh Hadavand for Gold and India's Anu Chutia will compete for Bronze with Iran's Parastoo Bastidejkarghani.
In other events, Deborah of India will compete in her one of the favourite event Keirin and Kezia Vargheeshe of India will also be an eye opener in this event.
After the conclusion of day2, Mr. R.K. Sharma, Chief Coach Indian Team said, "I am satisfied with the performance of Team India and our riders are improving their timings regularly and the day is not far when Indian riders will also be on podium finish in every event of cycling. He said that our Junior Women Team performed very well and I want to give credit to SAI National Cycling Academy where riders are enjoying of better facilities and equipments. He said I'm confident that 3-4 medals will come more on the final day tomorrow."