India's First SROT Centre Inaugurated In VIIT Pune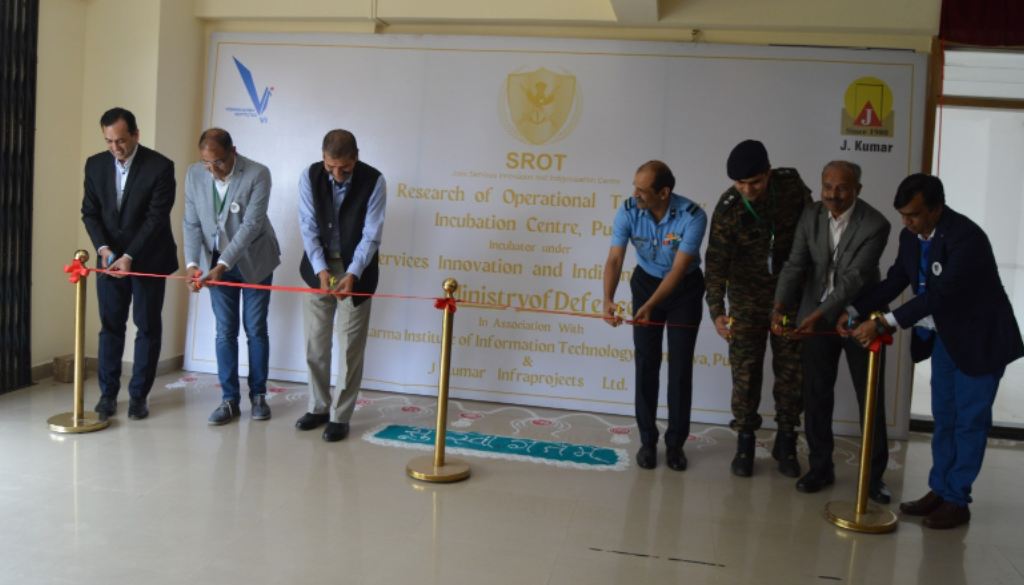 Pune, 3rd February 2023: A Start-up for Research in Operational Technologies (SROT) Incubation centre, under the Joint Services Innovation, and Indigenization Centre (JSIIC), Ministry of Defense in association with BRACTS' Vishwakarma Institute of Information Technology (VIIT), and J.Kumar Infraprojects Limited was established at VIIT, Pune on 27th Jan 2023. VIIT Pune is now the first SROT Centre in India.
This collaboration of JSIIC, Industry and academia is established to solve many problems and promote 'Make in India'. Start-up for Research in Operational Technologies (SROT) along with Vishwakarma Incubation and Innovation Research Park (VIIR) was inaugurated at VIIT on 27th Jan 2023 by Chief Guest Air Commodore Abhijit Saraph VSM, Air Officer Commanding 9 BRD, guest of honour Veteran Lt. Gen Sudarshan Hasabnis, PVSM, VSM and Lt. Col. Anoop Mishra, VSM, Director, JSIIC, Bharat Agarwal, Managing Trustee and Chairperson of Vishwakarma Institutes (VI), Sachin Naik, CEO of J. Kumar Infraprojects Limited, Yusuf Inamdar, Director-Industry, SROT and Dr Vivek Deshpande, Director, VIIT, Director-Academia SROT. Heads, Deans, and senior officials from these organizations were present during this inauguration function.
Bharat Agarwal briefed Industry-Academia interaction at VIIT and its allied benefits to students and every stakeholder including recruiters. He also mentioned the significance and necessity of such a collaborative start-up and appealed to Industry and R&D organizations to handhold the aspiring engineers with their expertise.
Sachin Naik, CEO of J. Kumar Infraprojects Limited mentioned the active involvement of the company in the R&D. Yusuf Inamdar narrated use cases of the R&D products at J. Kumar Infraprojects Limited and their utility value.
With the exemplification of a few use cases, Lt. Col. Anoop Mishra emphasized the need for import substitution through indigenization and development of technology rather than product at the start-up centres.
Veteran Lt. Gen Sudarshan Hasabnis advised the audience to follow and work on crazy ideas for all their potential aspects. He further mentioned that the current time is the most opportune time for the start-up given the Atma Nirbhaya Bharat mission and budding entrepreneurs should raise their risk appetite with a hunt for all areas in the interest of national development.
Air Commodore Abhijit Saraph in his address highlighted the need of working towards being self-reliant in technology. Further, the importance of reliability in the products for all three services of nations is underlined through the expectation of indigenization in sensor technology and Single-board Computers (SBC) in flight control with the Integration of artificial intelligence. He assured me to handhold the activities of SROT with his best wishes for all the future way ahead.
The inauguration function is concluded with a tri-party MoU signing and release of a compendium by the auspicious hands of guests and senior officials from the organizations.
The demonstration of capacity and competency was exhibited by J. Kumar Infraprojects Limited, 45 start-ups with 100 products and students of VIIT with good appreciation by the guests.
Dr Vivek Deshpande, Director, VIIT in his concluding remarks assured the active contribution of the institute in SROT and proposed gratitude and vote of thanks to guests for their guidance and time.
Institute Prof. Dr A.P. Kulkarni (Dean-Industry relation-VIIT), Prof. Dipti Pandit (IIC president-VIIT), Prof. Jayashree Tamkhede (IIC Vice-president-VIIT) and Prof. Vaishali Mishra (Incubation Head -VIIT) were instrumental in this tri-party association.
Prof. Dr Varsha Jadhav and Prof. Dr Priya Shelke anchored this Inaugural function.