India's Largest Agri Show "KISAN" kicks off in Pune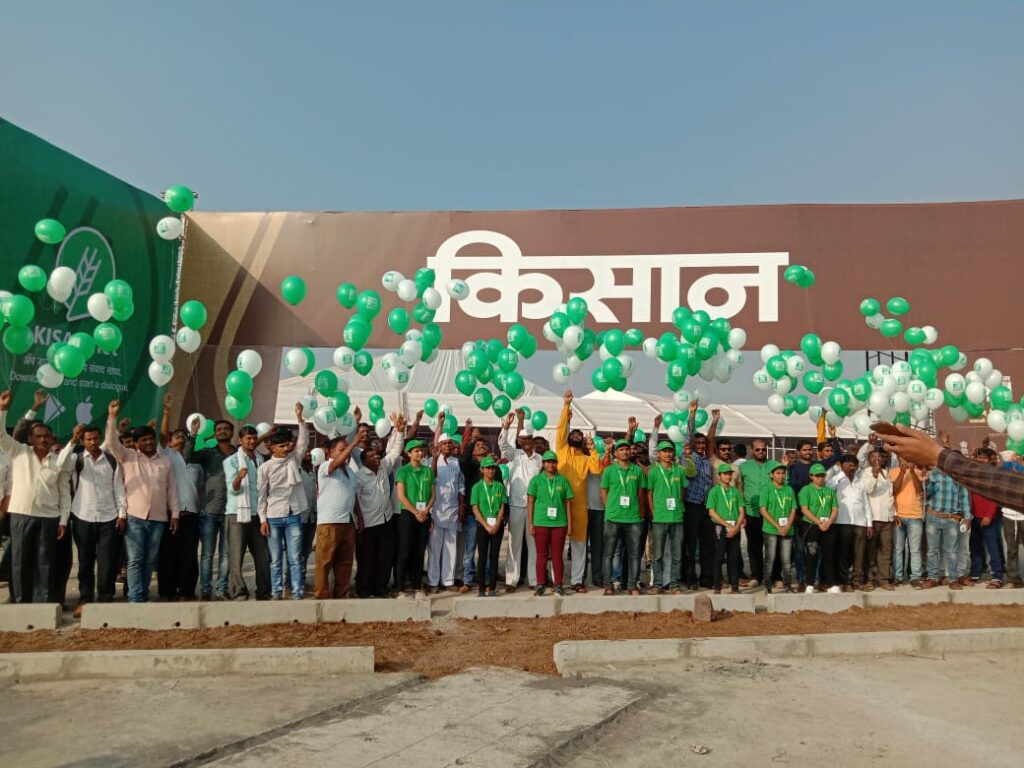 Pune 11th December 2019: India's largest agriculture show "KISAN" was inaugurated today in Pune. The exhibition is being held from 11th to 15th December 2019 at Pune International Exhibition and Convention Centre, Moshi, near Bhosari, Pune. The exhibition was inaugurated at the hands of first group of farmers visiting the exhibition. These included CHR Prasad from Srikakulam, District , Andhra Pradesh Balasaheb Bhandawale from Wassi Taluka, Osmanabad District, Narayan Deshmukh from Ambad, Jalna District and Subhash Borade , Nitin Borade , Pandurang Borade , Hanmant Borade , Baban Borade , Narayan Appa Borade from Moshi , Pune and Abhijit Gangadhare , Sambhaji Patil , Kumar Pawar , Ashok Patil , Pralhad Patil , Yuvraj Patil , Bharat Devadkar , Meghraj Patil , Annaso Patil from Kagal, Kolhapur District.and Abhijit Gangadhare , Sambhaji Patil , Kumar Pawar , Ashok Patil , Pralhad Patil , Yuvraj Patil , Bharat Devadkar , Meghraj Patil , Annaso Patil from Kagal, Kolhapur District.
Spread over 15 acres, the exhibition arena will host 600+ companies and is expected to accommodate over two lakh visitors in five days. The latest products and innovative concepts in agriculture will be on display.
KISAN has received support from the Ministry of Agriculture, Government of India and Department of Agriculture, Maharashtra State. Aakashwani has associated with KISAN as a Media Partner. India Post Payments Bank has associated with KISAN as an official Bank.
KISAN exhibition has special pavilions focusing on Protected cultivation, Water, Agri Input-Tools, Bio, Energy, Livestock and Nursery to help farmers locate things of their interest. Open Arena will display large farm machinery & implements. Farmers will see many innovative farm technologies especially evolved for Indian agro-climatic conditions. A separate Water Pavilion will accommodate 100+ exhibitors displaying equipment and techniques for irrigation and water management.
The penetration of mobile phones and Digital India Initiatives are empowering farmers. This reach is attracting the best of the talent from different Industries to Agriculture. These Entrepreneurs are applying their knowledge mainly in market information, water Management, Biotech, Value addition in farm produce and resource optimisation.
International pavilion will have 50 exhibitors from China, Korea and the United Kingdom with small machinery suitable for small land holdings in India. They are here to look for Indian partners and representatives. This pavilion will be open for the first three days. i.e. 11th to 13th December. This will be a good opportunity for Indian farmers to visit and experience innovations in diverse farming technologies.
Pre-registration facility is open for farmers on kisan.net mobile app. Farmers can register with their mobile number. KISAN.net is a platform for people to get connected with each other and share knowledge and information through their channel.
KISAN Samvaad team will call and collect farmer's details in advance to save their time at KISAN Entrance. 39,000+ farmers have already registered for KISAN 2019. We expect this number to cross 150,000.
KISAN.net app will connect farmers with exhibitors before, during and after the exhibition. They can access information about products and services, read brochures and see videos on their mobile. Exhibitors and visitors can initiate a dialogue on the same platform.
Venue : KISAN will be the first event to be hosted at the new Open Exhibition Centre of Pune International Exhibition and Convention Centre. This Exhibition ground is being developed by Pimpri Chinchwad New Township Development Authority. New facilities and features will make it possible to host large scale national and international events at Moshi. It will help KISAN expand the scope and size of the event.
Inauguration : KISAN will be inaugurated by the first group of farmers arriving at the venue. Free bus service is available from Bank of Maharashtra, Lokmangal Branch, Shivajinagar Bus stand to the exhibition Venue at Moshi.
For detailed information about KISAN 2019, you may visit www.kisan.in