Kolhapuri Chappal and Paithani Saree from Maharashtra Shine at G20 Summit's Crafts Bazaar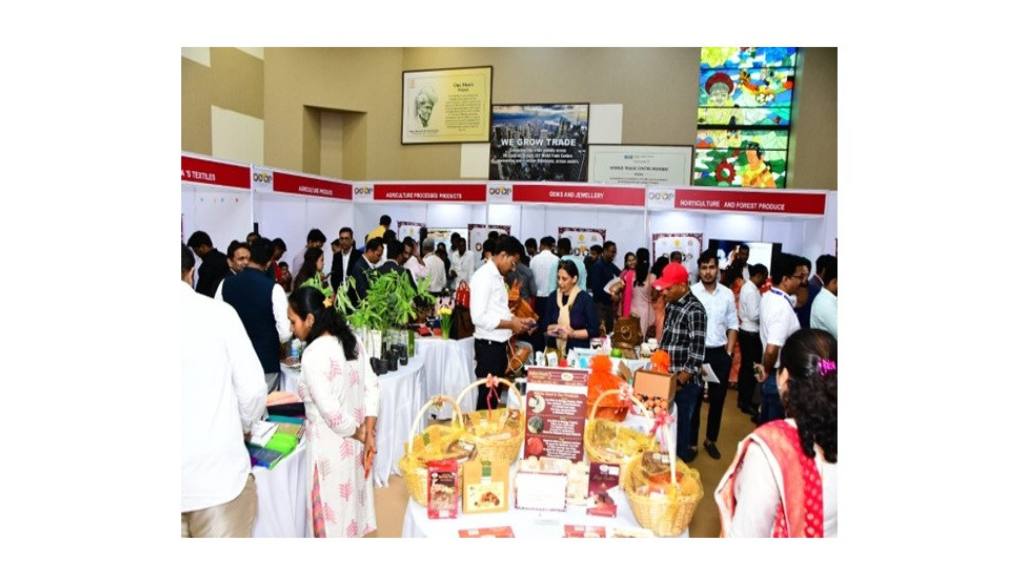 New Delhi, 7th September 2023: Alongside the G20 Summit in New Delhi, an exquisite 'Crafts Bazaar' (Exhibition-cum-Sale) is set to grace Bharat Mandapam, Pragati Maidan, from September 8 to 10, 2023. Among the splendid offerings, the spotlight will be on the renowned Kolhapuri Chappal and the exquisite Paithani Saree, both hailing from the state of Maharashtra.
Kolhapuri Chappals, originating from the heart of Maharashtra, are handcrafted leather slippers of unparalleled craftsmanship. These locally tanned slippers derive their authentic charm from the use of natural vegetable dyes. Kolhapuris, famous for their open-toed T-strap sandals design, are an epitome of artistic flair and comfort, appealing to those with a taste for elegance and ease.
The Paithani saree, often referred to as the 'mahavastra of Maharashtra,' is celebrated for its opulent hues woven in pure silk and intricate gold zari work. The ancient town of Paithan, nestled along the banks of the River Godavari, is the cradle of Paithani sarees. These sarees are characterized by their distinctive kath (border) and padar (pallu or end-piece) motifs, featuring intricate patterns such as parrots, lotuses, and peacocks. For centuries, Maharashtrian brides have cherished these six- or nine-yard sarees as part of their bridal attire.
About Crafts Bazaar: This Crafts Bazaar at Bharat Mandapam, Pragati Maidan, showcases handicraft products from various corners of India, with a special emphasis on One District One Product (ODOP), GI tagged items, and creations by women and tribal artisans. Delegates and international media attending the G20 Summit will have the opportunity to explore this Crafts Bazaar and acquire locally sourced products.
Beyond its role in showcasing "Made in India" products on a global stage, the Bazaar opens doors to fresh economic and market prospects for local artisans. To provide international delegates with a firsthand look at the skills and craftsmanship of Indian artisans, the Crafts Bazaar will host live demonstrations by master craftsmen. The exhibition is organized by the G20 Secretariat in collaboration with the Ministry of Textiles and State/UT Governments. Approximately 30 States and UTs, along with central agencies like Khadi Village & Industries Commission, TRIFED, and Saras Ajeevika, will participate in the Crafts Bazaar.
About ODOP: The One District One Product (ODOP) Initiative aims to realize the Prime Minister of India's vision of fostering balanced regional development across all districts of the country. The concept revolves around selecting, branding, and promoting one product from each district, thereby enabling holistic socioeconomic growth across all regions. The chosen products span a diverse range across India, touching upon multiple sectors and clusters, each with its unique identity. Invest India's ODOP Team is dedicated to realizing this vision for all 761 districts.
In furtherance of this objective, a day-long 'ODOP – Sampark' initiative was organized by Invest India, DPIIT, Ministry of Commerce & Industry, in collaboration with the Industries Department of the Government of Maharashtra on September 5th. The event showcased the remarkable diversity of Maharashtra's One District One Product (ODOP) offerings. It underscored the pivotal role played by ODOP in promoting economic growth and self-reliance, setting the stage for vital industry insights.
During the ODOP-PIB Sampark event, the Department of Industries in Maharashtra hosted an exhibition featuring participation from all districts within the state. The diverse array of ODOP products on display included Gems and Jewellery, Agriculture, Handicraft, and Handloom. Sellers were also briefed on Central Government initiatives such as ONDC (One Nation One Digital Platform for Commerce) and GeM (Government e Marketplace), among others. The exhibition provided an ideal platform for entrepreneurs to connect with potential buyers and partners.
The event enriched participants with valuable insights through a series of sessions dedicated to enabling policies and programs for the growth of ODOP entrepreneurs. Esteemed organizations like the Indian Institute of Packaging, SIDBI, Postal Services, CGTMSE, and the Exports Division delivered noteworthy presentations during these sessions.
Join Punekar News Whatsapp Group, Telegram, Instagram And Twitter  For Regular Update about Pune City And Pimpri-Chinchwad