Friyana Munshi
Pune, January 12, 2021: The Forest Department has banned the photography of the Amur Falcon, a bird that goes to rest in the forest area of Lonavala. The migratory bird Amur Falcon is known for travelling the longest distance in a year when migrating.
"Photography of Amur Falcon has been Banned on the Lonavla Ghats. This migratory Falcons travel hundreds of miles and halt for rest. To avoid getting perturbed by photographers, though it is important to take photographs, saving the species is as important, we have taken this decision. Uncontrolled photography in the forest area of Lonavala has endangered the habitat of the Amur Falcon", said Rahul Patil, Deputy Conservator of Forests (DCF), Pune Forest Department.
A family of Amur Falcons has been resting in Lonavala for the past few days. During the week, hundreds of wildlife photographers surrounded and made life difficult for the birds. Therefore, the Forest Department took drastic steps. The Amur Falcon is a winter migratory bird and has landed in Lonavala for the first time. News of this spread like wildfire among bird lovers last week. Some posted photos of the bird and its location on social media. So the plateau where the Amur Falcon is currently residing was crowded by photographers.
Many also snapped photos of a bird sitting in the grass with twenty-five photographers around it. "There were many complaints about this uncontrolled tourism. Therefore, it is forbidden to roam around in this area", informed Forest Range Officer Somnath Takwale
The Journey
The journey of the Amur Falcon begins in the cold. From Mongolia, they go to the northern part of China for breeding. After this, they stop in the forests of Nagaland and Manipur to rest. They then reach the Arabian Sea via Maharashtra and Karnataka. They have a short rest in the cold of the Pune area. They then cross the sea from the Konkan coast to Africa. 
The Central Wildlife Research Institute last year recorded the pair of Amur Falcons with satellite tags. The duo covered a distance of 5,700 km from Nagaland to parts of the Arabian Sea. These birds traveled from Manipur to the deserts of Somalia in Africa. They were flying in the sky for 13 hours for five days in a row. They covered a distance of 1,355 km from the Arabian Sea.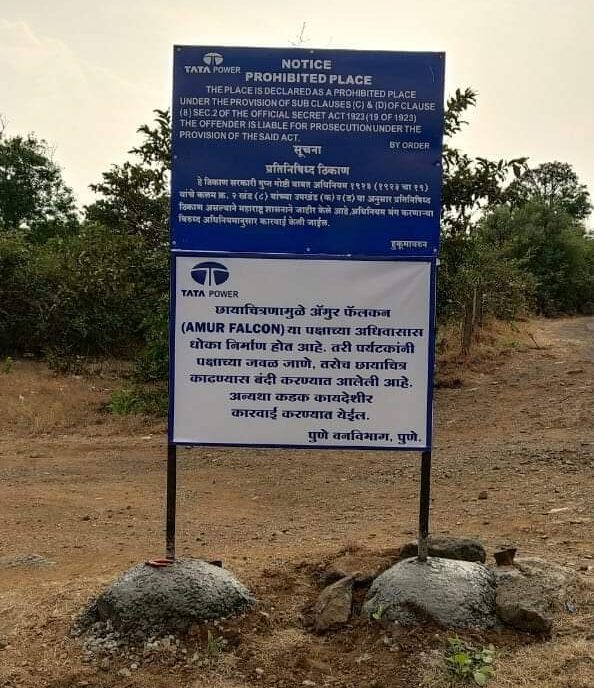 Follow Punekar News: