Making a Difference: HiDoc.Dr Matches Employee Donations to Help Victims of Turkey Earthquake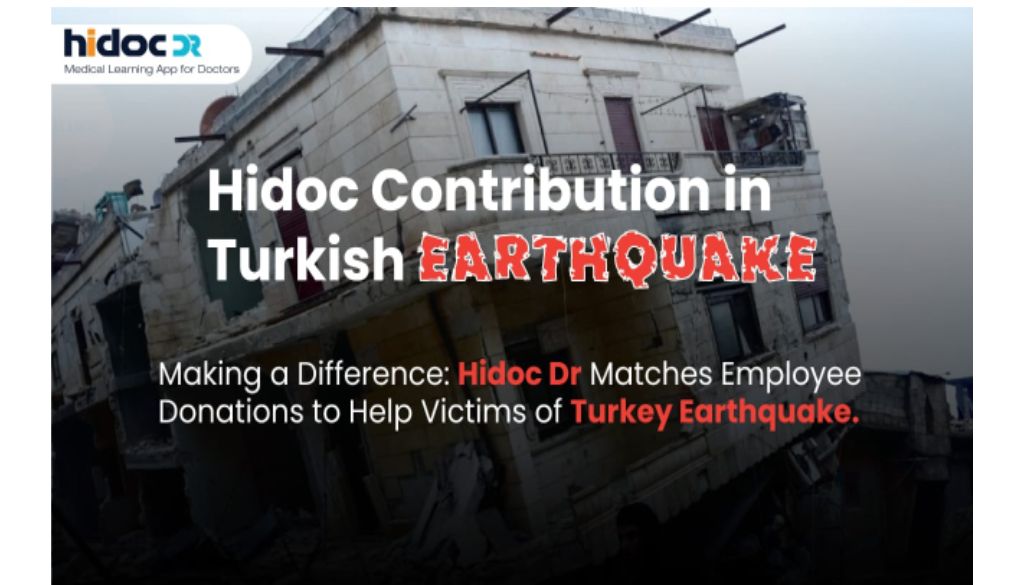 Pune, 22 Feb 2023: On February 6, 2023, the earth shook. It shook so hard that thousands in Turkey and Syria lost their lives, livelihoods, shelter, and loved ones. The current death toll from the Turkey-Syria earthquake is nearing 44,000 and it is only expected to rise. The scale of devastation is unimaginable and as more heart-wrenching stories keep coming out, we know this is going to be yet another unforgettable tragedy for the human race.
Daryn Kagan once said, "Bad things do happen in the world, like war, natural disasters, disease. But out of those situations always arise stories of ordinary people doing extraordinary things."
While we were not attempting to do anything extraordinary, at HiDoc.Dr we strongly felt that it is in times like these that we must come together as a global community and do our part to help those affected by this natural disaster. As employees of HiDoc.Dr, we saw an opportunity to make a difference in the lives of those who have been impacted by this catastrophe.
In this spirit of empathy and compassion, HiDoc.Dr has contributed to the relief efforts for the earthquake victims. The company ran a fundraiser among its employees, pledging to match each employee's donation up to Rs. 5000. This meant that every employee had an opportunity to make a significant impact on the lives of those affected by this natural disaster. Additionally, the company donated a sum of INR 37602/- over and above employee contributions in solidarity with the cause.
To make the process easier for our employees, we asked them to fill in an online document with the sum of the amount they wished to contribute, and deducted it from their pay in the following month. As a digitally aware and able organization, we wanted the procedure to be simple so that more people could come forward and support the cause.
We also wanted to ensure that our donations were channelized to the right sources, and hence, chose to donate to the fund through The Red Crescent, the Turkish branch of the International Red Cross and Red Crescent Movement. The organization provides humanitarian aid to those affected by natural disasters, armed conflicts, and other crises. In the wake of the recent Turkey earthquake, the organization has been providing emergency aid to those in need. The Red Crescent is also working to provide temporary shelter and psychological support to those who have lost their homes and loved ones by working closely with local authorities.
At HiDoc. Dr, we understand that the times are tough, and that's why we feel it is more important than ever to come together and support one another. As a company from the healthcare sector, we know especially well the importance of access to medical care during emergencies, and we want to help ensure that those who are injured or sick receive the care they need. We also know that the road to recovery will be long and challenging, but we want to do our part to help ease the burden. We hope that our donation will make a positive impact on the lives of those affected by the earthquake and that it will bring them some comfort and hope during this difficult time.
We want to thank our employees for their generosity and kindness in supporting this cause – a reminder that even in the darkest of times, there is still good in the world.
"Our contribution towards the relief efforts may not have been very high in comparison to the magnitude of the devastation, however, through this process we realized again that we do have a very compassionate and empathetic workforce. We also know that every little bit helps, and we are humbled that we could play a role in building back what has been broken," said Dr. Rajesh Gadia, Founder and Managing Director, HiDoc. Dr.
For More Information , Visit https://hidocdr.com/