Making 'Super Vibrant India' should be the collective dream of the youth – Ishan Ghosh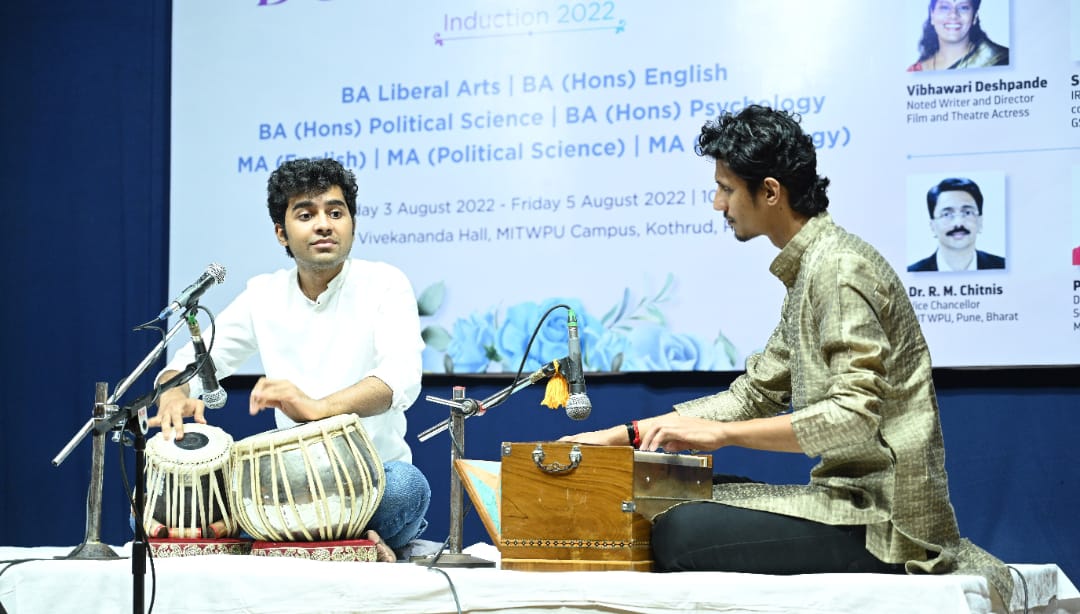 Pune, August 4, 2022: India is rich in art and culture, which give us a distinct identity. The youth should study the art and culture of our country and while choosing good ideas from the western culture, they should dream of creating a 'Super Vibrant India," said Ishan Ghosh, noted young Tabla exponent, son and disciple of Pt. Nayan Ghosh. He was speaking during a program called 'Diksharambha' organized by MIT World Peace University's School of Liberal Arts at the Institute's Vivekananda Auditorium yesterday. Vibhavari Deshpande, Actress, Ravindra Das, Additional Commissioner of Central GST and Customs, Dr. R.M. Chitnis, Vice Chancellor of MIT World Peace University, Dr. Sanjay Upadhye and Dr. Preeti Joshi, Head – School of Liberal Arts MIT WPU were present on the occasion.
"Today, the youth have the opportunity to learn many things. They should assimilate some of the good things from other cultures in our culture and try to create innovative works of art," said Ishan while presenting a solo Tabla performance of traditional compositions. He was accompanied by Abhishek Shinkar on harmonium.
Vibhavari Deshpande said, "COVID taught us the importance of acquiring alternative skills. We all have more than one skill but we don't dare to use those skills. The students especially should discover special talents and skills and should not restrict themselves with learning only one thing."
"Liberal Arts provide opportunities to students to study the subject of their interests in more than one discipline. But students should always remember that success or failure in education or career path does not define one's life. Therefore, one should not feel overjoyed by success or worn out by failure," said Ravindra Das.
Dr. R. M. Chitnis said, "Intelligent Quotient (EQ), Emotional Quotient (EQ) and Spiritual Quotient (SQ) are the trinity of success. At MIT World Peace University, we always strive to adopt this trinity and provide quality education to our students to make them better people."
Dr. Preeti Joshi said, "In just three years, the MIT School of Liberal Arts has successfully established itself as one of the best institutes in the country. We believe that what students learn outside the classroom is more important than what they learn in the classroom. Therefore, we strive to provide maximum hands-on, experiential education to students along with new opportunities. To help promote innovation among students various initiatives are implemented for which a fund of Rs. 1 lakh is provided to each teacher."
Students like Viraj Joshi, Anoushka Parekh, Lokakshi Prabhudesai, Manasvini CVTL and Mayuri Godbole were felicitated at the hands of dignitaries for their achievements in extra curricular activities. The program was anchored by Madhura Londhe and Abhijit Chore.