Man Builds 'Two-Wheeler Monument' After Pune Police Towed Vehicle Without Any 'Mistake'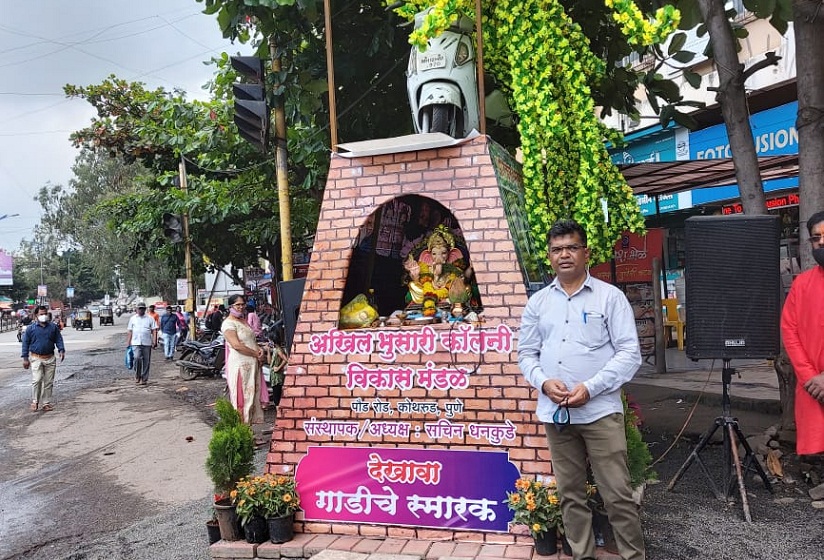 Krupali Gade
Pune, 16th September 2021: A Kothrud resident has erected a monument of his two-wheeler to protest after Pune police picked up his bike without any rule violation. He has demanded an audit of parking and footpaths in Pune.
Sachin Dhankude and his two-wheeler monument at Bhusari chowk have become a topic of discussion. He has set up this unique scene by erecting a Ganesh idol in this monument and has placed his two-wheeler on it.
He has written different messages like 'Don't be afraid, there is police in the next chowk', 'Parking reservation is our right, not someone's father will stop us'.
According to Dhankude, on June 15, his vehicle was picked up by the traffic police even though it was not parked in the no-parking area. He then went to the traffic branch and told them what had happened. However, police officers and staff did not return his two-wheeler. Moreover, the police did not even have a photo of the two-wheeler parked in the no parking lot. The bike was picked up by the traffic police and returned 80 days later.
Also Read Pune Police Issue Challans Worth About Rs 93 Crore For Traffic Rules Violations This Year; Over 60% People Fined For 'Standing' At Signals