Marriage meet of HIV positive persons to be held in Pune on November 16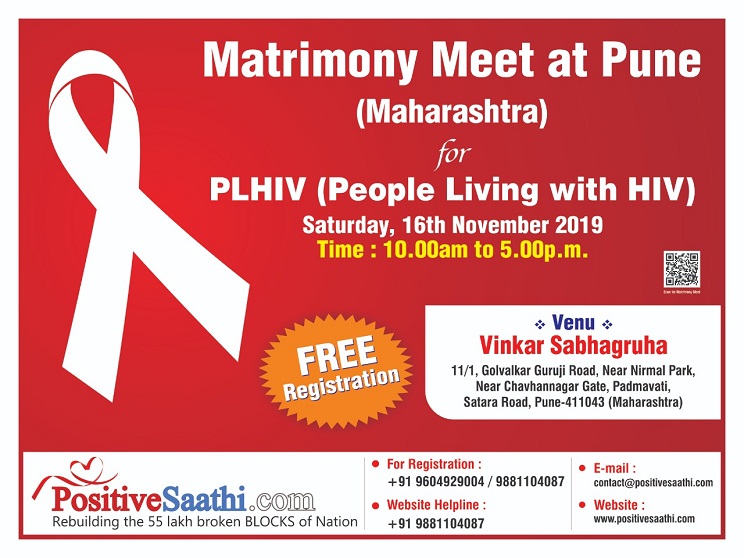 Pune, November 15, 2019: A marriage fair for HIV-positive persons has been organized by Positivesaathi.com organization in Pune. The gathering will be held at Vinkar Sabhagruh in Padmavati on November 16 between 10 am to 5 pm.
Help of many organisations including MSACS, MDACS, NMP+, Vihaan project, Jabalpur, Amritsar, as well as Saudamini-Pune, Shekhar Naidu memorial foundation, Pune, GAHR, Delhi, Palavi, Pandharpur, as well as many organizations in Goa, Gujarat and North India, has been taken for this event. Baramati, Satara and Pune RTO offices have provided a lot of financial support for this planned fair.
The founder of Positivesaathi institute, Anil Valliv, has been working in the Motor Vehicles Department (RTO) as a Deputy RTO. He was organising road safety and HIV awareness camps since last twenty years. He also saw the plight of a HIV positive friend of his college who showed a desire to get married or an inability to get an HIV-+ve girl.
The fact is that there was no platform for HIV positive individuals to interact and get married. They found that due to the lack of platform, many persons living with HIV ruined the happiness of both families by marrying healthy persons. Taking this issue seriously, Valliv created his own free matrimonial portal in 2005 www.positivesaathi.com
Not only are thousands of people married through this website, but many of them have given birth to healthy children. The most important thing was that the service is completely free.
Valliv organized more than twenty matrimonial gatherings, bride-to-be, for persons living with HIV in Pune, Kolhapur, Ichalkaranji, Sangli, Pandharpur, Mumbai, Solapur, etc. He has organised most wedding conventions voluntarily.
Valliv suffered a severe brain hemorrhage last year in which he had major surgery on his brain. But he believe that with the blessings of friends and the blessings of the persons living with HIV, he has come back from that death gate. And to serve more and more needy people, destiny has given him a second birth.