MCE Society breaks world record in largest collection of clothes for recycling, donation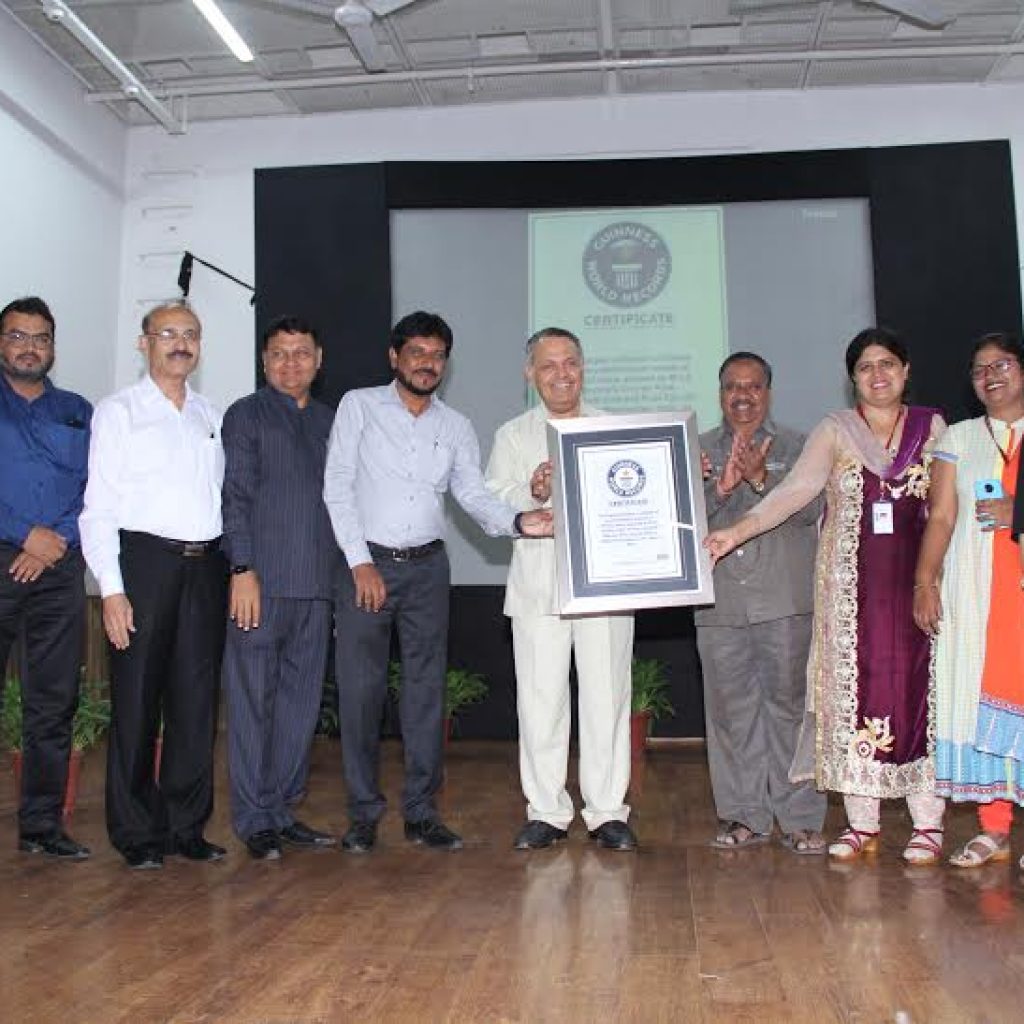 PUNE:  Maharashtra Cosmopolitan Education (MCE)  society, a premier minority education society that runs 30 educational institutions, with around 27,000 students 1,000 staff members and 700 non-teaching staff members,  has once again achieved the unachievable !!!
MCE Society's Give for Pune has broken the Guinness Book of World Record in the category of maximum number of clothes collected for recycling/ donation.
A total of 2,93,623 clothes were collected and distributed on the spot to various self-help groups and NGOs that had been invited for the same.
The record can be accessed at  : http://www.guinnessworldrecords.com/
The record is also registered with The Limca Book of Records and will be officially published in the 2017 Limca record book.
The History:
The idea to apply for a Guinness book world record in this category is the brain child of Mr Rishi Aacharya, Principal, P A Inamdar College of Visual Element Design and Art (PAI College of VEDA) when during a casual browsing over the Internet he saw that the record for maximum number of clothes collected for recycling/donation being held in the name of U A E (1,63,000)and then with USA and the current record was registered at  1,79000 clothes collected for donation.
Aacharya then approached Mr P A Inamdar, president of MCE Society, with the idea. Inamdar at once accepted the challenging idea, and called for a meeting of all heads of institutions, staff members and student leaders. The meeting was addressed by Inamdar himself.
He informed all that "He had decided to support Aacharya's idea of procuring a Guinness book of world record for the Campus. As such he would appreciate it if every member of the Azam Campus family supported this initiative." At Azam Campus, the word of Inamdar is Law. And his request is motivation for all.
Within the span of a few days, heads, staff members and students of each college and each faculty started calling Mrs. Rukhsana Sayyed, placement head, PAI College of VEDA , and Seema Bhujbal, accountant, PAI College of VEDA, who were made in-charge of monitoring this project. They were flooded with requests to pick up clothes from various colleges, schools and Professional Institutes of Azam Campus as well as from residential areas.
At the same time a massive Facebook and outdoor advertising drive was undertaken and calls started flooding in from various schools, colleges and housing societies in Pune. Picking up the clothes, sorting, counting and packing them as per the rules and regulations of "Guinness Book Record Requirement" was the next major challenge.
Here too Inamdar helped out by providing a warehouse for storage, and financial help for all expenditure to be incurred. The huge strength of staff and students of Azam Campus once again came to the aid of Mrs Sayyed, and the clothes were sorted, labelled and packed as per the requirement of the Guineas Book.
"Once all was ready for counting we faced the next very major hurdle. The counting was to be done and videos of the counting were to be uploaded, unedited on the website of guineas book. These videos had to show a continuous counting of clothes from 1- 3,00,000; as that was the number of clothing item that MCE Society's give for Pune had collected!!!!For this, 12 CC TV cameras, four DSLR cameras, 1 Drone camera and 1 crane camera were fixed to make the unedited videos error free", said Dr Shaila Bootwala, In-charge Principal, Abeda Inamdar Senior College.
She along with the staff and students of the college worked out the actual event to be executed to the minutest detail. 300 student volunteers were trained to perform the counting and recording. 75 non-teaching staff were trained to perform the work of feeding the counters with clothes. 50 Teacher supervisors were employed to help and supervise the work. Four professional witnesses were roped in, as per the requirement of the rules of Guinness book, to check and supervise the counting process.
The counting began exactly at 4.00 pm with 150 enumerators amongst major media presence and the counting was completed at 7.30 pm.
While the process of counting was on, after each round the record sheets were collected and the tally of items displayed for all to see on a large screen.
The final tally was displayed at around 8.30 pm and the entire campus was rent with screams of having reached a count of 2,93,623. As far as we were concerned the record had been broken.
Partners in the Process:
1.    MCE Society's Give for Pune tied up with Goodwill India, a Pune based NGO working in the field of collecting clothes for donation for a long time.  The support of goodwill India gave the drive a lot of momentum. On the final day Good will accepted the clothes for donation and further distributed the same through various self help groups to need people.
2.    I Knowledge Factory supported the internet campaign associated with the drive.
3.    Wash-It , Pune's premium Laundry App Chain helped by contributing 5000 clothes.
4.    Divine India Youth Association (DIYA-Pune) played a very important role by contributing more than 50000 cloths
5.    Next Gen cables promoted the entire drive through their news network.
6.    PMC supported the drive by providing premium space for hoardings at various bus-stops of Pune.