Music brings mental peace : Uttar Pradesh Chief Minister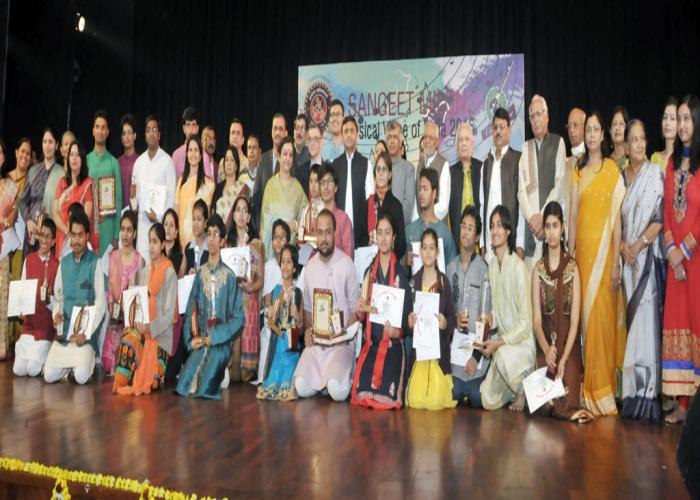 Lucknow: Uttar Pradesh Chief Minister Mr. Akhilesh Yadav today said that while worldly things were pleasure for some time only, music brought infinite peace to one's mind. In today's maddening pace of life, he added, music acted as a great balm to the soul.
The Chief Minister was speaking at a function at Sant Gadge auditorium after felicitating winners of 'Classical Voice of India-2015' Sangeet Milan Samaroh – a programme to encourage the young generation into embracing classical musical heritage. Children from 19 cities of 12 states were selected for the competition.
Mr. Yadav pointed out that India was known world over for its rich cultural heritage and contribution of music was immense in this. He also said that it was the responsibility of everyone to preserve and promote our cultural heritage. The Chief Minister also pointed out that as Japan is known as the 'Land of Rising Sun', India and the state were identified as the "Land of Lord Buddha", "Land of Ram, Krishna and Shiva" and "Land of Taj".
Uttar Pradesh music, he added, was very rich and eminent gharanas like Banaras and Budayun were from the state. He thanked 2 the organizers Dr. G Chaudhary and Dr. Arundhati Chowdhary and underlined the need of more publicity for such events. Congratulating the winners he assured them that the state government was always willing to help them further.
Before this, the Chief Minister felicitated music maestros Ustad Hashmat Ali Khan, Pandit Dharmanath Mishra and Mr. Vinay Bhushan and various children who won in different categories. Om Bongan of Mumbai won the Classical Voice of India-2015 award, Anjali Gaekwad (Ist prize in Junior group), Nandini Gaekwad of Pune (IInd prize) and Pushpendra from Bengaluru (IIIrd prize).
In the middle group, the first prize was won by Arcodeep Hazra from Vardhman, Mansi Mukund Kulkarni from Pune (IInd prize) and Raghunandan Shri Ram from Bengaluru (IIrd prize). In the senior group, Om Bongan won the first prize, Sohan Ganguli from Varanasi won the IInd prize and Naushad from Bengaluru won the IIIrd prize.
The Tabla player of India award was won by Sahabraz Sanadi from Pune, Meraz Hussain from Jaipur won the first prize in Tabla competition, Ashutosh Verma from Delhi won the second runners up. Also present on the occasion were Political pension Minister Mr. Rajendra Chowdhary, Chairman of the UP Sangeet Natak Academy Mr. Acche Lal Soni, a large number of music lovers and students.