Nari Shakti Puraskar Awarded to Technology Information, Forecasting and Assessment Council (TIFAC)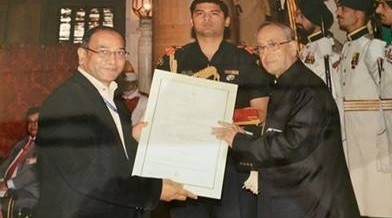 The President of India Conferred Rani Lakshmibai Award (Nari Shakti Puraskar 2015) to Technology Information, Forecasting and Assessment Council (TIFAC) for its work under the scheme KIRAN-IPR for women empowerment in R&D through Intellectual Property Rights (IPR) training. Prof Prabhat Ranjan, ED TIFAC received the award last evening at Darbar Hall of Rashtrapati Bhawan.
On International Women's Day Ministry of Women and Child Development gave away the Award to Institutions and Individuals for their contribution to the society for women empowerment in the country.  TIFAC was awarded under the institution category for its work for KIRAN-IPR. TIFAC runs this programme as a part of Scheme called 'Knowledge Involvement in Research Advancement through Nurturing' (KIRAN) of the Department of Science & Technology (DST) for Government of India. Award consists of  a citation and a cash prize of two lakh rupees.
About the KIRAN IPR Programme:
A large number of women in India are highly qualified in science. Many of them are not able to pursue career in science due to domestic and social reasons. India cannot afford to miss out the skills and talent of such highly educated women. The training allows them to work from their homes and thus maintain a good balance between professional and domestic demands. The scheme is being implemented by Patent Facilitating Centre (PFC) of Technology Information, Forecasting & Assessment Council (TIFAC) on behalf of DST. About 400 women have already been trained under this scheme, out of which 138 have cleared the Patent Agent Examination conducted by the Patent Office of India. Most of these women are pursuing their career in the area of IPR. Some of them are self employed and have become entrepreneurs and has created jobs for many. 10% percent of active patent professionals as patent agent in the country are from this scheme KIRAN-IPR.