NATIONAL DEFENCE ACADEMY CONVOCATION CEREMONY OF 129TH COURSE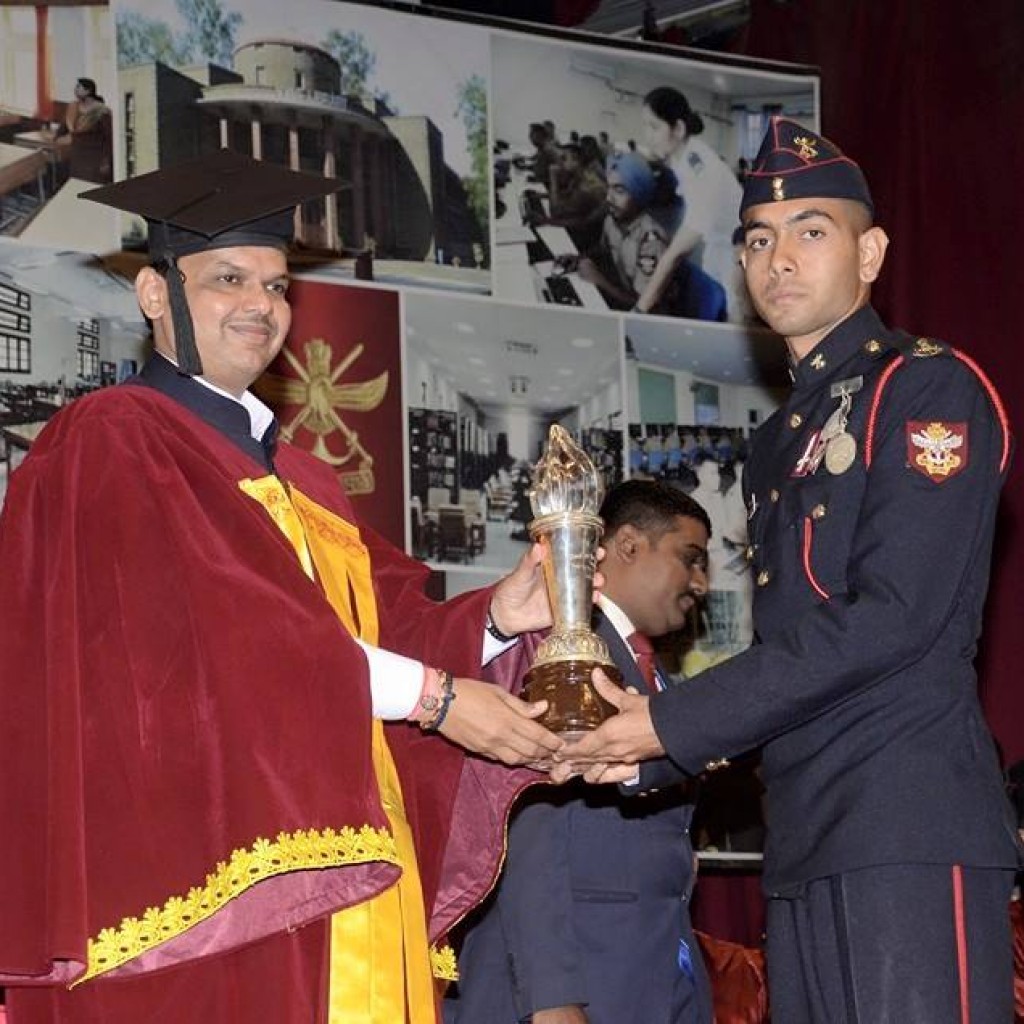 By Mohini Chauhan
Pune, November 27 : The day wasn't only a moment of utter elation and pride for the cadets' and their families but also for the entire country. The convocation ceremony of the 129th course was organised in the historic Habibullah Hall at the National Defence Academy (NDA), Khadakwasla. The ceremony marked the successful completion of cadets' three years of training in NDA and the crafting of young boys into gentlemen. Besides the cadets' the walls of the hall was brimming with excitement and joy.
Devendra Fadnavis, Chief Minister of Maharashtra was the Chief Guest for the occasion.
The ceremony began upon the arrival of the Chief Guest at 09:00 hours who was pleasantly received by the Commandant G Ashoak Kumar. The Commandant welcomed the cadets and their parents.
The Principal Prof ( Dr ) Om Prakash Shukla declared the academic results for the 129th course which were as follows:
A total of 333 cadets were conferred the degree from Jawaharlal Nehru University which included 103 cadets in Science stream, 154 cadets in Computer science stream and 76cadets in Social science stream. It also included 11 International cadets from friendly countries.
Cadet Abhishek Kundalia was awarded the Commandant Silver Medal And CAS Trophy for standing first in the Arts stream with a CGPA of 7.6.
Cadet Rakesh won the Commandant Silver Medal and COAS trophy for first in Science stream scoring a Cgpa of 7.61.
Cadet Jitendra Kumar bagged the Commandant Silver Medal and the CNS trophy for first in BSc computer science stream. He scored a Cgpa of 7.80. He was also presented with the overall trophy.
'It's a moment of pride for me' exclaimed Cadet Jitendra Kumar. "It's like a dream come true. My senior who won the post last year has constantly been my source of inspiration. Even in my first term my pointer was the highest and I maintained it throughout, he added. This academy has given me more than I can ever express in words," he added.
Fadnavis congratulated the cadets' and their parents for putting in faith in the profession of arms and encouraging their wards to join it despite the alluring options offered outside and believes the future of the country is in safe hands.
The ceremony was concluded by paying tribute to the brave warriors who laid their lives for the motherland in the 'Hut of Remembrance.'
Brig SK Rao, YSM, Officiating Deputy Commandant and Chief Instructor gave the vote of thanks for the occasion.
This day is definitely making into one of most fond memories of cadets' in NDA.
(Mohini Chauhan is a student of philosophy at Fergusson College, Pune)