No parking zone continues on Baner road, business goes for toss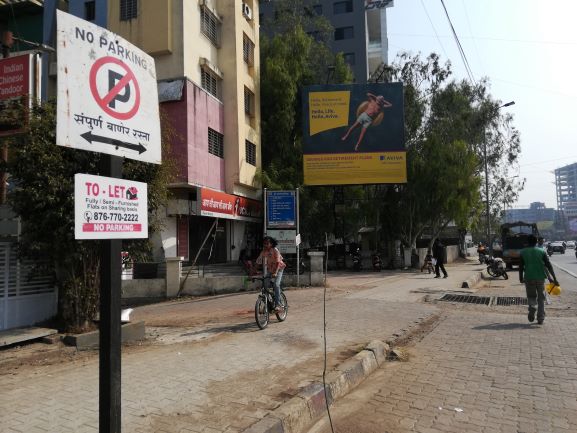 Shivanee Thote
Pune, January 20, 2020: Many retailers, shop owners, traders on October 18 last year protested against the no parking rule on Baner road, but this does not come to an end here. Shopkeepers, retailers, medical professionals and traders those who have their shops on this route are still demanding for the P1 and P2 parking.
Starting from the Yashwantrao Chavan Academy of Development Administration (YASHADA) to Hotel Sadanand, this 5 km stretch does not seem to have parking for the buyers or customers. On the other hand commuters seem to be happy due to the wide road and facing no traffic on this route.
"No parking rule is still there, so at least the peak hour that is in the morning 10 am to 11 am and at the evening 4 pm to 7 pm could have been given as no parking, because this is the main time where crowd on the road increases, " said Sachin Niwangune of Pune District Retail Traders Association.
"This Baner route contains various different retail shops, trades, businesses and many more and still developing, so at least they could have considered our demands. But there are no follow up on this rule," he added.
He further added, "We are still demanding for some changes in this rule, also Prakash Tapkir, Baner Sanghatna Adhyaksh has been still demanding solutions on this issue."
Speaking to Punekarnews.in, traffic police officer Prakash More said, "We are taking regular actions against those who are parking on this route. Almost 80 to 100 vehicles are fined on an average every day. The defaulters are charged Rs 200 fine."
He further added, "Commuters are happy finding wide roads while travelling. Also there are no fatal accidents but on the other hand retailers, shopkeepers, vendors and traders are not happy as their customers don't find place to park vehicles."
"If we provide parking for everyone then it can mislead and cause increasing numbers of accidents due to the crowd on the road. That is the reason why we can't allow parking on this route," he said.