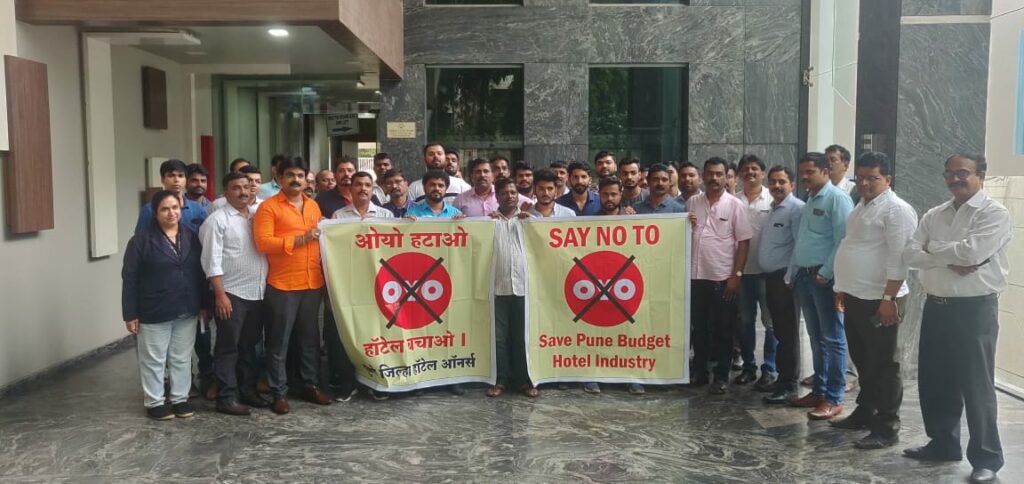 Pune, Aug 14,2019 : Yesterday, over 150 city hoteliers gathered at OYO's regional office demanding to meet the latter's officials. The hoteliers, mostly owners of budget hotel properties have alleged that despite giving multiple reminders to settle their outstanding dues, OYO has continued to ignore their pleas. However, the hoteliers through a letter have given an ultimatum demanding OYO to deposit the owed amounts to them within five days. The hoteliers also visited the OYO office in Shivaji Nagar yesterday but were informed that the office was closed for the day.
Last month, close to fifty Bangalore based hoteliers had staged a protest in the city demanding OYO to stop the unethical practices leading to loss of business to hotels.
"We have tried communicating with OYO through calls, email, and written letters; and also by sending our representative to their office before this. However, they have ignored all our previous requests. Yesterday we visited their office and were hoping to confront them but we were told that they are closed for the day. We staged a silent protest outside their office yesterday. Also we don't wish to keep chasing them anymore for money that is legitimately owed to us. They have 2 days to reconcile the bank account statements and 5 days to settle our dues," says Mr Vikram Shetty, HRAWI Executive Member.
The Federation of Hotel & Restaurant Associations of India (FHRAI) has issued an advisory to its members asking to reach out to the apex body for any unjust actions taken against them by OYO.
"FHRAI stands by its members who have been deceived and exploited by OYO. We are against OYO's unethical business practiced through deep discounting of tariffs, predatory pricing, one-sided electronically generated contract, unilateral modification of contract with additional charges and other such issues," concludes Mr Gurbaxish Singh Kohli, Vice President, FHRAI.
When contacted, OYO spokesperson said, "We are a customer-first company, and are proud of our ability to make good quality hotels available to consumers at the right price point, and will not bow down to the unreasonable demands of vested interest groups, a majority of which are owners running competing properties, instigating and intimidating independent asset owners associated with OYO, and creating false public uproar. At OYO, we often refer to this as an occupational hazard, that one has to work with keeping in mind the larger picture – 10,000+ asset owners in India alone choosing OYO and growing with OYO. This year alone, we have had 642 asset owners, with hotel sales over INR 1 crore each, a stark increase from their earnings before becoming a part of OYO. We believe in addressing all the concerns of our hotel owners one-on-one and have institutionalized several initiatives in the past few months to ensure success of our asset owners through business advances for infrastructure upgradation, timely payments, enhanced engagement and recognition. We will always think of our customers as our key stakeholders, while ensuring thousands of owners associated with OYO are continuing to grow with us."