Pataleshwar Cave: A Hidden Gem of Pune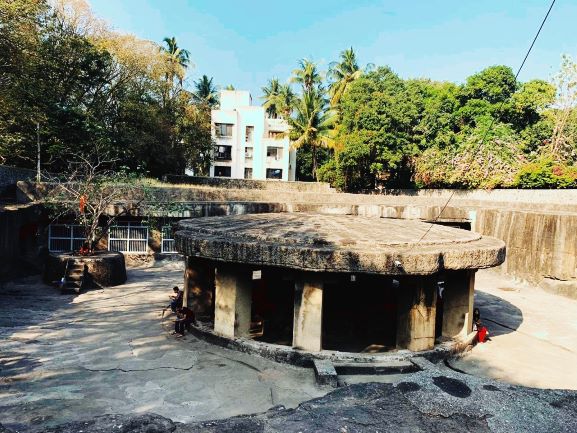 Sayantani Ghosh
Pune, 28 February 2021: What comes to our mind when we think about a cave? It's an adventure for some, a dark scary place for others. But what if I tell you there is a cave that brings you instance peace and has light radiating within. Yes! You read it right. Pataleshwar Cave located in Pune is a hidden gem that not many of us are aware of. And not even in a touristy place, it's located right in the heart of the city!
You can find happiness in the simplest of things. I instantly found mine, when I stumbled upon this place in one of my friends Instagram profile. After a prolonged lockdown period, courtesy the Global COVID 19 Pandemic, people slowly began their long-awaited travelling and exploring spree. I, on the other hand, was still merrily basking in the glory of being surrounded with all things favourite – good books to read, coffee, good TV series to watch, and the endless love that my mom keeps pouring on me – all within my safe-haven!
So, my friend, who also wanted to explore it, had to do a lot of coaxing and nagging, to drag my lazy bum out and reach this glorious destination. And believe me, I'm not even exaggerating! After a year of bickering about the to-do and not-to-do lists during the pandemic, embarking on the journey of post-COVID era 2.0 a.k.a 2021 had to be different, exciting, and yet the safest way possible. And what could be better than visiting a quaint place like Pataleshwar.
More so, I didn't want to kickstart the New Year's Day with the guilt of food coma or the unnecessary hangover, which only makes a hole in the pocket, if not for anything. On the very first day of 2021, I decided to take a quick trip to this quaint yet magnificent structure located in Pune. By now, you must be wondering why am I fussing about this place so much. A heritage cave temple right amidst the hustle-bustle of the city, for one. But let me tell you, it's not just that. Some History and Facts First Built in the 8th Century AD (nope! Read it twice. It's not 18th, it indeed is an 8th-century structure) by Kalinga kings of the Rashtrakuta period, Pataleshwar is a single-cut or monolithic cave temple. Located in JM Road, it is the oldest and a heritage structure of Pune. One of the hidden gems in the heart of the city, this monolithic structure is standing tall for centuries. This place reeks of nostalgia of the old charm of Pune, of religious significance, and of architectural grandeur. It's needless to say, it is thronged by the likes of devotees, adventurers, explorers, and architectural connoisseurs. Pataleshwar Cave is the throne of Lord Pataleshwar, a name synonymous with Lord Shiva. This centuries-old cave temple is dedicated by Lord Pataleshwar and Nandi. These are made from excavated single-cut rock in the 8th century, which has remained an architectural wonder ever since.
Folklore has it that this temple was made out of a monolithic rock just in a couple of hours by the Pandavas when they were in exile. What's interesting is that this unique structure keeps the cave temple cool and temperature controlled throughout the year. What Makes It More Special Stepping into the premise, the calm and serenity of this place left me speechless. The stark difference between the city chaos and the calmness of this premise is really astonishing. The central monolith is surrounded by age-old trees that tell a history of the glorious past. If you are a soul muser, this is an ideal place to be. Sit at a quiet corner for some time, and you may feel a direct connection with the divine.
In today's times, as difficult it may get, finding a place like this is a blessing in disguise. If you are avoiding travel, and yet seeking a getaway from the mundane, this place is a perfect escape. Soak into the grandeur of this place and you may just forget about all the worries you wish to leave behind.
And what more? If you like to explore all things local, the Jangli Maharaj Temple right in the vicinity of this cave might catch your attention. Pune city is blessed with unique lane or road names. JM Road is a classic example. This road is dedicated to Jangli Maharaj, a saint who lived in Pune in the 18th century. And as the name suggests, the Jangli Maharaj temple is the temple dedicated to him. It houses his samadhi or shrine. The unique prayer rituals of the temple make it a must-visit place in Pune. So, the next time you are in the city, do not forget to explore these less trodden places.
Wrapping Up Every corner of Pataleshwar Cave and its adjacent Jangli Maharaj Temple has stories to tell – of the glorious past, of fine craftsmanship, of tenacity and dedication to build something beautiful, and of faith. Blessed to have started the new year with this beautiful place. If you chase peace and tranquillity, this is definitely a place to visit!
Do you want your TRAVEL STORY to get published on Puneakar News? If yes, then
click here
Follow Punekar News: