PCDA (SC) Pune Celebrates Closing Ceremony of Vigilance Awareness Week 2022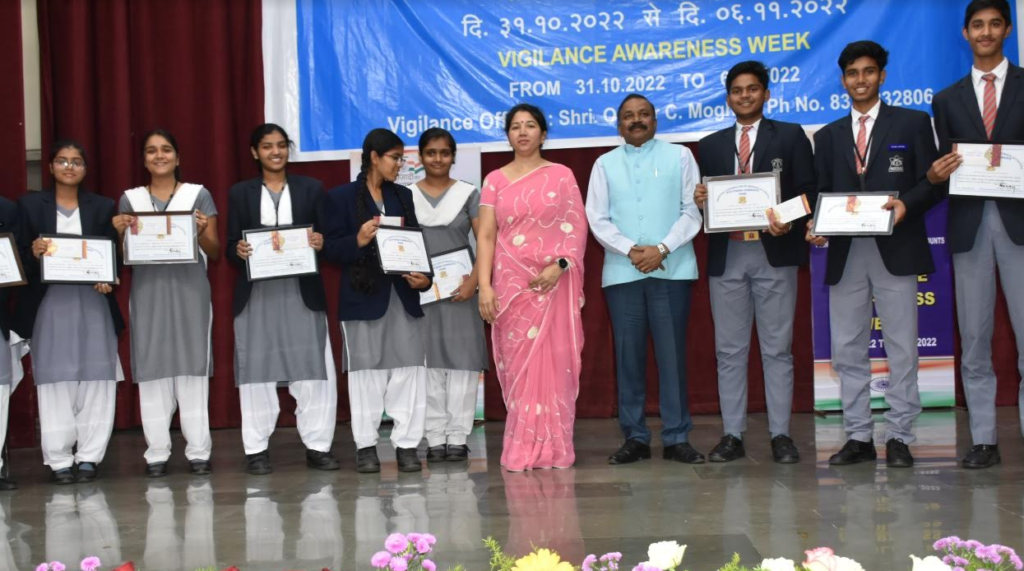 Camp, 12th November 2022: Office of the Pr. Controller of Defence Accounts , Southern Command , Pune had special celeberation of Closing Cerennony of Vigilance Awareness week 2022 on 11th November (Friday).
Dr. Rajeev Chavan , IDAS, ndc PCDA (SC), Pune was the Chief Guest of the occassion and Mrs. Anita Sharma, Principal of Army Public School , Pune also graced the occasion as guest of honour. The celebration commenced officially with welcome bouquet from N S Waikar, IDAS, ACDA to chief guest and S R Boid, IDAS,ACDA welcomed the Principal of APS, Pune. "Deep Prajwalan" and Garlanding of Goddess Saraswati Idol were carried out by Chief Guest, Principal APS, Pune and other IDAS Officers.
The Chief Guest and other prominent officers distributed prizes to the winners of various competitions e.g. Essay writing, Debate and Quiz competition held on the occasion of National Unity Day i.e. 31st October 2022 and during Vigilance Awareness Week 2022. The most notable fact in the celebration was inclusion of students of APS, Pune in the Office activities by PCDA SC, Pune. Essay Writing Competition was conducted, for APS students of 10th , 11th and 12th standard on 07 th November 2022 in their school premises. Victorious smile and glimpse of visible happiness could be seen on the faces of nine students winners.
Principal of APS, Pune in her address, made special enlightenment as to why we are celebrating the vigilance awareness week, we need to think the reason behind it. As we can see the depletion of moral values in national and social life, We have to teach the lessons of morality to our students and citizens, to mitigate all kind of prevailing corruption in our country so that they can be strengthened morally and mentally. We need to show the way so that our children could contribute in nation building and make India an Ideal nation.
The Chief Guest, Dr. Rajeev Chavan, IDAS, ndc in his initiation of brilliant key note address reminded the theme of Vigilance Awareness Week 2022 i.e. "Corruption free India : a Developed Nation". The corruption has made a notable dent to our country and left adverse effect and indelible impact on our social fabric. Mentioning the old Indian Scholar "Chanakya's" quote that there are multiple which pollute the pond and we need to curb and corrupt the Big Fishes in order to clean and purify the polluted atmosphere and clear the water.
Chief Guest emphasized that prevention is better than cure, we therefore, should find a solution to prevent the diseases in the society by taking preventive precautionary measure. To initiate this prevention, we need to retook into our basic values, traditions, norms, our exemplary culture and follow abide our good conduct in act & deed We need also to strengthened the values given at home and school because these two lay our foundation of character building and personality building. Schools must teach the integrity, honesty and dutifulness to its students and should inspire them to build an ideal nation and resurrect an ideal society. It should be blood and soul that they will follow a moratorium of not practicing corruption throughout their given life and they should work 24*7 for national interest, without any personal gains or primary benefits.
The Chief Guest paid special tribute to our first Deputy Prime Minister and HM late Bharat Ratna Sardar Vallabh Bhai Patel by declaring that action is in the last leg a install a statue of the Great Nation Builder in premises of the 0/0 the PCDA SC, Pune in the lush green lawns who was instrumental in reorganization of 565 princely states into Indian Union and reinforcing confidence and retaining the steel frame for smooth governance as an iron man.
Chief guest and Alok Kumar Tiwari, IDAS, ACDA expressed thankfulness to one and all who contributed in any way to make this programme "a huge success". Necessary announcement and stage co-ordination activities were carried out by Shri Brijesh Kumar, meticulously.