People's love instrumental in keeping shadow puppetry alive: Veteran puppeteer Gunduraju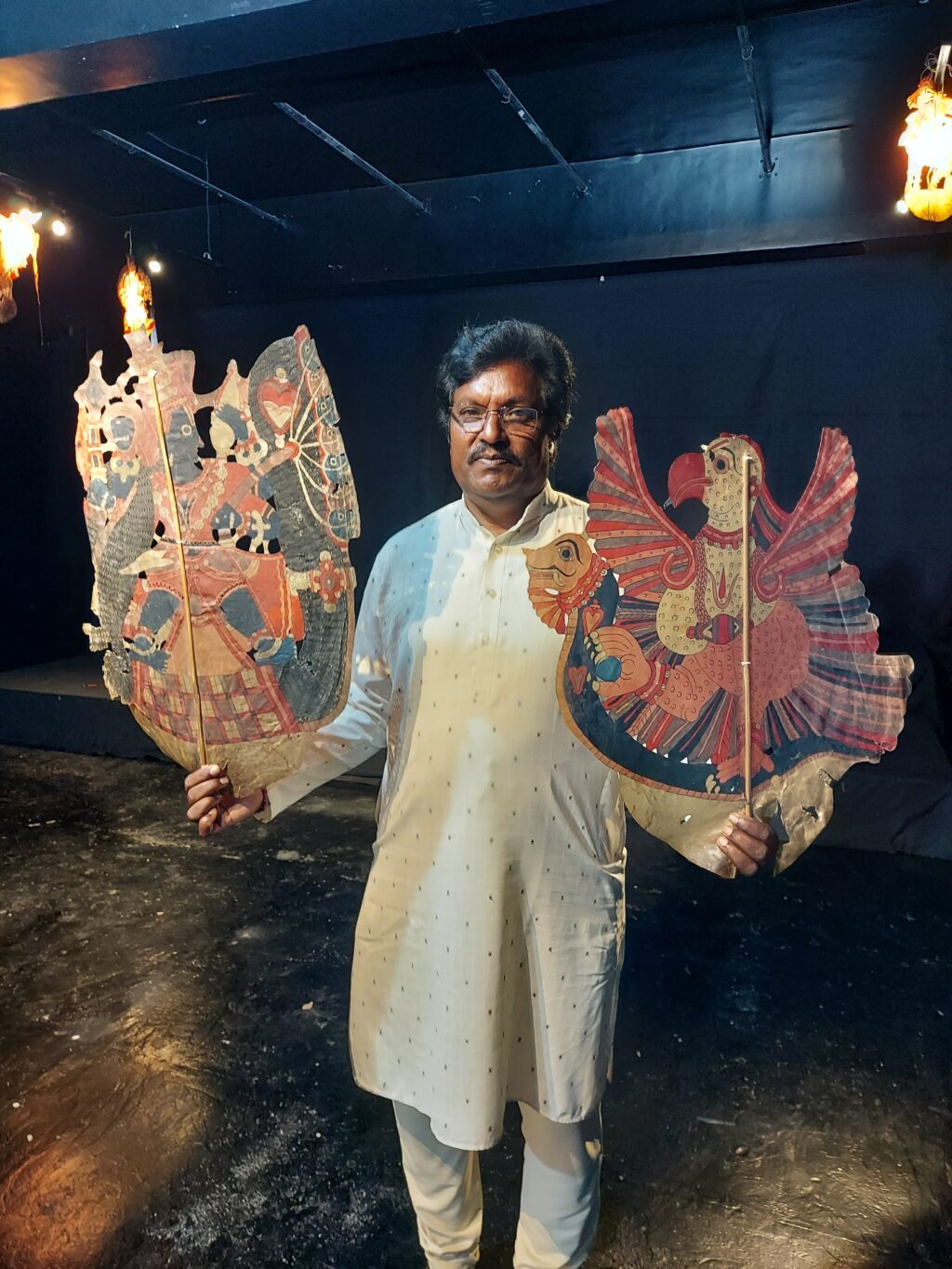 Pune, September 24, 2022: Master shadow puppeteer Gunduraju believes that more than government's aid and help, the support and love of people were instrumental in keeping traditional art of shadow puppetry alive.
Gunduraju, who hails from Hassan district is Karnataka, made the remarks after presenting the 'Samudra Manthan' show at the opening of 'The Infinite Library', which redefines the concept of libraries using virtual reality, at The Base, opposite SNDT in Kothrud.
The Goethe-Institut/Max Mueller Bhavan has brought out a unique 'Infinite Library', a Virtual Reality (VR) installation, which provides visitors a multi-sensory experience through story-telling, giving them a feel of future libraries. One can experience this futuristic concept absolutely free of cost till September 30. However, pre registration is mandatory through the ticket khidkee website.
Housed in a cave, the project houses a vast VR library – which is the central element and the visitors will also be able to experience elements like QR code game, holograms, 3D-printed objects, audio-visual works.
Miriam Bruns, Director, Goethe Institut/Max–Mueller Bhavan, Pune, Aarushi Khanna, Project Manager, Max-Mueller Bhawan, Delhi, Amruta Nemivant, Senior Programme Director, Goethe Institut/Max–Mueller Bhawan, Mumbai, and Amelie Weigel, Director, Alliance Francaise, Pune were present on the occasion.
"Mine is the ninth generation in my family, which has been performing this art (shadow puppetry). I am presenting traditional and folk stories through it and also awareness campaigns related to AIDS and Malaria. My son and grandson also perform the art and there are very few groups left now, who have kept the art alive," Gunduraju said.
Meanwhile, Aarushi Khanna said this concept of 'Infinite Library' is a travelling installation and has been initiated by Max–Mueller Bhawan, New Delhi.
"We have showcased it in India and outside the country. We intend to showcase this project in some other Indian cities, Pakistan and Sri Lanka in the near future," added Khanna.