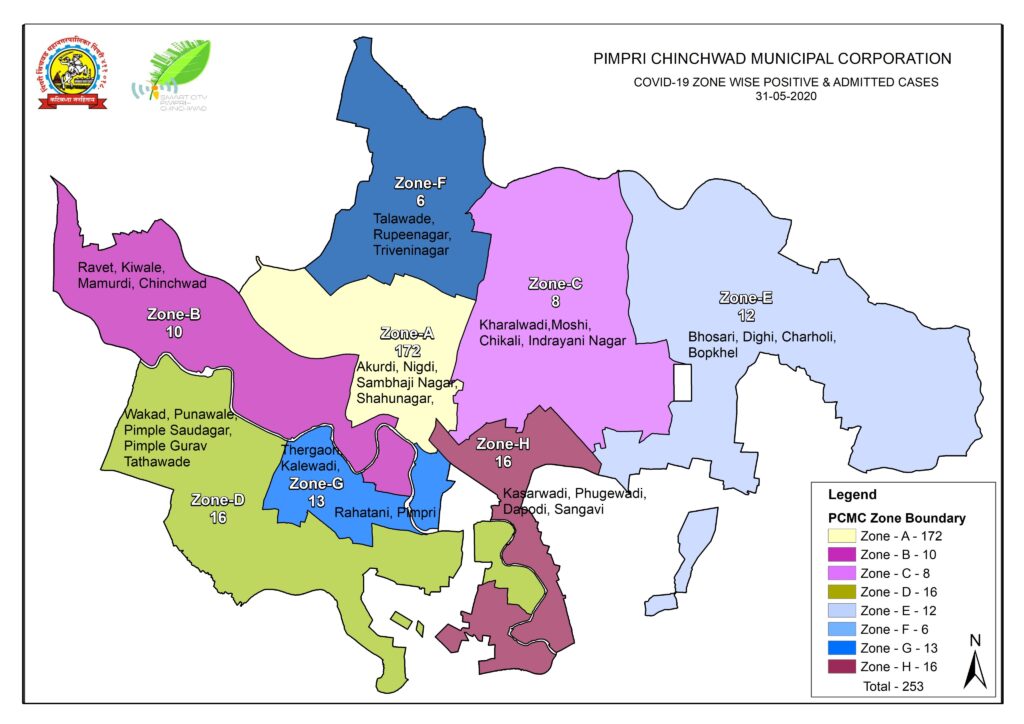 Pimpri, May 31, 2020: In Pimpri-Chinchwad city, 6 COVID infected patients were found during the day on Sunday. The number of Corona victims in the city has crossed five hundred and the total number has reached 523. Also, 10 people were discharged from hospitals who have recovered from Coronavirus. So far, 262 people have been cured.
There is an atmosphere of concern among the citizens of the city due to the frequent increase in the number of COVID19 patients in the last few days.
According to PCMC, out of 523 total patients 262 have been cured while eight people have died. There are 253 active patients undergoing treatment in Pimpri-Chinchwad as well as outside (32 patients). Also, out of 85 non-PCMC patients under treatment here, 12 have died while 34 have been cured and discharged. There are still 39 patients admitted here. One non-PCMC COVID patient was admitted in hospital today.
According to the PMC health department, the total number of COVID cases has reached 6472 out of which 3782 people have been cured while 314 people have died due to Coronavirus. There are 2376 active patients in hospitals at present including 173 critical patients. Today swab samples of 359 people were collected for COVID test. Till now samples of 49320 have been tested and reports of 1072 persons are awaited.
Across Maharashtra, there were 2487 new COVID19 cases today taking the total number of cases to 67655 . Also, 89 people died while 1248 got discharge from hospitals after being cured. There are still 36,031 active cases. The total death toll stands at 2286, while 29,329 patients have been discharged till date, according to Maharashtra Health Department.
According to the Union Health Ministry, the number of Coronavirus positive patients has reached 182,143 across the country. Out of this, 86,983 have been cured and discharged from hospitals while 5164 people have died and one patient has migrated out of the country. There are still 89995 active patients undergoing treatment in hospitals across the country.