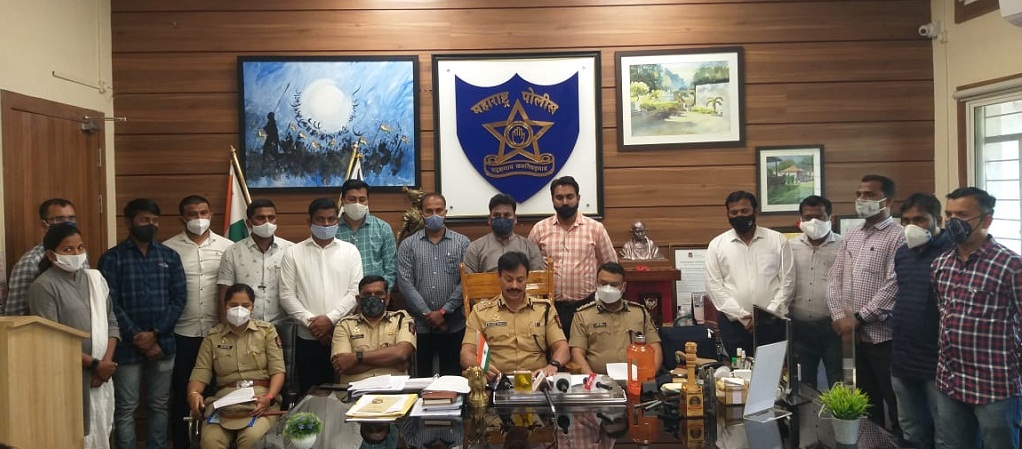 Mubarak Ansari
Kalewadi, 6th March 2021: The social security cell of Pimpri Chinchwad police have busted a gang involved in making forged documents related to RTO, insurance, vehicle fitness etc. Police said that the accused have made over 800 documents till now.
Police have arrested four members of the gang while two others are absconding. Two cops have sustained injuries when one of the accused tried to run over a car on them.
Commissioner of Police Krishna Prakash had received information that forged vehicle documents were being made at Ashirwad Cyber Cafe in Jyotibanagar locality of Kalewadi. Accordingly, a team led by Senior Police Inspector Vitthal Kubde raided the cafe on the night of March 4 and nabbed its owner Rahul Gound (33), a resident of Nigdi. Later his three accomplices were also caught while two others are absconding.
Police Commissioner Krishna Prakash said, "The accused used to get details of people on WhatsApp and then prepared bogus documents using computers. They accepted payments on Google Pay or in cash. Preliminary investigation has revealed that the accused were engaged in the business of making forged documents for the last two years. Till now they have made over 800 documents."
Police have seized documents, computers and other materials worth Rs 1.21 lakh from Gound and his accomplices Balaji Gorakh Babar (23) of Thergaon, Tukaram Arjun Magar (30) of Kalewadi Fata and Praveen Dashrath Dalve (25) of Chakan. An FIR has been registered against them for offences under sections 420, 259, 260, 464, 465, 468, 4719, 473, 2019 and 34 of the Indian Penal Code (IPC).
The above accused have been arrested from different places during the night by forming three teams of the social security cell. Magar had tried to run over policemen when they tried to arrest him around 5 am near Kalewadi Fata. Police had intercepted his car and he asked to see their identity cards.
DCP (Crime) Sudhir Hiremath said, "When policeman Santosh Barge was showing his identity card, the accused suddenly rolled up the glass following which Barge's hand got stuck and he was dragged for about 20 feet. Also, the accused tried to run over policeman Sandeep Gawari who was standing in front of the car.
Later the police staff chased Magar and took him into custody. A separate case has been registered against Magar at Wakad police station for offences under sections 353, 332, 307 of the IPC. Wakad police are investigating both the cases."
The action was taken under the supervision of Commissioner of Police Krishna Prakash, Additional Commissioner Ramnath Pokale, Deputy Commissioner of Police (Crime) Sudhir Hiremath and Assistant Commissioner of Police Prerna Katte.
The team included Senior Police Inspector Vitthal Kubde, Assistant Police Inspector Nilesh Waghmare, Sub Inspectors Pradipsingh Sisode, Dhairyashil Solanke and police personnel Vijay Kamble, Anant Yadav, Santosh Barge, Santosh Aswale, Nitin Londhe, Sandeep Gawari, Sunil Shirsat, Deepak Sable, Mahesh Barkule, Vishnu Bharti, Anil Mahajan, Ganesh Karote, Deepak Shirsat, Marotrao Jadhav, Yogesh Tidke, Ganesh Gaikwad, Atul Lokhande, Vaishnavi Gawde and Sangita Jadhav.